Welcome to the place where I share what I'm up to each week and a bit of my real life outside of the blog.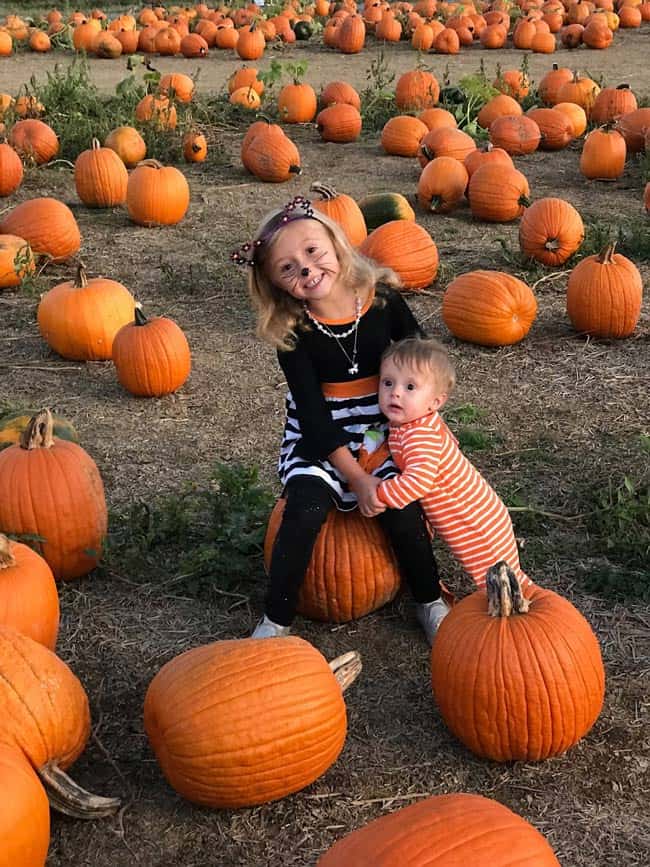 Post may contain affiliate links. To read my affiliate policy click here.
Feeling
Serious fall vibes. All of them. It is in the 50s and windy and gray here today. I am in love with it. Possibly because I've spent the day snuggled up under softest blanket ever with my fireplace on and my fall tree lit. Also speaking of softest blanket ever, I am crushing hard on this heated wearable blanket that also comes with heated socks. What?! Need in my life asap. There's a pumpkin scented candle burning and fresh baked brownies for an upcoming post just came out of the oven. It is all kinds of cozy in here and I cannot get enough.
Reading
I've been super tired lately so haven't done much reading. I've read some of the Hocus Pocus book I told you all about last week, and surprise surprise I'm not impressed. This is one of those cases where the book is not nearly as good as the movie. It's really weird when that happens.
I did pick up a copy of The Dream Daughter by Diane Chamberlain. I'm excited to start it. If I can keep my eyes open long enough and get some quiet time of course.
Watching
In cheesy things I've watched on Netflix lately, I just watched The Perfect Date with Noah Centineo from the Fosters and also from To All the Boys I've Loved Before. It was perfect in it's ridiculous teen romcom way. However, out of the light fluffy movies I've watched on Netflix in the romantic comedy genre this one was only above Fall Inn Love. I definitely preferred To All the Boys I've Loved Before over this. PS. Have you heard that there's a sequel coming?
I've stepped away from This is Us for a little while. I may give it another go because I am so invested in the Pearsons and their drama but I am really having trouble with the way the show is handling everything that happened with baby Jack and his premature birth. Having just been through the NICU life, I can say I didn't see a single mom in the NICU as calm as Kate was. Everyone seemed much more on Toby's level. It would have been nice for the show to get a little more raw.
Also, on that level, I had an issue with the fact that in the waiting room episode, Rebecca set there thinking about how her husband died. I mean it just felt weird that she wasn't thinking of the baby she lost when the big 3 was born with Kate being so in danger of losing her own baby. It felt like it glossed over that, but I know no mom who looses a baby that far along ever forgets.
And that got really heavy there. Sorry about that. This Pregnancy and Infant Loss Awareness Month must be getting to me a bit.
Moving on.
Eating
Hands down the best thing I ate this weekend was apple cider donuts from a fall festival in our area. I love them so much. They were warm and perfectly spiced. The best fall treat ever and that is saying a lot from a gal that bleeds pumpkin spice this time of year. I love them so much that I found a way to replicate them at home with this apple cider donut recipe.
I've been trying my hand at wild rice soup. I made this soup from Gimme Some Oven yesterday with my daughter, who by the way, did a totally great job cooking! I was so proud.
Drinking
Homemade Cinderella Lattes allllll day every day.
Also, seriously have some amazing fall cocktails coming your way soon. As good as boozy pumpkin spice lattes and sparkling white apple sangria.
Doing
Falling so hard for fall. Last weekend we went to a corn maze and fall festival. We plan on going to another fall fest this coming weekend and also going apple picking again and pumpkin patching. In the mean time, I'll be sitting by warm cozy fire underneath my warm cozy blanket and I'm not even a little sad about it. I'm like a lazy content cat of coziness.
That's it for me this week! What are you up to? Leave me a comment and let me know!