A homemade recipe for the Starbucks secret drink that everyone is talking about, this Cinderella Latte is a delicious way to warm up this fall. Full of pumpkin and white chocolate, a homemade Cinderella drink is just the thing you need before the clock strikes 12 on pumpkin season.
Post may contain affiliate links. To read my affiliate policy click here.
If you've been reading for awhile, then you know how much I love Starbucks especially in the fall. Heck, I love it so much I've even done a Starbucks pumpkin review.
But insert all the things about how expensive it is and how it's wrong that my vice is getting a coffee every time I leave my house. I try my best to recreate a good cup of flavored coffee at home. So far, I've done a sugar free chai latte for my friend Kim at Low Carb Maven, spiked pumpkin spice lattes, Nutella coffee, and pumpkin spice chai lattes. Oh, and I can't forget my summer frappuccino obsession because I've made homemade mocha frappuccinos and vanilla frappuccinos. I can't be stopped.
Because here's the thing. I like coffee for the pick me up and the cozy factor. But to be quite honest, I am not a coffee purist. I have no desire to sip bean water without flavor.
It is what it is ok?
And this Cinderella Latte has all the delicious flavor that had the internet buzzing. It's definitely not unflavored bean water.
What is a Cinderella Latte?
In case you haven't heard because you've been living under a rock- hey it's ok! I live under a rock too- a Cinderella Latte is the love child between a classic pumpkin spice latte and a white chocolate mocha latte. Meaning the Cinderella drink is a latte with one pump of pumpkin spice syrup and one pump of white chocolate syrup. So basically a Cinderella Latte is a white chocolate pumpkin coffee drink.
This homemade Cinderella latte is pretty much that. I'm using a store bought pumpkin syrup. There are so many available. I'm a fan of Torani Pumpkin Spice and these sugar free pumpkin syrups by Jordan's Skinny Mixes. There are so many pumpkin variations to choose from in that set. It's a pumpkin lover's dream. I'm using the classic pumpkin spice syrup but honestly I think any of them would be amazing. You can also use store bought white chocolate sauce for the drink. Again I like the Torani but am really loving this White Chocolate syrup by Jordan's Skinny Mixes. Again, it's what I'm using here. It's nice to get the flavor of the Cinderella latte without all the calories and sugar. I'd rather save those calories for other occasions.
Make your own coffee shop latte at home- steamed milk and all!
Making your own coffee shop latte at home is not so hard and you don't need any special equipment. Just a coffeemaker and coffee. And yes, that goes for making the steamed milk too.
I shared how I make steamed milk in the microwave when I made these boozy pumpkin spice lattes, but here's a quick recap. You want to use a lower fat milk- skim or 1-2 percent is ideal. Put about half a cup into a jar, put the lid on and shake it baby. I shake the jar for 30 seconds to a minute and the milk gets all frothy and expands. Then I take the lid off and pop it in the microwave for about 10-15 seconds.
And boom. Steamed milk to spoon onto your Cinderella latte.
Of course, if you don't want to fuss with that, you could shortcut it even further with one of the foam toppers available on the market. I've used Skinny Mixes and International Delight and both are decent.
After you have your steamed milk ready to go, just pour yourself a cup of your favorite brewed coffee. Then add one tablespoon of pumpkin syrup and one tablespoon of white chocolate syrup. Top with the steamed milk and whipped cream. And if you want to add some bling to make yourself feel like a princess like Cinderella, top that drink with some sprinkles. You deserve it.
Print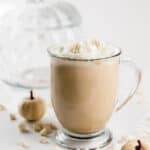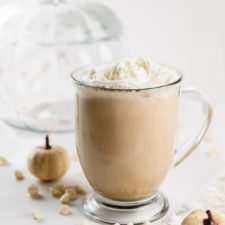 Cinderella Latte
---
Author:

Prep Time:

1 minute

Total Time:

1 minute

Yield:

1

drink

1

x
Description
Full of pumpkin and white chocolate, a homemade Cinderella latte is just the thing you need before the clock strikes 12 on pumpkin season.
---
1 cup

of brewed coffee

1 tablespoon

of your favorite pumpkin syrup. I like this Pumpkin Syrup.

1

tablepoon of your favorite white chocolate syrup. I like this one
steamed milk (Recipe follows)
whipped cream and sprinkles, optional
---
Instructions
Pour a cup of hot coffee. Add one tablespoon each of pumpkin syrup and white chocolate syrup. Top with your desired amount of steamed milk. Top with whipped cream and sprinkles if desires.
To make steamed milk add half a cup of non fat or low fat milk into a jar. Secure the lid and shake it vigorously for 30 seconds to a minute or until the milk gets frothy and expands in size. Remove the lid and microwave for 10-15 seconds.
Category:

drink

Cuisine:

American
Keywords: Cinderella latte, pumpkin spice latte, psl, diy starbucks