Cake Mix Hacks: Honey Vanilla Cake with Honey Buttercream
I have learned something about myself. A deep, disturbing truth that rocks me to my very core. I am not a baker. There. I said it. Well, typed it, but same difference.
Now don't get me wrong. You can find me in the fall knee deep in pumpkiny baked goods. At Christmas? Chances are good that I have baked enough of the very best chocolate chip cookies to actually wallpaper my house in them. And hello? Butter bars. Yes, I'll bake those.
But cake is my nemesis. It's so involved. When I was younger I had no problem sifting flour and sugar together to make from scratch cake. There was something cathartic about the measuring.
Now though?Oh heck no. I don't have time for that. Do you know how much of a mess I make when I bake a cake from scratch? I mean I'm already a very messy cook, but when I have bake from scratch I think I dirty approximately 672 measuring cups. And don't even get me started on the number of bowls. It's just a disaster. My aunt likes to remind me about the time I baked a chocolate mousse cake in her kitchen to take to a dinner party and how I dirtied EVERY SINGLE BOWL she owned. Not even joking a little.
That cake was good though. So I can bake from scratch. I've just grown to not love it the way I used to.
But you know what I do love? I love making all kinds of super impressive semi homemade cake. I get joy in hacking the heck out of boxed cake mix to create a cake that tastes homemade and sounds fancy af.
Like hello, vanilla honey cake with honey buttercream frosting.
Tell me that doesn't sound impressive. All sorts of impressive. Like you would find it on the menu of some restaurant that I can't go to these days because they don't allow small children.
But you guys: it's box mix hacked with my secret ingredient: Coffee-mate® natural bliss® Honey Cream. I love their creamers. It's the perfect way to jazz up a cup of coffee. And I use their flavored creamers in icing and glazes all the time like I did for my easy pumpkin donuts. Hello, favorite thing. These new flavors are available at Walmart, and you can find out more about them here.
An amazing thing happens when you swap water for milk in a box of cake mix. It adds moisture and richness. And subbing the milk for something with flavor? OH YES. The creamer adds a nice honey flavor into the vanilla cake. The result? Perfection.
Especially when you top it with homemade honey buttercream. For great tasting shortcut cake you absolutely need to make your own frosting. Plus homemade frosting is so easy. Butter, powdered sugar, cream, and flavoring. That's it. In this frosting, I used more of the Coffee-mate® natural bliss® Honey Cream in place of the cream.
The result? Pure perfection. You could definitely make this cake and bring it out for entertaining. Easter, birthdays, dinner parties. Whatever. No one would ever know it wasn't made from scratch.
Oh and bonus? The naked cake thing? It's totally trendy. Your guests will be impressed by how rustic and elegant the cake's presentation is so you totally save a step decorating. (If naked cakes aren't your thing, I FEEL YOU. Frosting is life. Just double the frosting recipe and decorate til your heart's content.)
Looking for other semi homemade desserts? Try these:
Print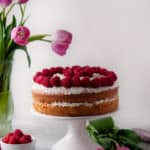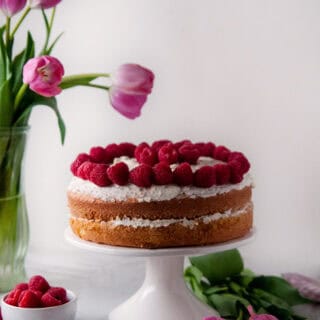 Honey Vanilla Cake with Honey Buttercream
---
Author:

Prep Time:

10 minutes

Cook Time:

30 minutes

Total Time:

40 minutes

Yield:

8

slices

1

x
Description
Box cake mix is hacked with a simple ingredient swap and the addition of one ingredient to create a show stopping honey vanilla cake with homemade buttercream perfect for any occasion
---
For the cake
1

package of vanilla cake mix*

1 cup

of Coffee-mate® natural bliss® Honey Cream

1/2 cup

of vegetable oil

3

eggs

1 tsp

of vanilla extract
For the frosting**
3 cups

of powdered sugar

1/2 cup

(

1

stick) softened, but not melted butter

2

–

3

tbs of Coffee-mate® natural bliss® Honey Cream

1

tbs Honey
Raspberries for garnish***
---
Instructions
Preheat the oven to 350 degrees. Grease 2 round 8×8 or 9×9 by cake pans on the sides and bottom thoroughly with butter or oil. Set aside.
Mix cake mix, cream, vanilla and eggs in a large bowl with a hand mixer on medium until combined.
Pour cake mix into the two prepared cake pans and bake for 26-30 minutes or until a toothpick in the center of each cake comes out clean. Cool for at least 10 minutes before removing from cake pan and let cool completely prior to frosting.
For frosting
While cake is cooling, in a large bowl with a hand mixer, cream together butter, powdered sugar, and honey. Add in creamer one tablespoon at a time. You may only need 2 tablespoons, but you may need more depending on the humidity, etc. If you go past 4 tbs, the icing will be more of a glaze than an icing. When ingredients are thoroughly combined and peaks form, icing is done. Spread on cake.
To assemble cake
Frost one layer of cake. Stack the second layer on top of the first. Frost the top layer of cake. I just spread the frosting with a frosting spatula but feel free to get fancy and pipe if you desire. Finish the cake with a smattering of berries for garnish.
Notes
*The cake mix box will tell you how much water is needed. Simply sub the same amount of cream for water to make this cake. Water needs may vary based on brand of cake mix.
**If you don't want to make a naked cake like I did, double the frosting recipe.
***Raspberries optional, but any berry would be lovely on top.
Category:

dessert

Cuisine:

American
*These links are affiliate links. To read my affiliate policy click
here.