Easy French Entertaining: A Loaded Cheese Plate and Sea Salt Chocolate Truffles
Sometimes I like to feel classy. It's hard to do these days. Like really hard. I mean I spend my days with a toddler that has a very disgusting sense of humor and eating chicken nugget leftovers.
Back in the olden days, you know, pre kid, which feels like both a million years ago and yesterday all at the same time, I felt a little more classy than I do right now. I regularly wore real pants. I did my hair. My husband and I even enjoyed staying in bed and breakfasts.
So maybe even I wasn't a classier person, per say. Yet, I still enjoyed some of the finer things in life. Like when we would stay in bed and breakfasts, one of our favorite parts of the day was afternoon tea. Well, at our favorite b&b, where we spent our honeymoon, they didn't have afternoon tea. Instead, they had afternoon wine and cheese. OH YES.
This was a lovely tradition where we'd sit on the porch swing of the old Victorian house and nosh on wine and cheese and decide on our evening. We'd chat with the other guests sometimes, and always with the owner of the b&b, who was quite the character. Seriously, we've been married 11 years and I still remember some of his bad jokes. Possibly because we still tell them to each other sometimes.
When we moved into our house, sometimes we'd continue to do wine and cheese outside on our patio. Then we had a kid. And I survive on coffee, chicken nugget leftovers, and candy that I eat when I'm hiding in the bathroom. (Moms with toddlers, you totally feel me right?)
Well, I'm sick of it. The end. I want to reclaim myself and the feeling of enjoying some of life's finer things (aka not chicken nuggets or bathroom candy). So I was thrilled to team up with the Made in France, Made with Love program. I put together this cheese plate to end all cheese plates made with Ile de France cheeses® and some delicious sea salt chocolate truffles with French sea salt for a night of classy, summer entertaining. And of course, I paired the whole kitten caboodle (can I say that and still be classy?) with four amazing bottles of French wine.
I felt like the Barefoot Contessa as I put together this beautiful spread. I flat out expected Jeffrey to come waltzing in with our guests. Sadly, he didn't. But my sister and her boyfriend were both suitably impressed.
So how did I put it together? Well, I started off with the cheeses. I had two Ile de France® cheeses. The first was Saint Andre a soft triple ripened cream cheese with a salty tang, that is perfect to spread on sweet fruit like figs or slather on crusty French bread. I knew this cheese would be amazing with the sea salt truffles and the wine. Then I had a very intense blue cheese, Saint Agur, with a creamy finish that would contrast the sweet grapes and cherries I chose to serve with this cheese platter. This cheese would be amazing crumbled into a fresh spinach salad with strawberries or sprinkled onto a buttery steak. Both of these flavorful cheeses are affordable, available at many major retailers including Whole Foods and Wegmans, and totally delicious. You can find out more about these Ile de France® cheeses here.
The French wines I chose to serve went well with the cheeses. I served two reds and two whites. The George Duboeuf Beaujolais-Villages 2015 was a nice light red, perfect for those like me that prefer a sweeter, more mellow red kind of like Pinot Noir (cue Titus Andromedon). It had hints of fruit and a velvety finish. I served it lightly chilled, popping it into the fridge about 45 minutes prior to serving. The Georges Duboeuf Pouilly-Fuissé 2015 I served was a a lovely chardonnay with notes of almond, peaches, and pear. It tastes like heaven in a glass on its own but would taste awesome in some of my pasta recipes made with wine. To find out more about George Duboeuf wines, visit them on Facebook or Instagram.
I also served two Saget la Perrière wines, from the Loire valley. The first I chose was a white called Marie de Beauregard Vouvray 2015. With notes of ripe pear, honey, candied fruit and lemon, it's fresh and perfect for summer. It would also make a great addition to my lemon pasta with spinach and sun dried tomatoes. The red wine I served from Saget la Perrière was a cabernet called Marie de Beauregard Chinon 2015. This fruity wine has a slight blackberry aroma and woody notes. It finishes with spices and a hint of vanilla. Both wines retail for under $19.99. Awesome right? Find out more about them here.
And while drinking the wine and eating the cheese was fun, the icing on the cake of the evening were these sea salt chocolate truffles. OMG. So good. Truffles might just be one of my favorite indulgences ever and though everyone thinks of them around the holidays, I think they are perfect for summer. I mean, they are a no bake dessert, served chilled. Screams summer right? Even my rich, decadent truffles were authentically French. They were dusted with a hint of sea salt from La Baleine. Trust me, do not leave off the salt. The little bit of coarse sea salt sprinkled right on top just makes these truffles out of the world good.
In keeping with my theme of easy French entertaining, the sea salt chocolate truffles are so very simple to make. You only need a handful of ingredients, one pot, and a fridge. They take about 15 minutes of active prep time and that includes rolling them out into the little chocolatey balls of goodness that they are. You'd feel classy anywhere you eat them. Even if you are eating them hiding from your toddler, locked into a bathroom.
Print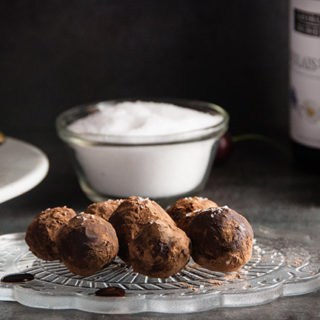 Sea Salt Chocolate Truffles
---
Author:

Prep Time:

10 minutes

Cook Time:

5 minutes

Total Time:

15 minutes

Yield:

12

to

18

truffles, depending on size of truffles

1

x
Description
Easy Sea Salt Chocolate Truffles
---
1/3 cup

heavy cream

6

tbs unsalted butter

1 cup

of good quality milk chocolate chips

1 cup

of good quality dark chocolate chips

1 tsp

of vanilla

1/4 cup

of cocoa powder

1/4 cup

of powdered sugar
La Baleine Kosher sea salt*
---
Instructions
In a small sauce pan over low heat, combine the butter, chocolate chips, vanilla, and heavy cream. Stir until the chocolate is just melted. Remove from heat and continue stirring until combined.
Refrigerate the mixture for 1.5 hours or until set.
Whisk together the powdered sugar and cocoa powder. Using a melon baller, scoop out balls from the chocolate mix and roll in the cocoa powder. Finish by sprinkling with sea salt. Serve immediately or chill until ready to serve.
Notes
*dust in salt to suit your taste. I used about a tablespoon over all the truffles.
Category:

dessert

Cuisine:

French