Homemade Slow Cooker Chicken Soup
Something I didn't expect about parenthood: my toddler gets us sick all and keeps up sick all winter long.
I don't know how. She doesn't go to daycare but she has the amazing talent for getting colds and runny noses, dubbed as the Goose germs. Last year was worse than this year. As soon as the weather turned colder, she got sick and was sick every 10 days or so. She'd get a nasty runny nose and a fever and it would last for a week or two. Then she'd be ok for a few days and then the cycle would start all over again. And of course, she would pass these Goose germs onto us.
Which really isn't surprising given that Goose's other hidden talent is sneezing directly on my face. I swear, I can be across the room for her and if she needs to sneeze she will make a beeline right for me, ask for uppies, and then sneeze all over me.
I need to start wearing a HAZMAT suit at home.
Ah, the joys of parenthood.
My husband is lucky. He is immune to the man cold. He may get a slight sniffle, then he'll be fine. I, on the other hand, am not so lucky. My immune system stinks. Actually, full disclosure, my health in general not so good. I've always gotten sick easily and since having a very difficult pregnancy have had some major kidney problems. Now I'm a borderline germophob. I know if I get more than a sniffle, I'll wind up totally out of commission or in the hospital. Not fun. I'd rather go to a tropical island. Or as Richard Gilmore says, "I'd rather be in Philadelphia." (Side note: who watched the Gilmore Girls Revival? Thoughts? Love, hate?)
So, I take it upon myself this time of year when Goose germs abound to take extra care of myself and eat things like this homemade slow cooker chicken soup.
My grandma used to make me chicken soup when I was sick as a kid. And there's some truth to grandma's cure all. There's tons of info floating around the web about how chicken soup actually does help you when you are sick. The salt soothes sore throats. The steam relieves congestion. And apparently there are anti-inflammatory properties that can speed up healing all in chicken soup.
All of these are great things, and this homemade slow cooker chicken soup is too. Sure, it's a little more work than opening a can of soup, but it is way better. The soup is 100 percent homemade from scratch. No short cuts, nothing. But don't be overwhelmed. Basically, after chopping up all the veggies, you through it into a crock pot with a chicken and set it and forget it. Then just before serving, you remove the chicken bones and boil some pasta if desired.
Really, it's very low maintenance after the chopping. And the chopping is so worth it. It's the perfect soup to eat all curled up under a fuzzy warm blanket in the middle of winter. Even my husband, who refuses chicken soup because it reminds him of an illness he had when he was a kid, happily ate this for dinner 2 nights last week.
And as for the Goose germ? Well, right now, we are winning. So I'll attribute it to this magic soup. If chicken soup isn't your cup of tea, try the following soup recipes:
Print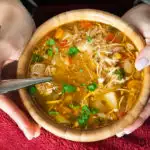 Homemade Slow Cooker Chicken Soup
---
Author:

Prep Time:

20 minutes

Cook Time:

8 hours

Total Time:

8 hours 20 minutes

Yield:

8

servings

1

x
Description
Homemade slow cooker chicken soup
---
1

whole chicken, about

4

pounds, no giblets

1

large yellow onion, finely chopped

3

celery stalks, diced

3

carrots or about

1 cup

of carrots, peeled and chopped

3

bell peppers, cleaned and diced

3

medium baking potatoes, peeled and diced

14.5 ounces

(

1

can) of diced tomatoes in juice

3/4 cup

fresh parsley

8

garlic cloves, crushed

3

bay leaves

1

tbs crushed red pepper flakes*
salt and pepper to taste**
---
Instructions
Put the whole chicken, onion, celery, carrots, bell peppers, potatoes, tomatoes into a large slow cooker.Cover with cold water to cover by 1-2 inches. Add the parsley, garlic, bay leaves, red pepper flakes, and salt and pepper.
Cook on low for 6-8 hours or until the chicken is falling off the bone.
Using tongs, transfer the chicken to a large bowl and let cool. Keep the rest of the soup in the crock pot.
While the chicken is out of the pot, skim the fat off the top of the soup.
Remove the bones and skin from the chicken meat. Discard them. Pull the chicken meat into large pieces with a fork.
Return the cooked, pulled chicken to the pot. Season with additional salt and pepper if desired. Add the fresh parsley just before serving. Serve hot over cooked pasta if desired. Garnish with Parmesan cheese.
Notes
*Omit red pepper flakes if you don't like heat.
** I went fairly heavy on the pepper to give it a bit of spice.
Recipe adapted from http://blog.carrabbas.com/2015/01/mama-mandolas-sicilian-chicken-soup-recipe/#.WH-aQVUrJaR
Category:

soup

Cuisine:

American
Shop this recipe!
*These links are affiliate links. To read my affiliate policy click
here.