Buffalo Chicken Sweet Potato Cheese Fries
I have a really weird 2 year old. Don't get me wrong, she's the bee's knees and the absolute love of my life. Her opinions are very unexpected for a 2 year old- especially on the subjects like these buffalo chicken sweet potato cheese fries. But she definitely marches to the beat of her own 2 year old drum so I shouldn't be surprised.
Goose knows what she wants, when she wants it. She has opinions that are all her own, and definitely not like opinions you would expect a 2 year old to have. In my circle of mom friends, Goose has earned her reputation as spirited and opinionated. Side note: I've decided spirited is the polite way of saying stubborn and opinionated.
I guess she takes after me. I really hoped she'd get my husband's easy going, good nature. Nope. Instead she's a loud mouth like her mama.
And just like her mama, her likes and dislikes almost always surprise others. For example, those that know me and just how casual I am can't believe that my kid is a fashionista. No lie, every morning for the last month or so, Goose wakes up and asks for her jewelry. The kid wears so many beads and bracelets she looks like she just came back from a Mardi Gras party pretty much 24/7. She definitely didn't get that from me. I live my life in pajamas and dress up like 3 times a year. I don't remember the last time I wore a lot of jewelry.
Well, except for now. Goose insists Mama put on bracelets and necklaces too. I do means INSISTS. Not strongly suggests or hints.
And the night we made these buffalo chicken sweet potato cheese fries, she insisted that she eat them. We weren't keen on her having them because of the copious amounts of hot sauce involved. Keep in mind, Parmesan cheese and chocolate milk are pretty much the only two things keeping my child alive because she is in that picky phase.
And in general, just like I don't mix well with high heels and real clothing, toddlers and hot sauce don't mix well.
But that's just in general. There's always an exception to the rule and my kid is it. We put a tiny little bit of hot sauce on her plate before letting her taste the fries. She dipped her finger in and tasted it. Then she looked at us with a big smile on her face and said, "MMMMMM it's good. I wub it."
I guess I shouldn't be surprised. She did really love our grilled buffalo wings. But that was before the picky phase really took hold. She also ate parts of the healthy loaded sweet potato fries we made a few weeks ago. And, honestly, what's not to love about this combo? You have got slight sweetness from the sweet potato, spicy from the buffalo chicken, and cheese. So much cheese.
Perfection. Cheesy, spicy perfection. In fry form.
Print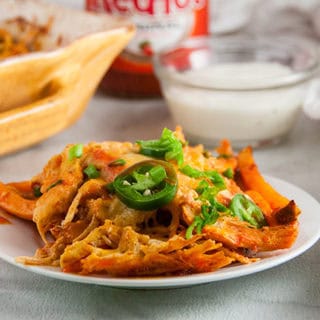 Buffalo Chicken Sweet Potato Cheese Fries
---
Author:

Prep Time:

5 minutes

Cook Time:

45 minutes

Total Time:

50 minutes

Yield:

2

large dinner portions or

4

side dishes

1

x
Description
Buffalo Chicken Sweet Potato Cheese Fries
---
For Chicken
2

breasts cooked chicken (rotessierer works well for this)

4

cloves crushed garlic
salt and pepper to taste

1/2 teaspoon

red pepper

1/2 cup

Frank's Hot Sauce

1 teaspoon

garlic powder

1

jalapeno diced
For Potatoes
2

smaller or

1

large sweet potato

1/4 cup

Frank's Red Hot

4

cloves garlic

1 teaspoon

garlic powder

1 teaspoon

chili powder
salt and pepper to taste

1/2 teaspoon

red pepper flakes
Additional Items
1/2 cup

cheddar, jack, or similar cheese
Blue Cheese Dressing or Ranch
---
Instructions
Preheat oven to 400
Cut the sweet potatoes into fries.
Put the sweet potatoes and all ingredients for the potatoes in a medium bowl and toss until all is covered.
Spray a cookie sheet with nonstick spray and arrange fries on sheet.
Loosely cover fries with aluminum foil and bake for about 20 minutes.
Carefully remove from oven and flip fries.
Bake another 15 minutes.
In the same bowl used for the potatoes, mix together the chicken and ingredients for the chicken.
Take fries out of oven and carefully pile them a bit together in the center of the pan.
Top with the chicken mixture and cheese.
Bake for about 5 more minutes or until cheese is melted and/or chicken is heated through.
Serve with favorite dressing or condiment.
Category:

fries, dinner, snack

Cuisine:

American
Nutrition
Serving Size:

2 large dinner portions or 4 side dishes
Shop this recipe!
*These links are affiliate links. To read my affiliate policy click
here.