No Churn Pumpkin Ice Cream with Caramel Walnut Swirl
Can you feel it? All things pumpkin are almost here.
Is anyone else as excited as I am? I love pumpkin season. Seriously. Stinkin. Love. It.
I could write love songs about pumpkin season or sonnets. And it totally cracks me up that one of Goose's favorite words right now is, "Punkin!"
I go totally 100 percent basic girl come October and sport my yoga pants and Uggs while I hold my pumpkin spice latte proudly.
Yep, that girl that all those memes are about. That would be me.
I could be embarrassed about it, but instead I choose to own it. When my intense pumpkin craving starts in like July and I whine about how it's taking SO LONG for pumpkin spice coffee to make its comeback, I get creative about scratching my pumpkin itch. I make frozen pumpkin things that don't require baking like my frozen pumpkin pie.
Now that it's the end of August, the pumpkin urge is so strong. The pumpkin is practically calling my name. But, it's still hot out. So it would be kind of weird for me to bake a pumpkin pie or drink a hot pumpkin spice coffee, right?
Enter this no churn pumpkin ice cream with caramel walnut swirl. OMG. I swoon. Ice cream + pumpkin = heaven. Seriously heaven. Ice cream is my very favorite thing to eat. I have very close friendships formed solely on a mutual love of ice cream. Not even kidding a little. I met my best post school era friend because I was an ice cream shop junky and she happened to work there. Yep. That's how often I was there.
Sad but true.
Anyway, back to this ice cream. It's creamy, delicious and packed with all my favorite fall flavors. Pumpkin? Check. Cinnamon? Check. A hint of ginger? Check. Even better. It swirls those flavors with a delicious ribbon of caramel sauce and walnuts.
Plus, it's easy. From start to freezer ready took 5 easy minutes while the Goose was on my hip, reaching her grubby little hands into the bowl, trying to touch the ice cream mix.
Like mother, like daughter I guess.
Print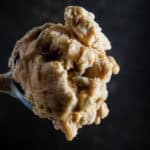 No Churn Pumpkin Ice Cream with Caramel Walnut Swirl
---
2 cups

heavy whipping cream

1 cup

of pumpkin puree

14 ounces

of sweetened condensed milk

1

tbs cinnamon

1 tsp

of ginger

1

tbs vanilla

1 cup

of premade caramel topping

1 cup

of walnuts, chopped
---
Instructions
In a stand mixer, using the wire whisk attachment, whip the cold heavy whipping cream and the tablespoon of vanilla until soft peaks form.
While the heavy whipping cream is being whipped, in a separate bowl, whisk together the pumpkin, sweetened condensed milk, cinnamon and ginger until thoroughly combined. Set aside.
When the whipping cream is ready, gently fold in the pumpkin mix. Continue to fold until the mix is combined.
Pour half the mixture into a large freezer safe container. Pour half of the caramel sauce on. Top with nuts. Pour the rest of the cream mixture into the container. Top with the rest of the caramel and nuts. Gently fold a few times so the caramel layers swirl through the ice cream.
Freeze for 4-6 hours or until set.