Look who's making an appearance on the blog today. Yes, the husband is back with his recipe for Buffalo Chicken Caesar Salad with Kale and Parmesan Cheese crisps. This is such a yummy salad. We've been eating it all month long. And really, I don't know if I love it so much because it's one of the things my husband makes when he cooks dinner, and boy do I love when he cooks dinner or if it's because it's easy to put together. Then there's the dressing. Seriously, this dressing could make cardboard taste good so putting it on actual food- well it basically tastes awesome. And then there's the Parmesan Cheese crisps. OMG. Just stop. Because I can't stop eating them. They are that delish. So without further ado, here's my veggie hating husband with a salad recipe that he will actually eat.
If you've seen any of my earlier posts (for example, Buffalo Chicken Cheesy Rice Bowls), you'll probably remember buffalo chicken-anything is one of my favorite foods. And when it comes to salads, I believe there is no better salad than a Caesar salad. And the trend setter that I am, I started putting buffalo chicken fingers and breasts into my Caesar salads long before it was popular to do so. So this Grilled Buffalo Chicken Caesar Salad combines two of my preferred foods into one delicious entree salad.
I'm not really sure when I first started to like Caesar salads. But I would probably attribute that mostly to my annual birthday dinner at Red Lobster growing up. I have ordered snow crab legs (also one of my favorite foods) for as long as I can remember. Around the age of 12 (maybe) I started to actually eat the green crap that came out before the meal… most people refer to it as "salad" but at the time I didn't care much for veggies. So I started with the Caesar salad. And it is still a favorite of mine.
It used to be, I only got them at Red Lobster, but I have since branched out and accept store bought dressings. The only problem is, Caesar dressing is not exactly healthy, and, from time to time, we go on a healthy eating kicks where full fat Caesar dressing is a no no. And sadly, the fat free Caesar dressings are blah at best.
So what does a loving wife who writes a food blog do? She makes a homemade version of Caesar dressing that uses good fat (olive oil), and though it may not be "fat free," it is better overall than full-fat Caesar dressings you can get from most grocery stores.
Of course, it didn't take more than her mentioning Caesar dressing and salad before I immediately connected the next dot – Buffalo Chicken Caesar Salad. It may seem like an odd leap, but at times, that's how my mind (and really Jenna's mind) works. And being as we wanted to make this slightly healthier, we made it a Grilled Buffalo Chicken Caesar Salad for ourselves, and you, to enjoy.
And yes, we all enjoy this in our house. This salad definitely doesn't go along with my previously mentioned description of vegetables, and that's pretty amazing given that the wife wanted it to be full of the most vegetable-y of all vegetables: kale. You know, all the extra nutrition. Not only do I think the the kale is a perfect base for the salad because it's hearty and keeps its texture with the dressing and chicken on top of it, but Goose also eats it. Yes, the kid that would prefer to eat nothing but popcorn, chocolate chips, and Play Doh happily ate the kale greens for dinner. And we all celebrated because she ate real food.
Told you this salad was pretty amazing.
Print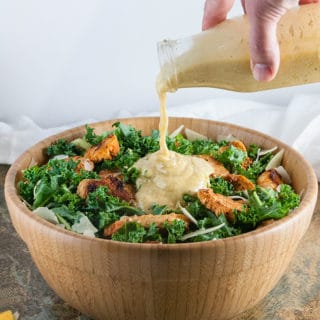 Grilled Buffalo Chicken Caesar Salad
---
For Chicken
2

breast of chicken

1/2 cup

of Frank's Red Hot

1 Tablespoon

garlic powder
pinch of red pepper flakes
salt and pepper (to taste)

3 Tablespoons

of Extra Virgin Olive Oil
For Dressing
3

cloves of crushed garlic

2 Tablespoons

of reduced fat mayo

1 1/2 Tablespoons

dijion mustard
juice of

1

lemon

3/4 cup

of Extra Virgin Olive Oil

1 1/2 teaspoon

worchester sauce

1/2 cup

of Parmesan cheese
For Salad
1/2

bag of fresh kale

1/4 cup

of Parmesan Cheese
pepper to taste
---
Instructions
For Chicken
Preheat medium grill pan to medium-high heat.
Cut chicken into slices about an inch thick
In a medium bowl, combine all ingredients for chicken and mix chicken slices into the bowl. Let set for a few minutes, or if desired, marinate for a few hours.
When pan is hot, spray with cooking spray and place slices of chicken on grill pan with some space between.
Cook each side for approximately 3 – 4 minutes or until cooked through.
Either place in oven set to 200 to keep warm or place on plate when cooked and set aside.
For dressing
In a small bowl, combine all ingredients for dressing. Stir until well combined.
Putting it together
Place kale in large salad bowl and pour dressing on top.
Toss salad with dressing.
Add chicken, Parmesan cheese and pepper (if desired) and toss until combined.
Shop this recipe!
*These links are affiliate links. To read my affiliate policy click
here.