Easy Roasted Carrot Soup
To say it's been one of those weeks is an understatement and a half.
Along with the normal insanity that comes with raising a very energetic 2 year old that hasn't quite figured out that diving off the couch is generally frowned upon and working from home, we had a pipe burst in our lower level.
So one night last week, Goose cried around 3 am. I was soundly asleep during this. Fortunately my lovely husband heard her. He also heard a sound that he described as the refrigerator running. After calming Goose down, he went to check the fridge. The sound was decidedly not coming from our fridge.
Nope. It was coming from our laundry room, which is right off of our family room. He went downstairs to check it out. And low and behold about 3 inches of water throughout our lower level. At 3 am. Does my husband wake me? Nope. He finds the pipe that has broken off our water softener, turns off the water, and proceeds to clean up the water without telling me what happened.
All good.
He comes back to bed. At this point, I am half awake. I am getting up to get a drink, and he says, "By the way, don't turn on the water. It won't work."
Scuse me now? What?
Keep in mind, it's like 4 am and I have no clue. He then tells me about how we almost had a Noah's ark situation in our downstairs. When I went to look, I could see puddles literally seeping up through our floorboards.
Fortunately, Goose woke up and he caught it before our furniture was ruined. Unfortunately, our Pergo floor is totally shot. So, we now have to deal with a totally unplanned major renovation in our house. The last week has been a blur of assessing the damage, trying to pick floors, meeting with insurance adjusters, and trying to move all of our furniture and our daughter's toys out of the downstairs so we can rip the floors out.
Needless to say, cooking has been rushed. We've been all about the easy meals that don't take much brain power to make. It's even better if these meals are healthy-ish and comforting. This easy roasted carrot soup fits all those categories nicely. Because I used bagged baby carrots, there's minimal prep work, just coarsely chopping an onion and crushing a couple garlic cloves. Then I tossed the carrots and onions and garlic with some fresh ginger and olive oil and spices and poured it all out on a sheet pan, the same way I do with my easy roasted butternut squash soup.
Then the oven worked its magic. While the carrots roasted, there was no need to babysit them. No frequent turning, no fuss. Then, I popped the whole sheet out of the oven and blended the carrots with some veggie stock. I added a little half and half for some extra creaminess. Granted if you want to keep it totally vegan, coconut milk would be awesome in this. Then it just heats on the stove top until you are ready to eat. And of course, you have to finish it with some awesomely easy homemade garlic bread croutons.
I think while our house is a crazy construction zone that we will be making this meal very often. It's so easy and the perfect soup to transition to spring.
Looking for other soup ideas? Check these out:
Print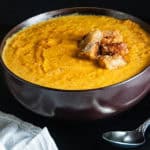 Easy Roasted Carrot Soup
---
Author:

Prep Time:

5 minutes

Cook Time:

45 minutes

Total Time:

50 minutes

Yield:

4

entree servings or

6

-

8

appetizer servings

1

x
Description
Easy Roasted Carrot Soup makes a perfect spring meal or an Easter dinner starter.
---
2

pounds of carrots

1

large onion

1.5

tbs olive oil

4

–

5

cloves of crushed garlic

1

–

2

inches of freshly grated ginger

3

bay leaves
salt and pepper to taste

4 cups

of vegetable stock

3/4 cup

of half and half, milk, or coconut milk
For the croutons
4

slices of bread*

1/2 cup

of grated Parmesan cheese

3 tablespoons

of olive oil

4

cloves of crushed garlic
salt and pepper to taste
---
Instructions
Preheat the oven to 400. While the oven is preheating, spray an aluminum foil lined cookie sheet with nonstick spray. Coarsely chop the onion and put it into a large bowl with the carrots. Toss with olive oil and salt, pepper, crushed garlic, ginger, and bay leaves. When the veggies are evenly coated, pour the bowl out onto the prepared tray. Roast in the oven at 400 for 35-40 minutes or until the carrots are fork tender. When the carrots are fork tender, put half of the veggies into a blender with 2 cups of veggie stock. Blend until smooth. Pour into a large pot and repeat with the other half of the carrots and remaining 2 cups of veggie stock. Pour into the pot. Finish off with 3/4 cup of half and half or milk. Heat on medium heat until warmed through. Serve with garlic bread croutons.
For croutons
Cube 4 pieces of slightly stale bread. Toss with olive oil, garlic, salt and pepper. Pour onto a sprayed foil lined cookie sheet. Broil for about 1 minute, then flip and broil the other side for another minute. Let cool and top the soup.
Notes
* I used gluten free bread. If using regular bread, use slightly stale bread for best results.
Category:

soup

Cuisine:

American
Shop this recipe!
*These links are affiliate links. To read my affiliate policy click
here.