Welcome to the place where I share what I'm up to each week and a bit of my real life outside of the blog.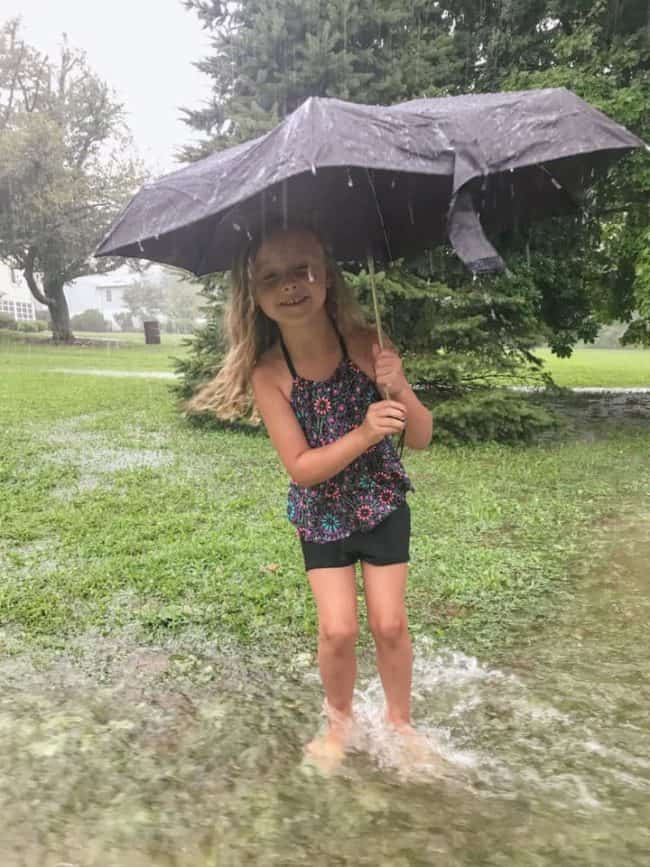 Post may contain affiliate links. You can follow this link to read my affiliate policy.
Doing
We got hit by Tropical Storm Isaias yesterday because of course we would get a tropical storm this year when we don't live on the coast. It absolutely poured for about 4 hours yesterday and turned our yard into a river and knocked power out. So what did we do?
We put on our bathing suits and went out and splashed through the yard. When the rain stopped, we went on an epic puddle walk and then my daughter and I played in the huge puddle that formed in her sandbox. This puddle was at least 8 inches deep. It was crazy. We both got soaked and muddy, but hey, why not?
Watching
My 5 year old absolutely adores watching baking competitions on Netflix. She's a huge fan of Sugar Rush and put on Nailed It, which is pretty much a baking competition for bakers who can't bake and turn every project into the ultimate Pinterest fail, over the weekend. Well, she got my husband and I hooked on the show. It's absolutely addicting and we've all been bingeing it together.
Reading
Have you read any of the Selection series books? Yes, I know they are YA dystopian novel and I am in no way in that demographic any more nor am I huge fan of dystopian fiction to begin with, but whoa. LOVE. I downloaded the first book on a whim and was surprised by how addicting the book was. The story is set 300 years in the future, after the fall of the United States. The country is now a kingdom divided into a caste system. The kingdom's prince has now come of age where he must marry. In the tradition of the kingdom, he has to choose a commoner to marry in a process called the Selection, which is sort of a cross between the Hunger Games and the Bachelor. Girls from all over the kingdom are invited to apply. The main character, America, applies, but only because her mother bribes her into it by allowing to keep the money she is earning for herself and because the boy she loves who is in a lower caste than her urges her too. She sends her application in, thinking she'll never be picked, but of course she is. The events that follow are a combination of fairy tale and thrilling, creating a really fast page turner to get lost in. I'm surprised I enjoyed it so much, but I loved it! I ordered the rest of the series to read and I hope they follow suit.
I'm also reading Love at First Like by Hannah Orenstein. I enjoyed Head Over Heels so much I was eager to read more from her. Love at First Like follows Eliza, the owner of an up and coming high end New York jewelry school. Eliza accidentally posts a photo of herself wearing an engagement ring on the store's Instagram account, which has over 100k followers. The picture goes viral and brings the shop tons of new business and publicity. So rather than set the record straight and tell the world that not only is she not engaged but she's really very single, she fakes an engagement and goes on with a hunt to find a man to be her fake fiance and help her with the publicity stunt she's cooked up. It's a fun read overall, very buzzy, but honestly, it sort of stresses me out. Her stakes are too high because her shop and her and her sister's livelihoods are on the line. I know it will likely all work out in the end but not before she looses or almost looses everything. I can't handle that right now.
Eating
So much good stuff! This strawberry Caprese has been on my table every day lately! And I am working on the most delicious summer gnocchi recipe ever. Can't wait to share it with you. Oh and another version of my cheesy corn chowder, which is a house favorite.
Drinking
Boozy strawberry lemonade slushies. This is my current summer obsession. SO GOOD.
Running
I got a longer run in on Monday this week and am still pretty pleased with myself because I'm seeing some improvement. However, I'm currently dealing with sciatica and my run definitely aggravated it. I'm going to try rolling it and stretching it out today so I can run again tomorrow. Anyone have any tips?
That's it for me this week! What are you up to? How are you all holding up? Leave me a comment and let me know!