You guys, this bread is amazing. I have to tell you, since I started cutting out gluten 3 years ago, there are few things I miss as much as good bakery bread or a delicious pizza. This easy gluten free bread is as good as any of the bakery bread I miss. I love having it in my house. It makes a fabulous breakfast with some peanut butter spread on it, or can be made into amazing French toast. And let's talk paninis for a second. Oh yeah. So I absolutely love when my husband makes this and we can enjoy it all week long.
Good, fresh bread is one of the simplest pleasures in a dining experience. Sometimes, depending on what or where your eating, the bread is the best part of the entire meal. Yeah, that happens a lot when we eat places other than home. Problem is, Jenna has a poor reaction to gluten. And good gluten free bread is hard to come by. In fact, I have yet to see a bakery fresh loaf of gluten free bread. So, we made our own Super Soft and Easy Gluten Free Bread.
Let's talk about the easy for a moment. It's easy enough to make while holding a nearly two year old. Yes. I literally held the Goose THE ENTIRE TIME I was prepping the bread.
She had just woken from a nap. And when the Goose wakes up, she is usually super clingy. Jenna was busy, which left me to help transition the Goose from nap and make the bread.
Well, I have become quite skilled at one-handed measuring. Generally, I can hold the measuring cup in one hand and pour with the other. Or I leave the cup on the counter. A lot of times, I'm sort of guessing and hoping it makes it in the cup. It normally does.
And what's the Goose doing while I am making her part of my balancing act routine? Casually eating a bowl of dry Chex cereal. Watching. Almost laughing at the plight she has put me under as I make the gluten free bread.
Thankfully, the measuring is the hardest part. After that, it is pretty much mix and bake.
Did I mention there is no kneading? Yeah, none. A lot of bread recipes call for copious amount of rise time and kneading. You have to wait about ten minutes for the yeast to proof and about fifteen for the dough to rise some. After that, the dough rises nicely in the oven.
And truly the best part is that the bread is very moist. Anyone who has had store bought gluten free bread knows how hard it is to come by soft bread. And this Super Soft and Easy Gluten Free Bread will definitely not let you down.
Print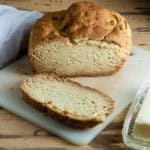 Super Soft and Easy Gluten Free Bread
---
1 1/2 cups

milk

2 Tablespoons

honey

1

packet of quick rise yeast

3 cups

gluten free flour blend

2 teaspoons

Xanthan gum

4 teaspoons

baking powder

2 teaspoons

baking soda

4 teaspoons

lemon juice or a vinegar of choice

2

eggs

1/4 cup

olive oil
---
Instructions
Preheat oven to 375.
In a small pot, combine milk and honey and heat to just above luke-warm. The milk should feel warm but not very hot.
Mix in yeast package and set aside for ten minutes. *Note: if in ten minutes you do not see a foam forming, you need to repeat this step as the yeast is not active.
In a medium bowl, whisk together the dry ingredients (flour, baking soda, baking powder, and Xanthan gum).
In a large power mixing bowl, beat together the eggs, lemon juice, and olive oil for about 30 seconds on medium.
Add yeast mixture and beat another 30 seconds.
Add dry ingredients and beat for 4-5 minutes on medium.
Spray a bread pan with non-stick spray and spray a rubber spatula (it makes spreading the super sticky dough easier).
Shape dough in pan and allow to rise for about 10 minutes. You may not see very noticeable changes and that is OK.
Bake for about 40 -45 minutes. If it is browning too fast, cover with aluminum foil.
Remove from oven and let cool some before slicing.