The husband is bringing you Man Food Friday again. This guy really can't get enough buffalo food. These amazing monstrosities are jalapeno popper stuffed buffalo chicken burgers. Let me tell you, these things are like Miami according to Will Smith. They bring the heat, for real. Anyone else remember his song Miami?
Ok moving on.
These stuffed buffalo chicken burgers are amazing. They kind of remind me of Cheesecake Factory Buffalo Blasts. In burger form. Gooey, cheese, hot and spicy. Sometimes I think my husband is a genius. But don't tell him I said so, ok?
If you couldn't tell from the last time I posted, I really love buffalo chicken. Sure, wings have been a staple of mine since I was young, but now since you can have buffalo anything I am finding new ways to enjoy my favorite sauce. These stuffed buffalo burgers do the trick nicely, and may even convince me that stuffed buffalo chicken burgers are better than grilled buffalo wings (though my recipe is tough to beat considering our toddler likes them).
If you have been following my wife's posts, you know our daughter is made of Thai food. Very spicy, hot Thai food. The first time the kid tried a lemon, she made the sour face but then delightedly kept on eating. When we made the wings, she grabbed for them while my wife was taking the pictures for this site. She walked around gnawing on the wing until she has eaten through to the bone.
After months of telling her that spicy or hot food is too much for her, we have given up. After the wing snatching, we just give her what we are having, at least to try. If she won't eat it, more for us, and we give her another option.
These stuffed buffalo chicken burgers are pretty spicy. They take our Buffalo Chicken Burgers and stuff the melted jalapeno popper center from our Stuffed Jalapeno Popper Burgers into them. The result: a kicked up chicken burger smothered in spicy sauce stuffed with creamy melted cheese and flecks of fresh jalapenos.
So like any good parent, I let the Goose try a burger. They are hotter than the other recipes since they combine elements of each, but the kid did not flinch. She took a bite and wanted more. Then she ate her standard 5 bites so I'd say this recipe is toddler approved.*
*Not responsible if your toddler does not share the same affinity to hot and spicy food as ours does.
Print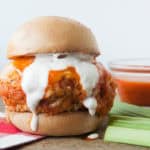 Stuffed Buffalo Chicken Burgers
---
Prep Time:

10 minutes

Cook Time:

35 minutes

Total Time:

45 minutes

Yield:

6

1

x
For Cheese Stuffing
1/2 cup

cheddar cheese

1/2 cup

cream cheese

4

minced or crushed garlic cloves

1/4 cup

Franks hot sauce

1/4 teaspoon

garlic powder

1/2

jalapeno pepper
salt and pepper to taste

1/2 cup

bread crumbs

1

egg
For the Burgers
1

pound ground chicken

1/2 cup

Franks hot sauce

3 Tablespoons

butter

4

cloves of garlic crushed or minced

1/2

jalapeno pepper

1/4 cup

shredded cheddar cheese

1

egg

1 1/3 cup

bread crumbs
salt and pepper to taste
---
Instructions
For the filling:
Mix all ingredients but the breadcrumbs and egg in a small bowl
Whisk with a fork the egg in small dish
Place breadcrumbs in a separate dish
Form cream cheese mixture into roughly Tablespoon size balls
Coat each ball in egg and dip in breadcrumbs until coated
Repeat until used up
For the patties
Preheat oven to 375
Melt the butter for roughly 30 seconds in the microwave or stove top
Throw all ingredients into a medium bowl
Mix by hand or spoon until the ingredients are well combined
Taking about a 1/4 of the mixture, start to form a patty with a small well in it
Add the breaded cheese balls to the center of the patty
Make sure to cover the entire ball with the chicken mixture
Repeat to make 4 patties
Heat skillet or griddle to medium high heat and spray or lubricate with oil
Place each patty on the skillet and sear both sides for about 2-3 minutes a side
Place seared patties into preheated oven and cook for 30 – 40 minutes (since this is raw chicken, it is best to use a meat thermometer in the core of the patty to ensure it was cooked through)
Add a slice or two of cheese
Serve with blue cheese, ranch, or any other condiment you would prefer.