Sweet strawberries, crunchy toasted almonds, and salty ricotta salata make this easy strawberry summer salad a delicious winner for a light lunch or dinner.
Sometimes, I just need a salad like this strawberry summer salad. I hate to admit it, but I do. I mean, they are so dang good for you, and I am currently trying to make sure that my bridesmaid's dress zips in my best friend's wedding next month. So you know, as much as I want to, I can't just mainline cheeseburgers like they are going out of style. Sad. Oh, the struggles of losing the baby weight.
I find plain salads sort of boring. I mean really, there are only so many times you can eat a standard salad with a few leaves of lettuce or spinach and some dressing before you just need something new and different to shake up your taste buds and not make you wish the cheeseburger fairy could come and make cheeseburgers a health food.
Unfortunately, there's no cheeseburger fairy. Fortunately, there's this strawberry summer salad with toasted almonds to remedy my salad blues.
Not only is it delicious, but this whole thing comes together in a quick ten minutes. It makes the perfect weekday lunch but it is pretty and elegant enough to serve to company. If you'd like, you could add some grilled chicken to this. Sometimes, if I am looking for something a little more hearty, I add some quinoa. Do whatever your little heart pleases to customize it for you.
I love using in season ingredients like fresh strawberries. Have you ever gone to pick your own strawberries or at least bought them from a farmer's market? Now those are strawberries! Juicy and sweeter than any strawberry you've ever bought from a grocery store, fresh picked strawberries just are the beginning of summer.
These sweet, satisfying, beginning of summer strawberries contrast with crumbly, slightly salty ricotta salata cheese. Spiced toasted almonds add zest and crunch. And the homemade honey mustard vinaigrette is the perfect sweet, smooth finish.
Not only could I eat this salad all day, but my toddler loves picking it apart. If I eat the salad with her on my lap, you can bet there are little fingers stealing all my strawberries and almonds.
And then, before you know it, there are little fingers wiping strawberry juice all over my lap or shirt.
Print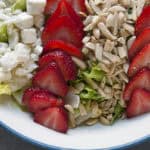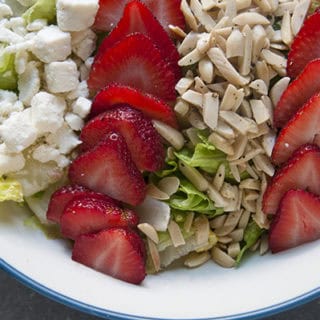 Strawberry Summer Salad with Toasted Almonds
---
Author:

Prep Time:

10 minutes

Total Time:

10 minutes

Yield:

1

1

x
Description
Sweet strawberries, crunchy toasted almonds, and salty ricotta salata make this easy strawberry summer salad a delicious winner for a light lunch or dinner.
---
For the Salad
1

head of romaine lettuce, chopped

1

pound of strawberries, sliced

1/2 cup

of slivered almonds

1 cup

of ricotta salata cheese*

1 teaspoon

of olive oil
salt and pepper
For the Dressing
1/4 cup

olive oil
the juice of half a lemon

3 tablespoons

of honey

2 tablespoons

of dijon mustard

2 tablespoons

of balsamic vinegar
---
Instructions
Heat a teaspoon of olive oil in a small pan over medium heat. Shake the pan gently, to just spread the oil out so it covers the whole pan.
Pour the almonds into the pan and sprinkle with a little salt and pepper.** Heat for about 4 minutes or until the almonds just start to turn golden. Remove from heat and set aside.
Wash, dry, and chop the romaine lettuce. Put it in a big bowl. Top with sliced strawberries, crumbled ricotta salata, and the toasted almonds.
Finish by pouring dressing over the salad.
For the Dressing
Whisk the ingredients together vigorously until the mustard dissolves. Pour liberally over the salad just prior to serving.
Notes
* You can substitute feta for the ricotta salata if you prefer.
** I go pretty heavy on the pepper. I like the nice bite from the pepper in contrast with the sweet strawberries.
Category:

salads

Cuisine:

American
Keywords: strawberry salad, strawberry summer salad, salad with toasted almonds