I have to hand it to Nate. We had shrimp in the fridge from our weekend date night and I was going to make a pasta dish, but it was the first day that Goose had been sick. She had been super clingy all day and very fussy, understandably so. I had not had a chance to get my work done or even so much as eat a meal since she was refusing to nap, be put down, or not be held at all points in time. Nate told me he would do dinner and watch Goose so I could do some work. Who am I to say no, especially when the result was these unbelievably delicious spicy shrimp and crab burgers topped with a zoodle slaw? I have to hand it to my husband this week- he's been all kinds of awesome in his sweet cooking gestures.
Wow! When we came up with the concept for the Spicy Shrimp and Crab Burgers this week, I don't think we were expecting them to be as amazing!
Sure, they combine two of my favorite sea foods. And yeah, they are spicy, which I definitely love. But something about them makes them worth eating three nights in a row.
Usually, we split up meals a bit. Rock the boat a little. Make sure if we have the same thing twice, we have a break meal in-between. Even with some of our best recipes, we tend to take a bit of a break.
And this week, the Spicy Shrimp and Crab Burgers had perfect timing. The Goose has been fighting some sort of virus. Nothing too major. High fever and now a bit of a scratchy sounding throat. Still, it was enough to take its toll on Jenna during the day while I was at work. Combined with some long nights with limited sleep, and we were glad to have a pre-made dinner this week (and coffee, Jenna was so glad for coffee).
But, the week was not all bad. The Goose, despite not feeling well, learned something I have been waiting years to teach her. Yes, this dates back to before she was even a potential in our minds. A family friend of ours oldest daughter, when she was around the Goose's age, would laugh on command.
She would go "Ha! Ha! HAAAA!" and really drag out the last "ha." From the first time I heard that, I wanted any child I had to be able to do the same.
Well this week, as we enjoyed our Spicy Shrimp and Crab Burgers, the Goose laughed on command.
I'd say, "Goose, laugh." And she would say "Ha! Ha! Haaaa!" even holding the last "ha" for a length of time.
From what I can tell, she loves saying it for me. She always smiles when I praise her for it. It's probably the age. But I like to think it is because she truly likes it for more than just pleasing "da-da."
On account of her illness, we didn't let her try the Spicy Shrimp and Crab Burgers. Sad taste tester. I even made her a little, Goose-sized burger… which two adults who shall remain nameless ended up cramming onto their own burgers.
Oh well. Next time Goose. Next time. Because, with these burgers, there will be a next time.
Print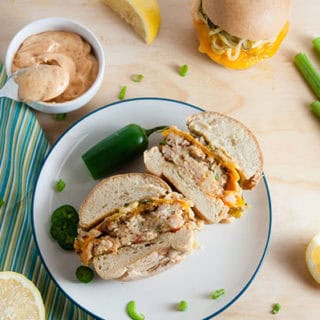 Spicy Shrimp and Crab Burgers
---
For Burgers
1

pound raw shrimp (diced)

2

garlic cloves (crushed)

4 Tablespoons

light mayo

4 teaspoons

Old Bay Seasoning

2

packets of Sazon

1

can fancy or lump crab meat (

6oz

can, drained)

1 cup

gluten free or regular bread crumbs

1

jalapeno (diced)

1

egg

1 cup

shredded cheddar or Mexican style cheese
salt and pepper to taste
For Topping
6 Tablespoons

light mayo

1

–

2

Tablespoons Frank's Red Hot

1/8 teaspoon

garlic powder
salt and pepper (to taste)
For Squash Spiral Relish
1 cup

of spiraled squash

1/4 cup

of white or Sherry wine (you can use a vinegar if you don't have wine)

1/8 teaspoon

salt

1/8 teaspoon

pepper

1/8 teaspoon

garlic powder

1/2 teaspoon

honey
---
Instructions
Preheat oven to 350 degrees.
Heat medium-large skillet to low-medium heat.
Combine the ingredients for the burger in a medium bowl. Mix thoroughly. Let sit for about 5 minutes.
Combine the ingredients for the topping in a small bowl and set aside to top later.
In a small skillet, combine and cook over medium heat the squash spirals.
Form shrimp mixture into roughly bun size patties, it should yield about 6 patties.
Butter, oil, or spray the heated skillet.
Place each patty a few inches apart and cook for about 4-6 minutes each side.
Check the squash and stir. If all/most liquid is out, turn off heat.
Remove each patty and put on an oven safe pan.
Cook the patties for 12-15 minutes in the oven. If browning too fast, cover with aluminum foil.
If desired, put cheese on burgers for the last few minutes of baking.
Place a portion of the squash spirals on the bottom of a bun.
Spread the spicy mayo over the top of the bun.
Place patties on buns and enjoy.