I go on serious food kicks. This month I'm all about risotto. I already made a fab crab risotto, but did I stop there like a normal person? Nope. I had to go make shrimp risotto with garlicky kale.
I love risotto but I seriously… Whenever I think about risotto, the first thing I think is, "MMMMMMM." The second thing I think of is Gordon Ramsey.
Did you ever watch Hells Kitchen? I went through a brief but hardcore infatuation with Hells Kitchen. So if you don't watch Hells Kitchen, what you need to know in a nutshell:
It's a cooking competition/reality show with celebrity chef Gordon Ramsey as the judge/chef mentor
Gordon Ramsey is pretty much a more outspoken version of Simon Cowell but in the cooking world. He spends the majority of each portion of the show when the contestants are in the kitchen screaming at them about how the soup is too dry… or the fish is raw… or the risotto is bloody awful. He LOVES to yell about the risotto. In obscenities.
So, pretty much every time I have made risotto in the past month, I have had Gordon Ramsey's voice in my head. Only he's not yelling obscenities. He's telling me it's (insert choice obscenity here) brilliant. My husband, on the other hand, may channel his inner Gordon whilst we cook this
Because it is. This shrimp risotto with garlicky kale is one of my favorite things ever. It's creamy, rich, and delicious. It's perfect home date night food. Also, it's a food my picky little Goose will eat. Not super surprising given that she does eat rice and risotto is fancy rice. But still sort of surprising given that I'm pretty sure she manages to survive on fairy dust, mischief, and chocolate milk.
Oh well, if there is a food to eat, this is definitely it. People think risotto is so hard to make but really, the key is stirring, tasting, and patience young Paduan. You can't add all the liquid at once. Instead, add it a cup at a time and just stir while the pot simmers. When the liquid absorbs, add the next cup and repeat. After the third cup, taste it. Is the risotto cooked enough? Creamy enough? It's definitely a personal preference.
And a good excuse to sneak spoonfuls of delicious comfort food while you are making dinner. Consider it a predinner snack. For the good of all your dining companions. Because you want them to enjoy the risotto as much as you do. Obviously.
Print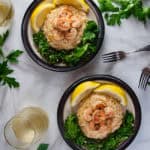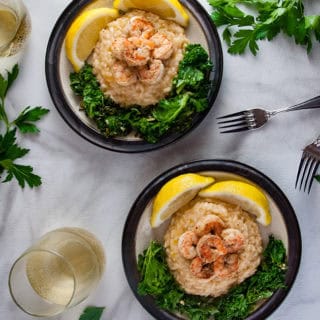 Shrimp Risotto with Garlicky Kale
---
Author:

Prep Time:

10 minutes

Cook Time:

30 minutes

Total Time:

40 minutes

Yield:

2

large servings or

3

-

4

smaller servings

1

x
Description
Creamy shrimp risotto with garlicky kale
---
For the risotto
1

shallot or

1/2

of a small sweet onion

1

tbs butter

1

tbs olive oil

1 cup

of Arborio rice

1

garlic clove

1 1/2

* cups of white wine

2 cups

of chicken, vegetable, or seafood stock or broth

1/2 cup

of Parmesan cheese
salt and pepper to taste
For the shrimp
1

pound of large shrimp, cleaned with shells removed
juice from

1/2

lemon
salt and pepper to taste
pinch of red pepper

2

cloves of garlic crushed

1 tablespoon

of butter

2 tablespoons

of olive oil
For Kale
3

–

4

cups of kale, with large stalks removed

1 tablespoon

of olive oil

1/4 cup

of white wine

3

–

4

garlic cloves pressed
salt and pepper to taste
---
Instructions
For the risotto
In a medium pot, heat 1 tbs of olive oil and 1 tbs butter over medium heat. When the butter is melted, add the thinly sliced shallot and the crushed garlic for the risotto. Cook for about 3-4 minutes or until the shallots are slightly soft. Season with salt and pepper. Stir regularly.
When the shallots are soft, add the cup of risotto. Stir to coat the risotto with the garlicky oil mixture. Add in a cup of white wine. Stir regularly and let the risotto cook until the first cup of wine is absorbed. Add in the second cup of wine and repeat. When wine is absorbed, pour in first cup of stock. Cook and stir until absorbed. Repeat with the second cup of stock.
When all the stock is absorbed and the risotto is creamy and fluffy, stir in Parmesan cheese. Remove from heat. Drizzle with olive oil if desired. Serve hot, topping with cooked shrimp.
For the shrimp
While the risotto is simmering, heat a skillet over medium heat. Melt the butter and add the olive oil. Season shrimp with lemon juice, salt, pepper, garlic cloves and red pepper, tossing them to make sure the seasoning is evenly distributed. Add the shrimp to the hot pan and cook for 1-2 minutes or until the shrimp is pink on one side then flip and cook an additional 1 minute on the other side. Serve over the risotto.
For the kale
While the risotto and shrimp cook, in a large skillet, heat the oil for the kale over medium heat until the oil is warm. Add in the prepared kale and crushed garlic. Season liberally with salt and pepper. Pour in white wine. Cook for about 5-6 minutes or until the asparagus softens. Finish by sprinkling with lemon zest and serve with risotto and shrimp.
Notes
*You may find you want to add more white wine. Also use whatever kind of white wine you would drink. I prefer sweeter wine so we used Reisling.
Category:

dinner

Cuisine:

Italian, seafood
Nutrition
Serving Size:

2 large servings or 3-4 smaller servings
Shop this recipe!
*These links are affiliate links. To read my affiliate policy click
here.