I'm all about easy this Christmas. Give me all the yummy treats as long as I can make them in like 10 minutes or less with little fuss. I'm also apparently on a huge salted caramel kick. It must be because my salted caramel chocolate butter bars were so good, I'm now craving the combo like it's going out of style. Fortunately, this salted caramel pretzel chocolate bark meets all my criteria.
Easy? Check!
Full of salted caramel and chocolate? Double check!
How's that for a winning combo this time of year? I just can't get enough of the salty sweet combo. It's so good. And, making this candy is such a good excuse to use sprinkles! Cue excessive use of exclamation marks!!! I love any excuse to use sprinkles. Really, sprinkles are the glitter of the dessert world. In a good way though, not like rice cereal which is the annoying glitter of the food world that gets everywhere and I find myself cleaning out from between the floor boards and the slip covers. But that's another story.
This candy takes less than 10 minutes to throw together. And it doesn't even require the use of a stove or oven. Just a microwave, two bowls, and tray lined with wax paper. Then just like that, you've got a tray of this that would be the perfect candy to serve as Christmas dessert. Or if you're me, you pick at it all day long. Because before you know it's 5 pm and the only actual food you've eaten is this…and 3 very large cups of coffee.
I'm not the only one in this house that loves this candy. Goose loves it too.
In fact she loves it so much that she might have photobombed my photo session.
Or, you know totally interrupted it and made it grind to a screeching halt.
If you follow along with me on Instagram, you know that she's often underfoot while I am doing my food pictures. Most times, she just wants to take pictures too with her play camera so she can be like mommy. (Be still my heart.)
Other times, like when we made the easy baked corn, she gets a little excited.
And totally takes over the shoot. This time, she crawled up onto the table that I use to set my shoots up and helped herself.
In case you're wondering, yes, that is a sprinkle in her hair.
Clearly, Goose loves Sprinkles too. Or at least considers them the glitter of the hair accessory world for toddlers.
Print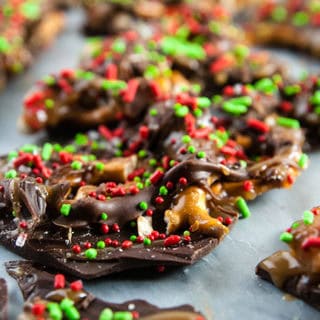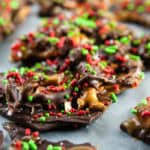 Salted Caramel Pretzel Chocolate Bark
---
Prep Time:

5 minutes

Cook Time:

3 minutes

Total Time:

8 minutes
3 cups

of chocolate chips

3/4 cups

of caramel bits

2 tablespoons

of milk or cream

2 teaspoons

of vanilla

1 cup

of pretzels, coarsely crushed*
sea salt to taste
sprinkles (optional)
---
Instructions
Place the 3 cups of chocolate chips in a microwave safe bowl. Melt the chocolate by microwaving on high for 30 seconds and then stirring. Microwave for 15 seconds, then stir again. Repeat this process until the chocolate is smooth.
Pour about 2/3 of the melted chocolate onto wax paper on a cookie tray. Spread the chocolate out with a rubber spatula until the chocolate layer is about 1/4″ thick.
Pour the coarsely crushed pretzels out over the melted chocolate evenly.
Add the caramel bits to a microwave safe bowl with a 1/8 of a cup of milk or cream. Microwave on high for 30 seconds and then stir before microwaving again for 15 seconds, stirring after. Continue the 15 second increments and stirring until the caramel and milk are smooth. Stir in vanilla.
Spoon the caramel over the pretzels and chocolate. Sprinkle on sea salt.
Spoon the remaining chocolate over the mixture. Add sprinkles if desired.
Let harden in the fridge for at least an hour prior to breaking it apart.
Shop this recipe!
Please be aware that this post may contain affiliate links. I only link to products I use and would recommend. For my full disclosure policy check here.