Creamy pumpkin risotto is an elegant take on risotto with pumpkin & parmigiano-reggiano. Perfect on its own as a meal or as an Italian inspired Thanksgiving side dish. It's pretty much fall in a creamy, comforting bowl of goodness.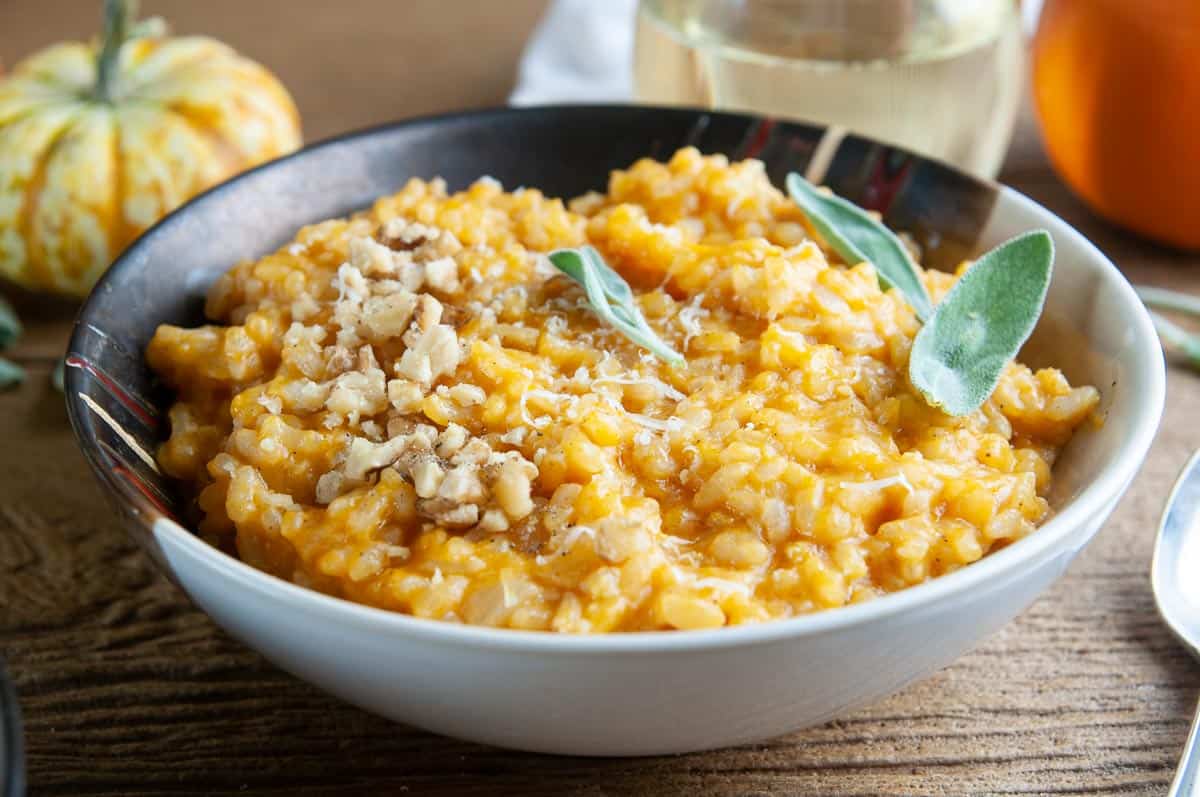 Post may contain affiliate links. To read my affiliate policy click here.
Risotto is one of my favorite things in the world to eat.
It's creamy, and you can make it with wine and cheese. What's not to love?
Thanks to Gordon Ramsey though people have this idea that making risotto at home is really hard.
But you know what?
It's not.
Sure it requires some patience but there are absolutely no fancy skills or techniques involved in making homemade risotto.
If you can stir, you can make risotto.
It's that easy.
But if you're still feeling intimidated don't worry.
I'm going to break it down for you so you can make delicious Thanksgiving risotto at home like a pro!
Thanksgiving Risotto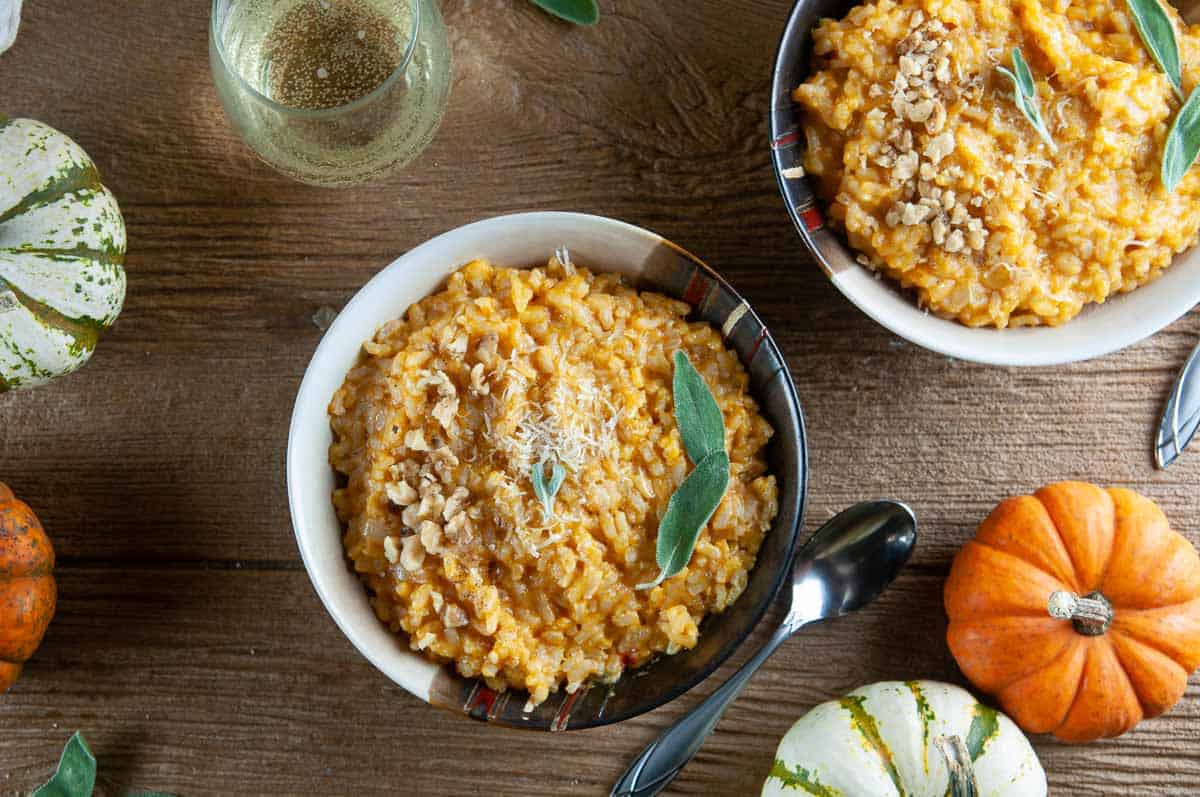 Oh! And for me, I'd absolutely make this pumpkin risotto as a vegetarian alternative on Thanksgiving dinner. It is festive, fragrant, and so totally satisfying that you'd never even miss the turkey.
Ingredients and Kitchen Tools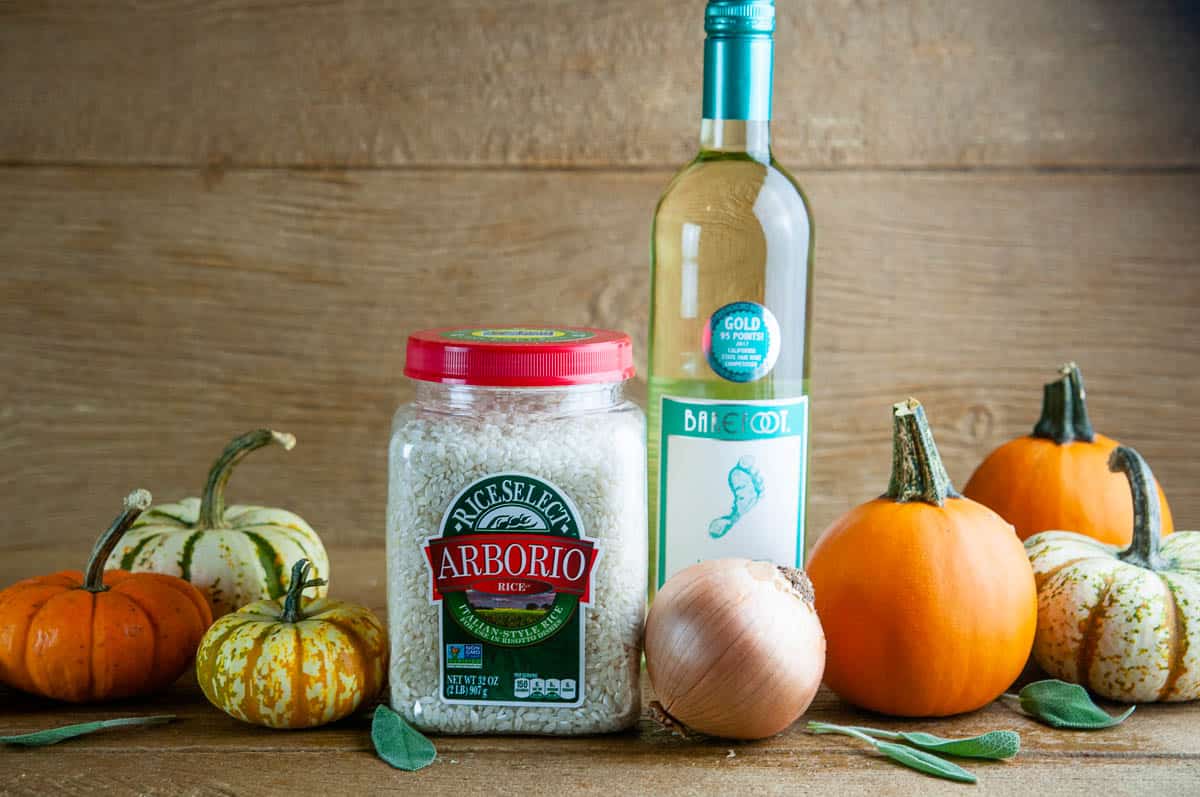 Make sure to start off with the right ingredients. You need:
Arborio rice– This is a must for risotto. There is no substitute for a different kind of rice. Arborio rice is a short grain, starchy rice. This is key for creamy risotto because the cooking process releases the starch and creates the silky consistency.
White wine– Use your favorite kind. I prefer sweet white wine like Riesling but use whatever you have.
Stock– You need liquid to cook the risotto in. Yes, technically you could add water, but you really want to add flavor wherever possible so stock is better. Go for vegetable stock or chicken stock.
Pumpkin– Canned pumpkin is perfect just be sure you are using pumpkin puree and not pumpkin pie filling.
Aromatics– Fresh garlic and onion.
Butter– I prefer unsalted butter so you can control how much salt is in your risotto.
Parmesan cheese– Use the canned kind if you must but this is a dish that relies on quality ingredients. I highly recommend buying the kind of Parmesan cheese you can find in the specialty cheese case.
Spices– Fresh sage, cinnamon, and nutmeg.
It also helps to have the following kitchen tools and supplies:
How to Make Pumpkin Risotto- Patience Makes Perfect!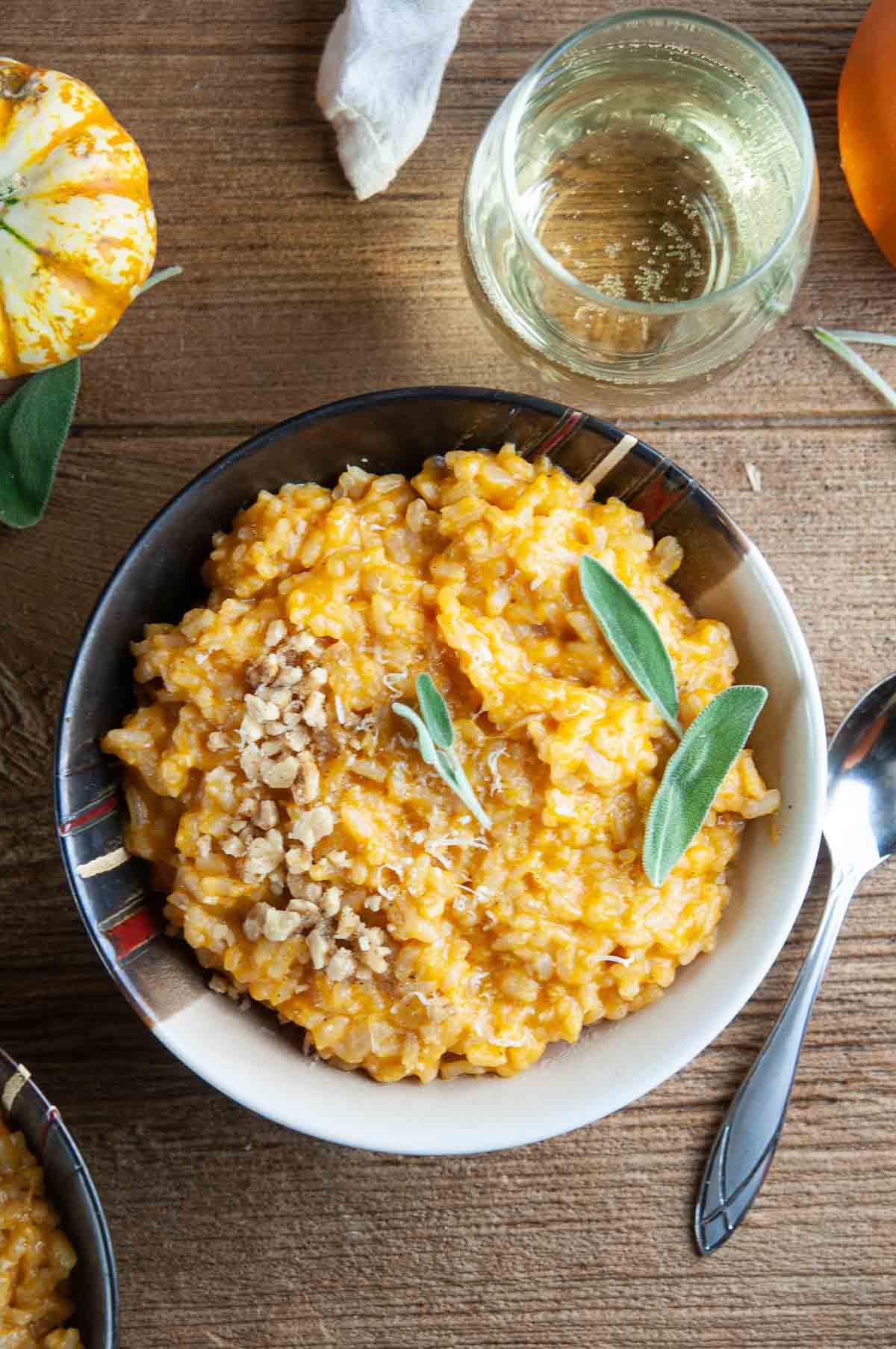 While pumpkin risotto is easy, it definitely requires some patience. If you're looking for a dish that you can set and forget, this is not the one for you. But if you are looking for a dish that feels luxurious and silky, this is it.
To make pumpkin risotto, we are going to divide it into a few parts:
making the brown butter base with the aromatics
slowly cooking the risotto
finishing it off with pumpkin and cheese
Make the Brown Butter Base
1. Brown the butter.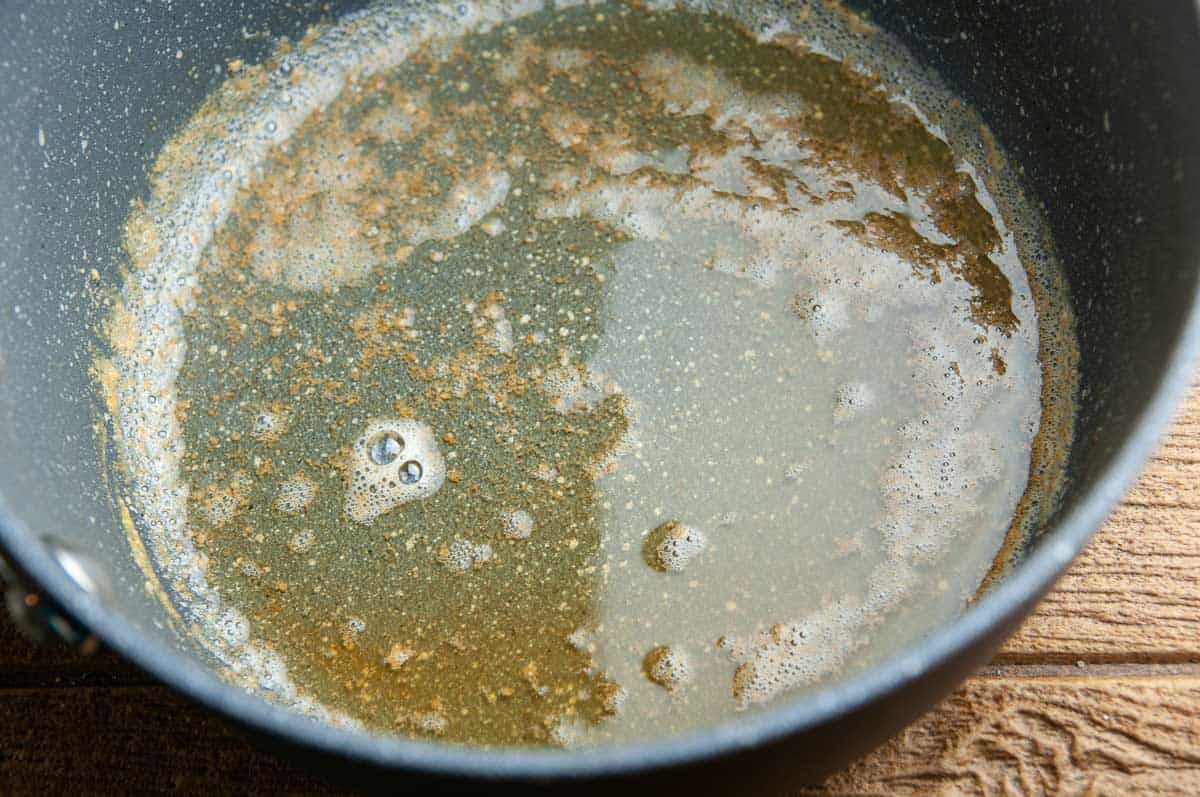 Have you made brown butter? It's not hard.
To do it, added the butter directly to the medium sized saucepan on a burner set to medium low heat.
Let the butter melt, stirring occasionally.
The butter will go from the frothy yellow white you associate with melted butter to this lovely golden brown.
2. Saute the aromatics.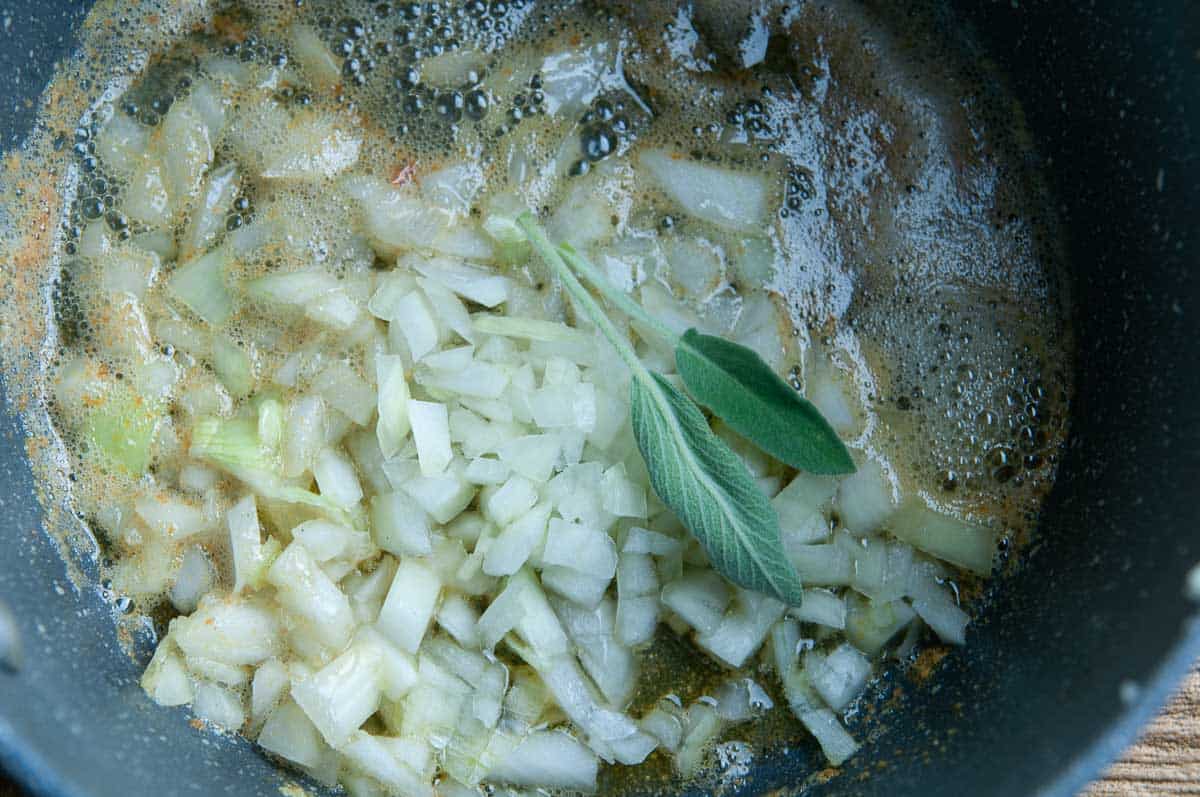 As soon as the butter is lovely and brown, add the garlic, sage, and chopped onions or shallots and raise the heat slightly to medium. Cook until the onions soften.
3. Pull out the wilted sage.
When the onions are golden and soft and look like this, pull the sage out.
Slow Cook the Risotto
1. Toast the rice.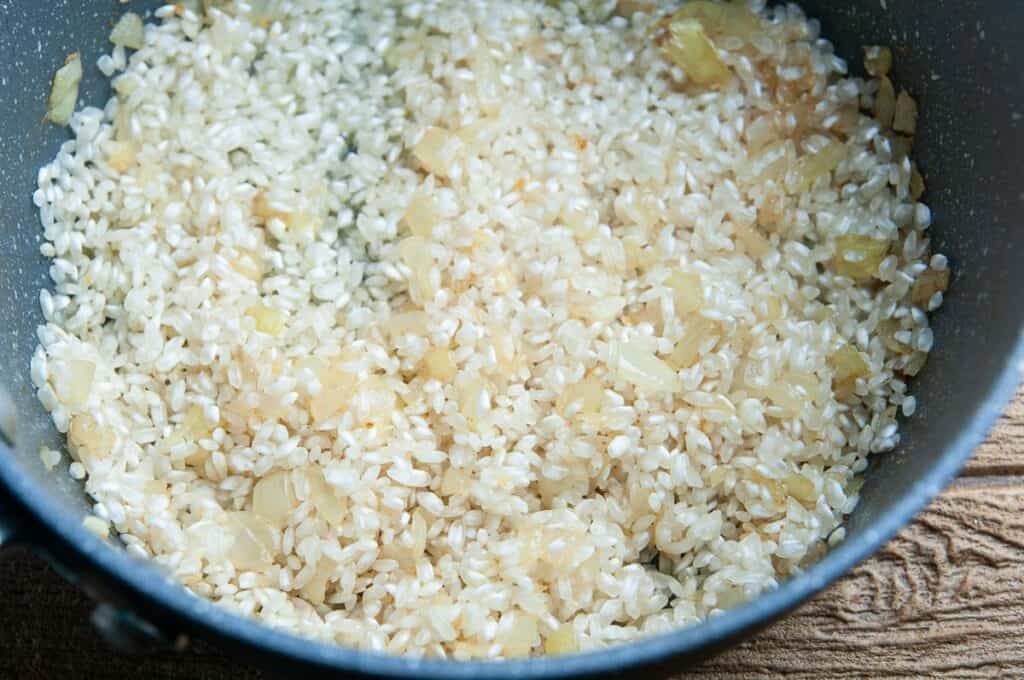 Add the dry risotto directly into the pan with the brown butter aromatics.
Let it toast up for about 2 minutes.
2. Add the liquid.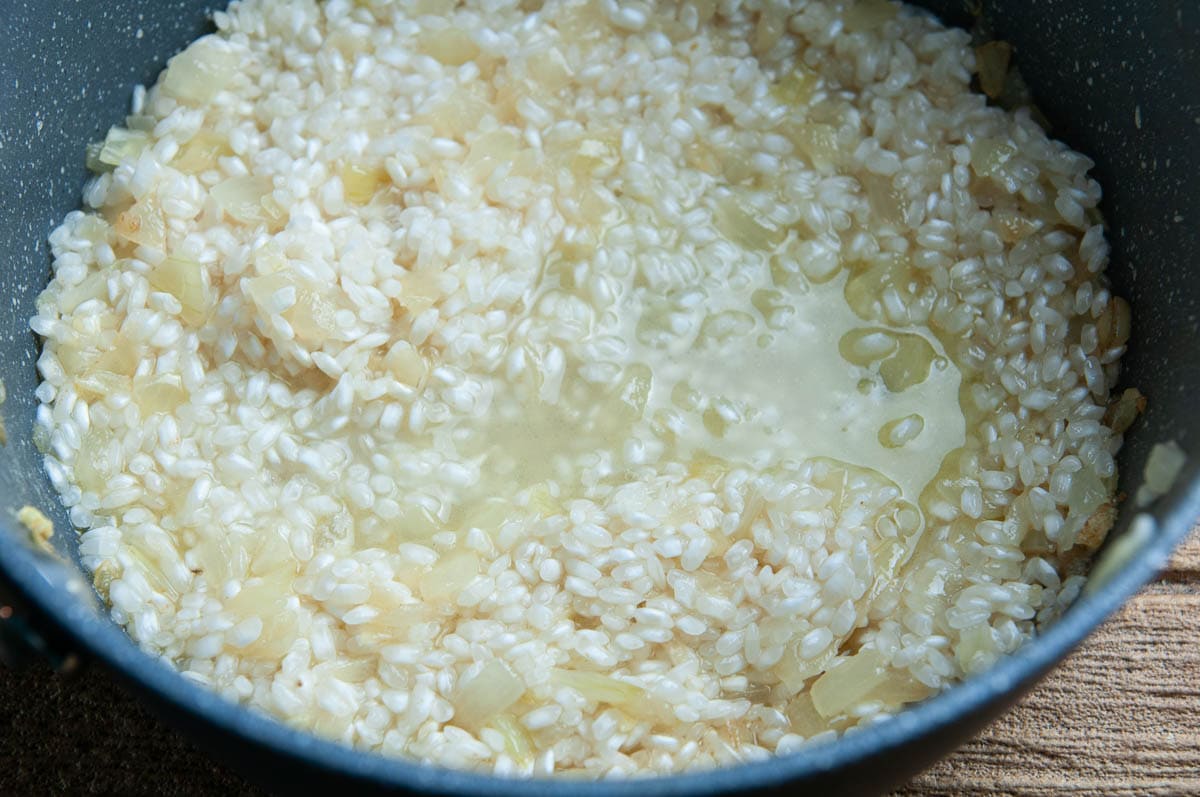 Add half a cup of wine and half a cup of vegetable stock to the pot with the toasted risotto and stir.
As the risotto cooks it, will start to absorb the liquid and slowly get fluffy.
3. Repeat until the risotto is creamy and fluffy and absorbed the liquid.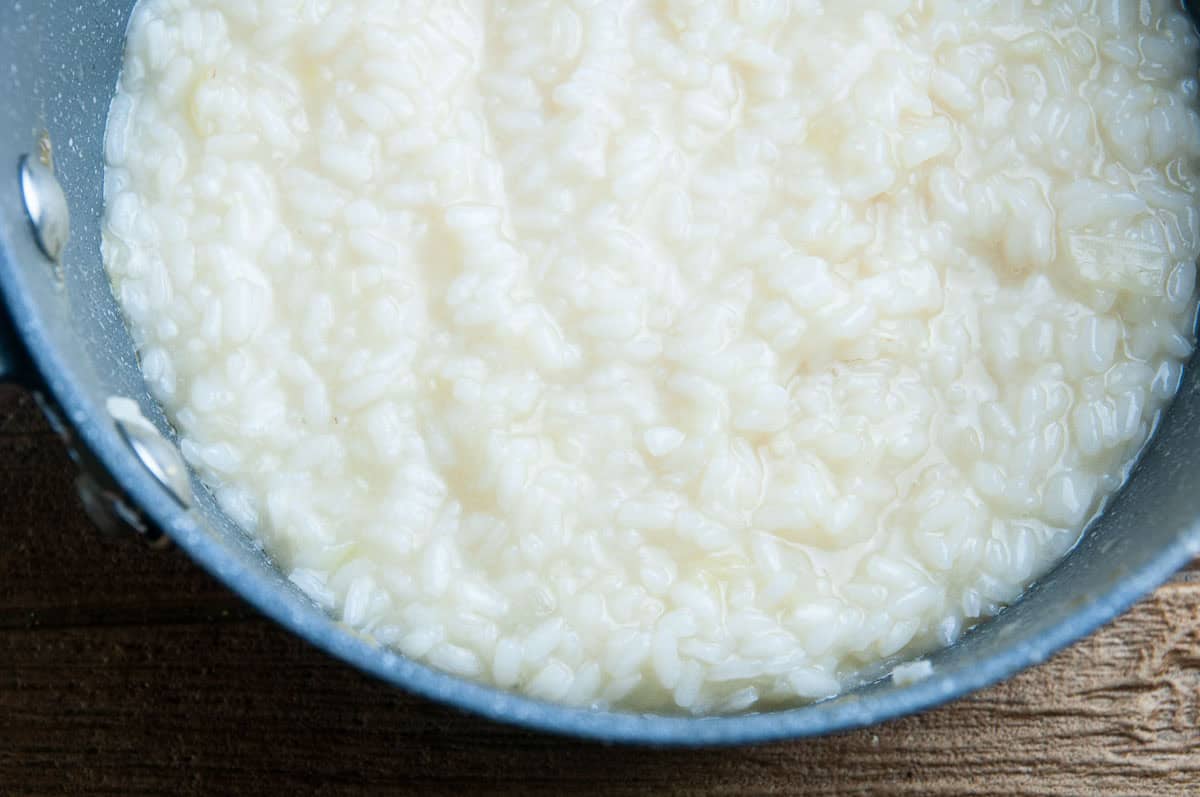 Once it absorbs the first bit of liquid, add in another half cup of wine and another half cup of vegetable stock.
Stir again. And then let the risotto absorb the liquid.
As it absorbs the liquid, keep stirring intermittently.
You're going to repeat this process until you've added all the liquid in and the risotto is fluffy, creamy, and tender.
Patience, grasshopper. This takes about 40 minutes.
Add your pumpkin, pumpkin!
1. Stir the pumpkin into the risotto.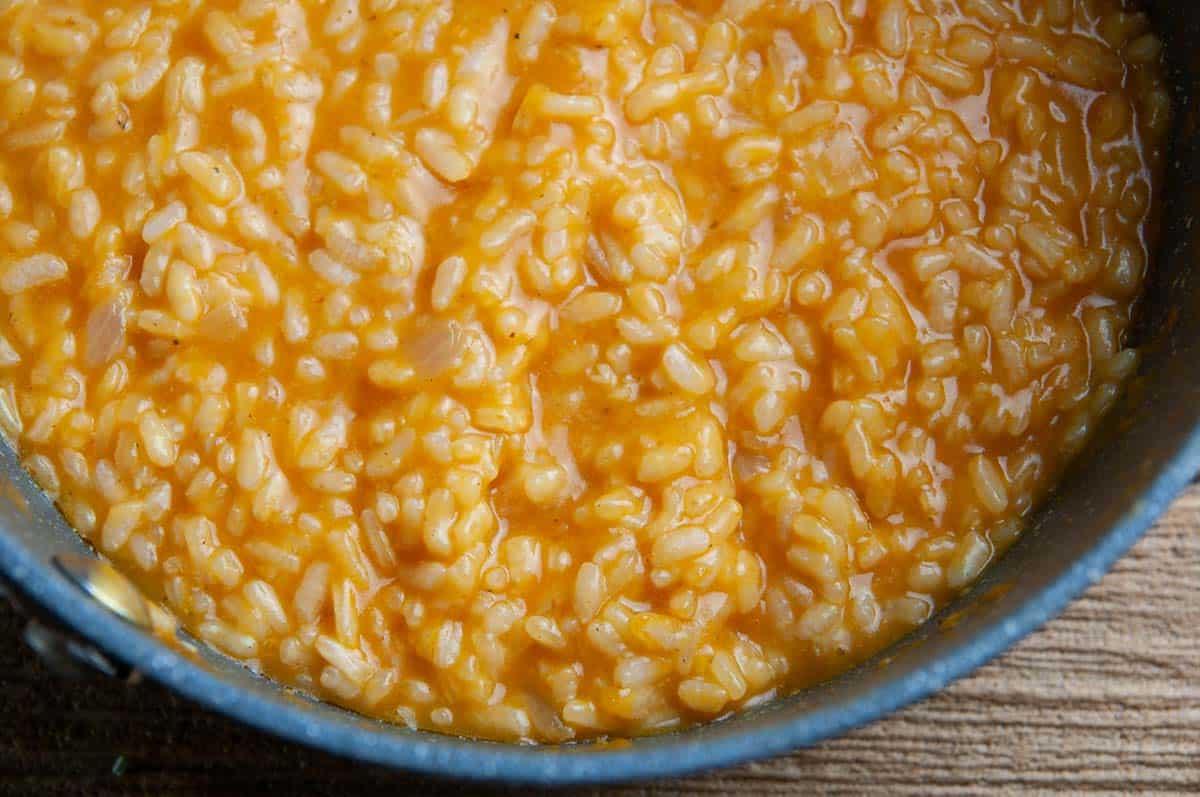 It wouldn't be pumpkin risotto without pumpkin, obviously.
Now that you've got your risotto made, you can stir in a half cup of pumpkin, some extra seasoning, and cheese please.
And of course, you're going to stir it more until all the ingredients are combined and the risotto is a lovely pumpkiny orange color throughout.
2. Garnish and serve.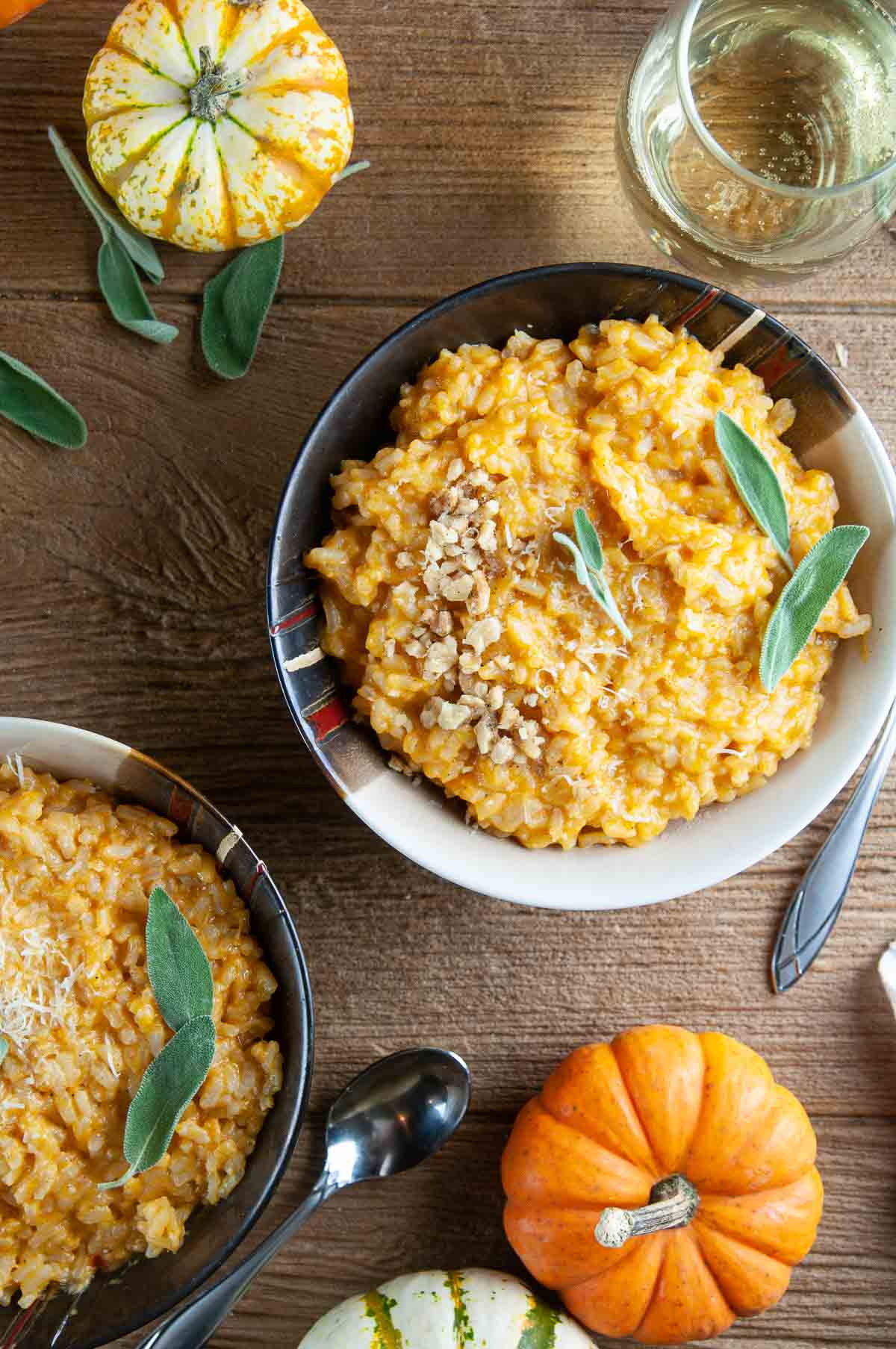 Then you want to serve it immediately. Garnish with some toasted walnuts, more cheese, and fresh sage.
How do you make risotto creamy? Just keep stirring, just keep stirring!
Stirring the risotto often does lots of good things for the risotto.
First, doing so as it cooks prevents the rice from sticking to the bottom of the pan and burning.
Aside from keeping it from burning, stirring risotto frequently also encourages the rice to release its starch.
The starch the rice releases gives risotto its deliciously addicting creamy mouthfeel.
The butter, cheese, and pumpkin just add to that creaminess but that velvety goodness really comes from the starch that's released as you stir, stir, stir!
FAQs
Do I have to brown the butter first?
Yes, this risotto starts off as high maintenance because of the brown butter base. You can skip browning the butter if you want, but I highly recommend doing it because it adds this beautiful nutty flavor throughout your risotto.
What should I serve with pumpkin risotto?
What kind of white wine in pumpkin risotto?
Use any white wine you would drink. I prefer sweeter wines like Reisling and think they pair well with the sweet pumpkin.
Cook your Risotto Like a Pro- Tips and Tricks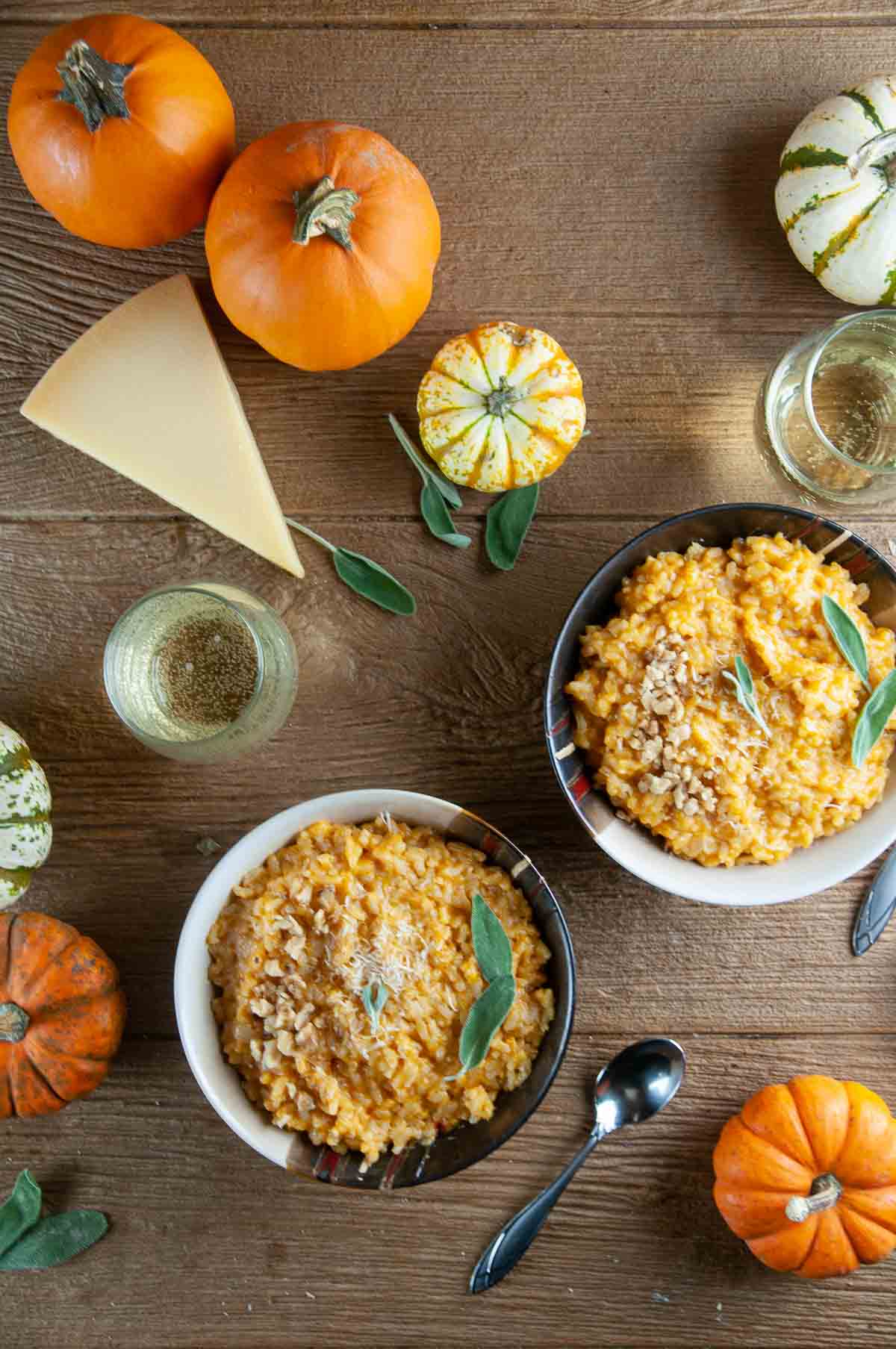 Don't add the liquid all at once. If you add the liquid all at the same time instead of little by little you're pretty much just boiling rice. Letting the liquid absorb encourages the rice grains to bump into each other during the cooking process so you get that gorgeous creaminess from the starches releasing.
Use the right pot. You don't want to use a really large or wide pot. I like using a medium saucepan like this one to cook my risotto in. If you use the wrong size pan, the risotto spreads outs too much and will cook unevenly. Plus, with extra room at the base of the pot, the rice grains have too much room to move and aren't encouraged to get nice and starchy.
Stir just enough, but don't overstir. It's ok to give yourself a break in the stirring department. If you stir too much, the risotto will get kind of gluey and over starchy. If you don't stir enough, it burns and sticks. Stir frequently, but don't over do it.
Save the cheese for the end. Think you can never add cheese too early? Think again friends. Adding cheese too early in the cooking process will over break down the cheese and just get gross. Don't do it.
Use the right heat. Yes, cooking risotto takes awhile. But you want the risotto to be at a nice slow simmer throughout the cooking process. The simmering agitates the rice and helps encourage the starchiness.
Don't overcook the risotto. Your finished risotto should still have a bit of bite to it. Overcooking the risotto will give you a pudding like consistency that isn't super appetizing.
Other Risotto Recipes You Might Like
Not feeling pumpkin risotto? Try these other yummy risotto recipes for a fancy feeling dinner you can eat at home in your pjs: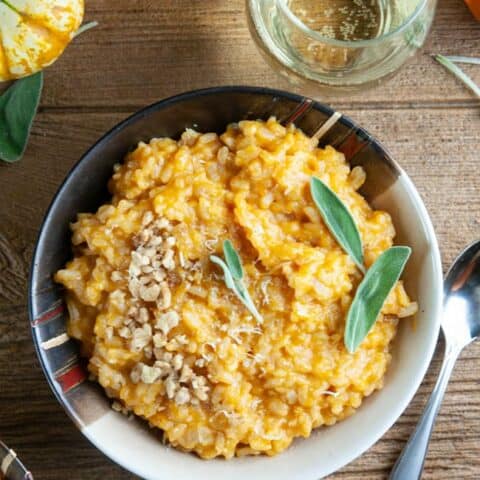 Pumpkin Risotto
Creamy pumpkin risotto is an elegant fall dish. Perfect on its own as a meal or as an Italian inspired Thanksgiving side dish. It's pretty much fall in a creamy, comforting bowl of goodness.
Ingredients
3 tbs butter
1/2 small onion finely chopped
3 garlic cloves, pressed
3 fresh sage leaves
1 c of Arborio rice
1 1/2 c white wine
2 c stock
1/2 cup pumpkin puree
3/4 cup Parmesan cheese
1/8 tsp nutmeg
1/8 tsp cinnamon
pinch of red pepper
Instructions
Brown the butter in a medium sauce pan over medium low heat by cooking the butter until it turns a light golden brown. Stir regularly.
Once the butter browns, add the chopped onion, garlic cloves and sage leaves. Sprinkle on salt and pepper and turn the heat up to medium. Cook the aromatics until the onions start to soften- about 2 minutes. Pull out the wilted sage leaves.
Once the onions have softened, add 1 cup of Arborio rice directly to the pot. Cook for about 90 seconds, stirring to coat it in the butter.
Now start adding the liquid. Stir in a half cup of white wine and a half cup of vegetable stock. Bring the mixture to a slow simmer, stirring regularly. The rice will absorb the liquid.
Repeat this process until all the liquid is used up and the rice is tender but slightly firm. When this happens, stir in the pumpkin puree, Parmesan cheese, nutmeg, cinnamon, and pinch of red pepper flakes. Serve hot and garnish with more cheese and fresh sage if desired.
Nutrition Information:
Yield:

4
Serving Size:

1
Amount Per Serving:
Calories:

349
Total Fat:

16g
Saturated Fat:

9g
Trans Fat:

1g
Unsaturated Fat:

5g
Cholesterol:

43mg
Sodium:

585mg
Carbohydrates:

27g
Fiber:

1g
Sugar:

4g
Protein:

10g