Pumpkin Parmesan Pizza with Brown Butter Caramelized Onions and Kale
My brain is a strange place. A really strange place. Because while other people think about normal things like what they are going to do later, I daydream about pizza. Because pizza.
Let me back up. Last weekend, it was gray and rainy and cool. We were having a lazy Saturday hanging out, all three of us in our pajamas, under the covers, watching Princess Sofia. It was pretty much perfect. Minus the Princess Sofia part. I have seen the entire series now several times through. Hence my mind was wandering just a little bit.
And it wandered into pizza territory. As I've been planning all things fall, I couldn't get past the idea of doing some sort of fall pizza. I mean, I absolutely love fall pasta like pumpkin penne with peas, Parmesan, and sage.
So that Saturday morning, my mind was wondering. I had been thinking about this pizza forever. Seriously. I kept shooting ideas back and forth with my best foodie friend. The one that threw together this awesome Tomato Chickpea and Quinoa Salad with Lemon Basil Vinaigrette. They all were met with crickets. Until I texted her this idea which was met with:
"You bring the stuff. I'll make your crust!"
I clearly had a winner on my hands.
And next thing I knew, just a few short hours later, I found myself at her house eating a buffalo chicken boat and making this pizza. And it was delicious. So delicious in fact, that both she and I made it again at our own respective houses the very next day. Because it was that good.
All of the adults involved with the making and eating of this pizza loved it and agreed that if there was ever a pizza to serve on Thanksgiving, it is this pumpkin parmesan pizza with brown butter caramelized onions and kale. I mean, I'm not above not serving turkey on Thanksgiving. Last year, we had brown butter gnocchi with roasted squash and kale. This pizza pretty much as all those flavors.
It has basically everything my little heart could ever want during fall, making it absolute pumpkin pizza perfection. Pumpkin? Check! Brown Butter? Check! Crispy kale? Check! Crunchy roasted pine nuts? Check. Lots of cheese? Lots of check!
Like I said: perfection. Absolute stunning pizza perfection with just the right balance of sweet from the pumpkin, salty from the parmesan, crispy from the kale, crunchy from the pine nuts, nuttiness from the brown butter, and savoriness from the onions. All topped with cheese. Mmmmm so good.
Looking for other pizza recipes? Try these:
Print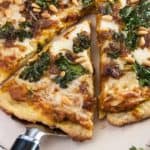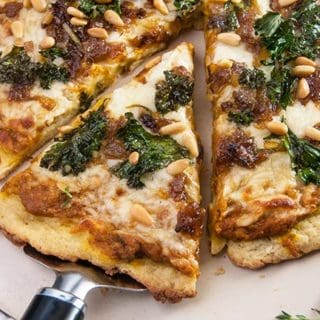 Pumpkin Parmesan Pizza with Brown Butter Caramelized Onions and Kale
---
Author:

Prep Time:

30 minutes

Cook Time:

40 minutes

Total Time:

1 hour 10 minutes

Yield:

1

large pizza or

2

small pizzas, 8-16 slices

1

x
Description
Pumpkin Parmesan Pizza with Brown Butter Caramelized Onions, Kale, and Pine Nuts is the perfect fall pizza recipe.
---
For the onions
1 1/2

large sweet onions

6

cloves of garlic, pressed

1

stick of butter

2

tbs of olive oil

1

tbs of sugar
salt and pepper to taste

1

fresh sage leaf

1

sprig of rosemary, with stem removed

1

sprig of thyme, with stem removed
For the sauce
1

15 ounce can of pumpkin

3/4 cup

grated Parmesan cheese

3/4 cup

half and half or milk *

4

cloves of crushed garlic

1

tbs olive oil
salt and pepper to taste

1

sage leaf
For the pine nuts
1/2 cup

of pine nuts

1

tbs olive oil
salt and pepper
To assemble the pizza

1

pizza crust**

3/4 cup

mozzarella cheese

3/4 cup

shredded Parmesan cheese

3/4 cup

of kale, with stems removed
tbs olive oil
salt and pepper
---
Instructions
On the stove, heat a large pan over medium heat. Add the butter and olive oil. Let the butter melt, stirring occasionally. Keep cooking while stirring occasionally until the butter begins to smell nutty and browns. Then add the onion, crushed garlic, sugar, and salt and pepper. Cook the onions for about 30 minutes, stirring regularly until the onions reduce in volume by more than half and turn a caramel color. About 90 seconds prior to the end of cooking the onions, add in the sage and rosemary and thyme. Remove from pan and set aside.
In the same pan after removing onions, add an additional tbs of olive oil. Pour in the pumpkin puree and stir in half and half and Parmesan cheese. Stir until combined. Season with 4 cloves of crushed garlic, salt and pepper to taste and one chopped sage leaf. Let cook until warm.
While the sauce is warming, toss the nuts with olive oil, salt, and pepper. Spread evenly over a cookie sheet and bake in a 425 oven for 2 minutes.
In a small bowl, toss kale with olive oil, salt and pepper.
Spread the dough out thinly on a pizza pan or pizza stone. Spoon on the sauce, top with mozzarella and shredded parmesan cheese. Spoon on onions, spreading evenly then sprinkle on kale. Bake for approximately 6-8 minutes or until crust is golden brown, cheese is melted, and kale is crisp. Remove from oven and sprinkle on pine nuts. Serve hot and enjoy.
Notes
*You may need more milk, pending how thick the pumpkin puree is
**I used my favorite pizza crust recipe which you can find here. You can also buy a premade dough or crust.
You might have some pumpkin sauce leftover. Leftover sauce tastes great as a dip for bread or on a pasta.
Category:

pizza, dinner

Cuisine:

Italian, American
Shop this recipe!
*These links are affiliate links. To read my affiliate policy click
here.