Pumpkin Granola
I know I've told you guys before but I am that girl. You know the one. I bust out my yoga pants and boots and proudly stroll through Target clutching my pumpkin spice latte the day the calendar flips to September 1.
I just can't get enough pumpkin. It's a problem. A disease. The internet calls it basic.
I call it just being me. This time of year my blood bleeds pumpkin spice. I'd gobble up pumpkin for breakfast, lunch, and dinner. And really let's not forget dessert. Because pumpkin dessert=heaven.
My husband doesn't bleed pumpkin the way I do. In about 3 weeks he will be over of ALL the pumpkin and squash that I force on this household. He'll beg me to make a s'more cookie or just say to heck with it and make one himself and in process come up with some sort of crazy burger.
Fortunately Goose seems to have inherited the pumpkin love from me. This kid loves pumpkin flavored stuff too. While I won't let my toddler drink my pumpkin spice cream or partake in the joy that is the almighty PSL, I have no problem giving her a scoop of homemade pumpkin ice cream or stirring some pumpkin and cinnamon into her oatmeal in the morning.
Oatmeal isn't exactly portable though, and pumpkin ice cream, while I can totally justify it as a healthy choice for myself, gives me a big old dose of parental guilt if I let her have too much at once. So, where does this leave us?
Hello, pumpkin granola. This easy gluten free pumpkin granola tastes like fall, can be eaten just like cereal or carried around dry for a quick, healthy snack. Plus it comes together in no time at all. A 5 minute prep and boom it's doing it's thing in the oven, making your house smell of cinnamon and pumpkin.
Is there anything better on an autumn day than something cinnamony and pumpkiny baking away in the oven making your house smell glorious and your belly rumble?
Print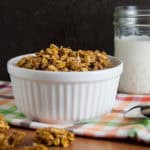 Pumpkin Granola
---
Prep Time:

5 minutes

Cook Time:

20 minutes

Total Time:

25 minutes
Scale
Ingredients
1 cup

of pumpkin puree

3

tbs maple syrup

4

tbs of coconut oil

2

tbs of milk

1

tbs cinnamon

1 tsp

of ginger

1

pinch of salt

1/4 cup

of brown sugar

4 cup

s of rolled oats *

1 cup

of chopped walnuts
---
Instructions
Preheat the oven to 350 degrees.
In a small pot over low heat, melt the coconut oil and whisk in the pumpkin puree and maple syrup. Season with half of the cinnamon. Remove from heat and whisk in the milk.
In a large bowl, toss together the oats, nuts, brown sugar, salt, and remaining spices.
Pour the wet ingredients over the dry ingredients and toss together until clumps form.
Spread over a cookie sheet covered with aluminum foil and sprayed with nonstick spray.
Bake in the oven for 20-24 minutes or until the granola is lightly brown at the edges.
Let cool and break into pieces.
Store in an airtight container for up to a week.
---
Notes
* I used gluten free rolled oats.