Orange Balsamic Fall Vegetable Skillet
I have a long list of life goals. One of those life goals is definitely to have a double oven. And no having an actual oven plus a toaster oven or an Easy Bake Oven doesn't count in my book. I want an actual double oven.
Now I know most people are like, "Would you use that double oven other than at Thanksgiving and Christmas?"
Of course! When you like to cook and bake as much as we do, I have a feeling we would use the double oven at least once a week. There would be so many cookies and so much fresh bread in this house. Maybe it's a good thing we don't have a double oven. Nah…. you can never have too many carbs in one house.
But until then, I have to come up with solutions for times when the oven is chock full of food like at the holidays when I have a full turkey or roast plus stuffing and other goodies taking up the oven's valuable, limited real estate.
Enter this Orange Balsamic Fall Vegetable Skillet. This easy, one pan dish makes the perfect side dish on Thanksgiving or Christmas without taking up any room in the oven or demanding that you stand there and watch it very closely. Nope. This side dish isn't needy. It doesn't mind if you have to pay attention to other food, or have a toddler hanging off your leg. It's pretty low maintenance and forgiving.
Every holiday needs a low maintenance side dish don't you think? It's like a holiday's best friend.
Basically after you chop the veggies (which you can take a shortcut with if you buy the prechopped veggies in the grocery store), you saute the onions for a few minutes, then add the rest of the ingredients to the pan. Give it a good toss and just let them hang out together for a good 20-30 minutes. The result: Brussels sprouts, squash, and apples in this savory, sweet, and sticky orange balsamic glaze, adding sweet brightness to a holiday table full of things like Italian Style Pumpkin Cheesecake or the perfectly brined bird and Gluten Free Cranberry Apple Crumble.
It's a winner. Even Goose ate the accompanying orange slices and the squash pieces in the hash. Ok, so she didn't touch the Brussels sprouts, but a vegetable touched her lips and didn't get spit out. #win
Print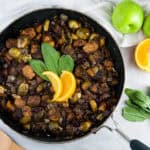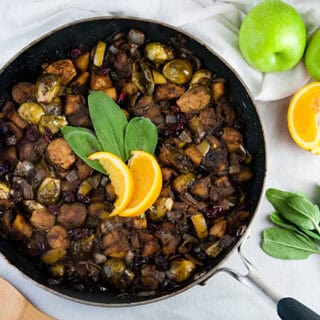 Orange Balsamic Fall Vegetable Skillet
---
2

apples

2

small onions

1

small bag of brussel sprouts

1

acorn or other squash

4

–

6

garlic cloves

1 cup

of craisins

2

sage leaves

1 cup

balsamic vinegar

3 Tablespoons

butter

1/3 cup

olive oil
salt and pepper to taste

1 teaspoon

garlic powder
---
Instructions
Melt butter over medium heat.
Peel and chop the squash into bite size pieces and put in large bowl.
Chop apples into bite size pieces and add to large bowl
Chop sage into stripes and add to the large bowl
Chop onions into bite size or smaller pieces and add to the pan. Salt and pepper the onions.
Add olive oil and balsamic vinegar to the large bowl and toss.
Crush garlic into the onions. Cook onions for about 5 minutes.
Pour bowl into the large pan and bring to a simmer.
Add more salt and pepper, if desired, and add garlic powder and stir.
Simmer pan for about 20 – 30 minutes.
Veggies should be soft and the balsamic turned into more of a glaze.
Serve hot and toss with craisins to finish.