Man Food Friday is back with Mozzarella Stuffed Meatball Burgers. By now you know my husband loves making stuffed burgers: Jalapeno Popper Stuffed Burgers, Bacon and Cheddar Stuffed Burgers, Cheesy Stuffed Buffalo Chicken Burgers. In this case these Mozzarella Meatball Burgers aren't just a man food. They are a collaboration between my husband and our toddler. The result is an amazing mix of juicy burger and spicy, cheesy meatball. It worked out perfectly despite wherever our toddler's hands had been before "helping" Daddy.
It's Friday. What better day to have an easy dinner that is also better than any burger you can get while eating out? OK. Admittedly, cooking with the Goose is increasingly difficult. She gets into everything. And this week her paws helped mix the raw meat used in these Meatball Burgers.
Yup, she is at the age where she mostly tries hard to help… mostly. And most of the time, I tell myself it is being helpful and not some sick plot on her end to wreak havoc.
It's quite possible – though not confirmed – this time she actually wanted to help and didn't have a hidden agenda to spread chaos and mayhem. Still, the Goose has never mixed burger meat, which meant it would be a fun experiment in patience and learning.
"Ehn! Ehn!" Finger pointed to the bowl, facing contorted in annoyance. Even without words, she made it clear she wanted to do whatever it was I was doing. Now.
At this point, cheese, meat, egg, and spices covered my hands. I uttered the words I'm sure the Goose is numb to hearing now, "In a minute." I don't even believe that any more.
Logically, I couldn't pick her up before washing my hands. But this time, it might actually be a minute.
Toddler logically – I should pick her up before she even had the thought pop in her head. To hell with these "minutes."
The Goose started to squawk. Foolishly, I debated the logic of finishing up the mixing and then getting her . As always, though, she did not care for my "logic."
Defeated, I rinsed off my hands and picked her up, showing her the bowl.
Squish! Hands, fingers, and God-knows-what went right in the bowl.
The look on her face mixed shock, horror, and pleasure in an expression never seen before. "Eww!"
She got over her shock and started to push her fingers and hands into the meat. My mind now wandered to when the last time she washed her hands and what the last thing she touched was… Oh well, heat will kill whatever she might have picked up, right?
It ended up not mattering. The burgers tasted amazing after being grilled over a smoky fire. And a day or two later, none of us are sick. I consider that two wins.
Well, three wins when I factor in that Lucy not only loved the burgers but she devoured the oven fries we made with them.
Print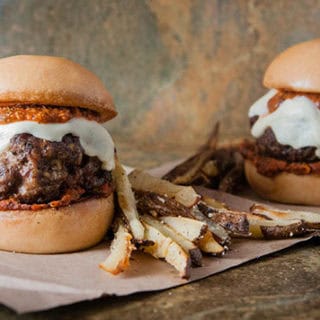 Stuffed Meatball Burgers
---
Prep Time:

10 minutes

Cook Time:

16 minutes

Total Time:

26 minutes
For burgers
1

pound ground beef

1/2 cup

Parmesan cheese

1/2 cup

gluten free bread crumbs

2 Tablespoons

dry basil

2 Tablespoons

Italian seasonings

1 Tablespoon

garlic powder

1 teaspoon

red pepper flakes
salt and pepper to taste

1

egg

1

large ball fresh mozzarella cheese

8

–

12

mini balls of fresh mozzarella cheese (or cubed mozzarella)
For sauce
1 cup

/can tomato sauce

1 1/2 Tablespoons

dried basil

1 1/2 Tablespoons

Italian seasoning

1 teaspoon

red pepper flakes

1/4 cup

Parmesan cheese

1 teaspoon

sugar or Splenda

1 Tablespoon

garlic powder

4

cloves crushed or minced garlic
---
Instructions
Start coals for the grille or turn the gas grille on medium heat.
Mix in a medium bowl all ingredients for burgers except for the mozzarella cheese balls.
Mix in a grille safe pot all ingredients for the sauce.
Split the burger meat into rough quarters.
Take two pieces of mozzarella cheese and form a patty around the cheese. Make sure to completely seal it in.
Repeat until all meat is used – you may have left over small moz balls.
Place sauce on upper rack of grille.
Place burgers over direct heat and cook for 4 – 8 minutes each side or until desired level of done-ness.
Stir sauce occasionally. If needed, move over direct heat and cook until bubbly.
Slice the large ball of mozzarella cheese and place a slice over each burger and melt.
Notes
Charcoal grilles work best to get the smoky flavor for both the sauce and the burgers.