An easy homemade lemon pesto hummus is an excellent healthy snack, dip, lunch or appetizer. With bright flavors of lemon and basil, this recipe tastes better than anything you could buy premade. Post originally published May 23, 2016 and updated on August 12, 2019.
Post may contain affiliate links. To read my affiliate policy click here.
Let's face reality. Store bought hummus is delicious especially when it's flavored with things like lemon and pesto, but it is way over priced for what it is. And really, it's market is maintained because people mistakenly believe hummus is hard to make.
Well, I can tell you one thing. A good homemade lemon pesto hummus is not hard to make. And since you can use fresh ingredients and no preservatives, it is an excellent alternative to store bought hummus. Plus, the bright lemon flavors and sharpness from the garlic and hint of spicy sweet from the basil make this hummus something you just can't get in a store. It's such a treat and the perfect hummus to use all the delicious summer basil. It's all the flavors from my lemon pesto orzo skillet minus the chicken and all the work.
If you haven't already, break out your food processor and let's get to work.
How to Make
One of the reasons I love lemon pesto hummus is because it's about as easy to make as a box cake mix but it's good for you. Just grab the ingredients you need. Dump them into your food processor. And then let the food processor do its magic on high for about 5 minutes.
First things first. Open up the cans of chickpeas (simple right?). Pour the chickpeas and that weird watery goop into a strainer (preferably in the sink, it makes a pretty big mess if you do that on the counter… just saying…). Finally, rinse the chickpeas off for a few seconds. TIP: I often get low sodium chickpeas, but you don't need to.
Give the strainer a few shakes to remove some of the lingering water. Just don't shake it too hard. You don't want chickpeas all over your sink. That's not fun to clean up. If you don't believe me, just ask my husband. He is chief of my mess containment.
Once you are reasonably confident most of the water is gone, dump the chickpeas into the food processor. TIP: It is a lot easier to dump the peas in to the bowl of the food processor directly rather than through that tiny shoot they give you... but just make sure your food processor blade is inserted first… it's a lot easier to put it in when you are not crushing chick peas underneath it… not that I've done that of course.
Next, peel and throw the whole garlic cloves into the food processor. You don't need to crush the garlic. Heck, if you don't want to remove the peel, you can always get the pre-peeled garlic at the store.
Then, you add the lemon juice.
Finally, add the other ingredients and select the food processor's high speed. Let it spin for about 3 to 5 minutes to really get the chick peas nice and creamy.
Can you make hummus without tahini?
Tahini is a traditional ingredient in hummus. Just as hummus is ground up chickpeas, tahini is ground up sesame seeds. In many recipes, tahini gives hummus a nutty taste, which I actually didn't want here. I wanted the basil, lemon, and garlic to be the stars of this recipe. But you could add a tablespoon of tahini.
And though it is a traditional part of hummus recipes, it is not required to make hummus. Many recipes use it to bind the hummus and make it smoother and creamier. I find adding a bit of extra olive oil does the trick nicely.
Tips and Tricks for Making Lemon Pesto Hummus
Here are some tips and tricks for making Lemon Pesto Hummus:
Don't use a blender. Most blenders are not well equipped to use so little liquid and you'll end up with about ten mashed peas stuck to the blender's bottom blades.
Food processors can be messy at times. If you notice whole chickpeas, garlic, basil, etc is getting stuck to the sides, stop the processor and use a spatula to scrap the sides down.
Use a lemon squeezer for the lemon juice. The low cost of a juicer is well worth it compared to having acidity lemon juice all over your hands or having to pick out seeds from a pile of chick peas.
You don't need to slice up the basil leaves. Just throw them in whole. The food processor will do the rest.
You can use whole garlic cloves as well. Here's a fun tip for removing the peel. Place the clove on the counter and smash it with a can. It typically partially smashes the clove and makes it that much easier to remove the peel.
If the hummus is looking a bit dry, add a little more oil. Add it at about a teaspoon at a time, mix, and repeat until the hummus looks creamy.
Give the hummus at least three minutes in a good quality food processor. This helps make it creamier without having to remove each individual shell, which would take forever.
What can I serve with this hummus?
So many things! I personally like it with sliced veggies and whole wheat pita wedges. It's fantastic as an easy healthy appetizer for summer entertaining or as lunch. You could, put it on crackers, dip pita chips into it or put it on a big salad like this Lemony Loaded Greek Salad or serve it along side this Greek Grilled Chicken recipe. Yum.
Print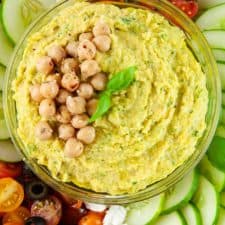 Lemon Pesto Hummus
---
Author:

Prep Time:

5 minutes

Total Time:

5 minutes

Yield:

2 cups

1

x
Description
An easy homemade lemon pesto hummus is a healthy snack or lunch idea.
---
2

cans of chickpeas, drained and rinsed
Juice of

one

lemon (about

1/4 cup

)

1/4 cup

of olive oil*

1/2 cup

of fresh basil leaves

2

cloves of fresh garlic
salt and pepper to taste
---
Instructions
Put all the ingredients into a food processor and pulse until smooth and creamy. Serve with veggies or crackers. Store covered in the refrigerator until serving.
Notes
*The amount of olive oil truly depends on the amount of lemon juice you get from your lemon. If it is not particularly juicy feel free to use a little extra olive oil, but in that case add it in a tablespoon at a time until you reach the desired consistency.
Category:

snack

Cuisine:

American
Keywords: hummus, lemon pesto hummus, hummus recipe