Full of wholesome ingredients, these lemon berry cheesecake bars are a perfect way to enjoy luscious cheesecake flavor guilt free.
I just love any excuse to eat cheesecake for breakfast. Especially these lemon berry cheesecake bars.
I know, I know. Breakfast is supposed to have good for you stuff. Like yogurt. Or oatmeal. Or fruit. Boring-ish stuff.
Guess what.
You ready?
These lemon berry cheesecake bars have all of that! The fruit is a given (lemon, berry) but there's also Greek yogurt, plenty of whole grain oats, and no sugar in this recipe. So, these cheesecake bars are actually as healthy as they are light, bright, and delicious.
Thank goodness. After a week of eating jalapeno popper stuffed burgers I'm ready for some healthy eats as we head into the holiday weekend. When I will inevitably eat more stuffed burgers or buffalo chicken sandwiches.
It's about balance, you know?
Plus, my toddler loves these. Ever since she started to eat solid she has loved lemon everything. This really doesn't surprise me. After all, when I was pregnant, my first craving was lemon EVERYTHING. I used to make my poor husband drive me around to six different Italian ice stands to find one that sold lemon ice. I carried Lemonheads everywhere. It was one of the only tastes I could stand aside from Thai spicy everything.
So naturally, one day when we were out to eat with Gramps, she reached for a slice of lemon and started to suck on it. Rather than spit it out, she kept going, stopping every so often to make a crinkled up face and then flash us a huge smile. Now when we go out to eat, I always ask for a plate of lemons for her. She is normally content to eat them while we wait. And it generally prevents her from say- running around the restaurant wreaking havoc on my sanity and the sanity of the other patrons.
Desperate times clearly call for lemons. Or at least lemon berry cheesecake bars. These solve the problem of having her feed her breakfast to the dog.
The bars have a lightly citrus flavor and an explosion of berry taste paired with creamy, light cheesecake. The berry swirled cheesecake sits on top of an oatmeal crust that has a lightly sweet, nutty flavor. Perfect for breakfast. Or if you prefer a light dessert.
You know, if cheesecake for breakfast isn't your thing.
Print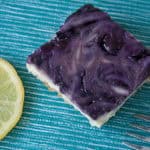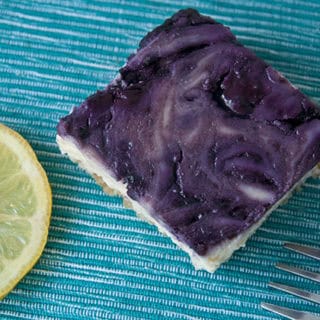 Lemon Berry Cheesecake Bars
---
Author:

Prep Time:

20 minutes

Cook Time:

40 minutes

Total Time:

1 hour

Yield:

12

bars

1

x
Description
Full of wholesome ingredients, these lemon berry cheesecake bars are a perfect way to enjoy luscious cheesecake flavor guilt free.
---
For the crust
1 cup

Rolled Oats

1/2 cup

almond flour

1/2 cup

Stevia

1 tsp

baking powder

1 tsp

vanilla

1/4 cup

apple sauce

2 tablespoons

of coconut oil
For the cheesecake filling
1 3/4 cup

fat free ricotta

1/2 cup

plain Greek yogurt

3

eggs

1/2 cup

Stevia

1

tbs vanilla

2

tbs honey
zest of

half a

lemon
For the berry swirl
3 cups

mixed berries

2/3 cup

Stevia

1

tbs honey
zest of

half a

lemon
---
Instructions
Preheat your oven to 350 degrees. While the oven is heating, in a large bowl mix together all of your crust ingredients. With a large spoon, stir until combined without over mixing.
Spray a 7×11 glass casserole dish with cooking spray. Press the crust ingredients into the bottom of the dish. Spread the crust fairly thin. You will have just enough to cover the bottom of the dish. Bake for 10-15 minutes until crust is set.
While the crust is baking, cook your berries, 2/3 cup of Stevia, honey and lemon zest over medium heat in a medium sized pot. Cook until the mixture starts to boil. Let simmer for a few minutes until the mixture and smash the berries with a potato masher and remove from heat. If you prefer a smoother texture, pour berry swirl into a blend and blend until smooth. Set aside.
In a separate bowl, beat together your eggs, ricotta, yogurt, vanilla, Stevia, lemon zest, and honey. Pour this mixture right on top of your crust, once it comes out of the oven.
On top of the cheese mixture, spoon rows of your berry jam.
When you have your entire cheesecake covered with rows of jam, swirl them with a fork so the jam makes pretty twirly designs.
Bake for 30-35 minutes or until the cheesecake is set.
Let cool on the counter for at least an hour and then refrigerate for another hour before cutting.
Notes
*Use gluten free oats if desired
Category:

breakfast or dessert
Keywords: lemon berry cheesecake bars, cheesecake bars, healthy cheesecake, lighter cheesecake