So, I'm trying to get healthier. I know, typical January thing. But I want to get healthier and still eat pizza. Seems legit right? And somewhat impossible. But have you met kale pesto pizza?
Oh yes, kale pesto pizza is the answer. Do you know how many veggies this pizza packs? A whole lot. It's practically a salad. But it's a pizza. Miracles DO happen.
I know I've told you before when I made my healthy loaded sweet potato fries, but I have a problem. I want to be healthy and eat healthy, but I absolutely hate feeling deprived. You see, I have an appetite and I'm not afraid to use it. I eat a salad and my stomach continues to rumble at me after I'm done eating. It's trying to tell me to eat all the things.
But you know, I try to control that voice. It's a challenge but it has gotten somewhat easier.
I no longer want all the things. Only all the yummy things. Often, the things I have around me aren't that yummy. Because they are my daughter's partially licked and slobbered on leftovers. No thanks.
Of course, my refusal of her leftovers saddens her. She would like nothing more than to feed me from her spoon. Every day during meals, she uses this same little toy spoon from her Minnie Mouse tea set to shovel in grated Parmesan cheese. The child seriously lives on cheese, chocolate milk, and bits of Play Doh. When Goose is done eating, she graciously shares the grated cheese with our labrador, who eats it off the spoon. Then when the dog looses interest, she digs the twice slobbered spoon back into the pile of cheese. She inevitably turns to me and says, "Mama eat it."
No thanks kid. Love that you are trying to share, but even this mama with her voracious appetite has her limits. So clearly, all the things do not appeal even after a dinner of salad. However, after I dodge the the spoon of slobber, if I eat a salad for dinner there's a pretty high likelihood that I will lock myself into the bathroom so I can inhale some snacks.
And this is why my diets fail when I try to eat only salad. I need things in my life like this kale pesto pizza. It packs in the superfood with tons of vitamins. I use 6 cups of kale to make the pesto sauce. 6 cups. Let that sink in. That's so much superfood that eating the pesto practically turns you into a super hero. Eat this and you're suddenly able to leap tall buildings in a single bound. Unfortunately, it doesn't give you the super power to tame toddler tantrums. I'll let you know when I find the food that does that.
Now granted, I use 6 cups of kale to make about 1 3/4 cups of pesto. You won't need all that pesto for this pizza, but ohhhh the other delicious things you can do with it. Pizza is just the beginning. There are pasta and dip recipes that are equally as delicious coming your way that use this same pesto.
Don't be all skeptical of the pesto. It's magic stuff. Really, even though it's packed with kale, it doesn't taste kale-y. It's fresh and garlicky with a hint of brightness from the lemon. It's perfect. And it goes so well with the mozzarella and Parmesan on the pizza. Plus it's so easy to make. The pesto takes 5 minutes to throw together. The pizza, you can totally take a short cut and use a store bought crust, or you can make your own homemade crust. For my favorite pizza crust recipe check out my French Onion Pizza or the White Pizza with Arugula and Sun Dried Tomatoes.
I promise you if you have not tried kale yet, this pesto makes the perfect entry into the world of all things green and superfood-y. And it will let you eat pizza that could substitute for a salad. Winning, right?
Print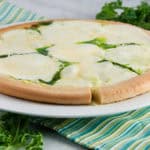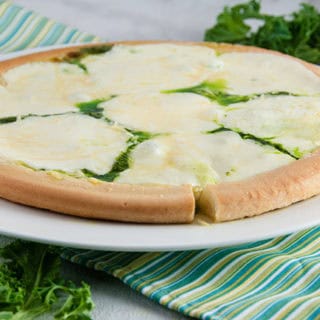 Kale Pesto Pizza
---
Author:

Prep Time:

5 minutes

Cook Time:

10 minutes

Total Time:

15 minutes

Yield:

2 cups

of pesto, 1 pizza

1

x
Description
Kale Pesto Recipe and Kale Pesto Pizza
---
For the Pesto
6 cups

of loosely packed kale

1/2 cup

of walnuts or pine nuts

6

garlic cloves

3/4 cup

to 1 cup of good olive oil
juice from

half a

lemon

1/2 cup

of fresh basil leaves
salt and pepper to taste
For Pizza
One pizza crust (I use a gluten free crust)
About

6 ounces

of fresh mozzarella, cut into slices

1/2 cup

of Parmesan cheese
---
Instructions
Put all the ingredients for the pesto into a food processor except the olive oil and pulse together. Drizzle in the olive oil slowly while pulsing the processor until the pesto reaches the desired consistency. Set aside.
Preheat the oven to 400. Spoon desired amount of pesto onto the pizza crust. Cover with fresh slices of mozzarella cheese. Sprinkle on Parmesan. Bake for 8-10 minutes or until the cheese is bubbly and the crust is golden.
Notes
You will have pesto leftover. Store in an air tight container in the fridge and use the leftovers within 2-3 days.
Category:

pizza, sauce

Cuisine:

Italian
Shop this recipe!
*These links are affiliate links. To read my affiliate policy click
here.