It's that time of year when the food wars begin in my house. Most of the time we agree on our food preferences or at least agree to disagree like on bacon. I don't like bacon much, but Nate obviously loves it and makes delicious food with it. We don't buy much of it, but I don't generally say much about it. Unlike bacon, pumpkin- especially pumpkin desserts like this Pumpkin Cheesecake- is a source of tension in this house.
I admit. It's my fault. My absolute basic tendencies get the best of me. I've told you before how I bleed pumpkin from roughly the end of August through the holidays. But see, I not only bleed pumpkin, I fight for pumpkin.
Pumpkin love is a cause my yoga pants clad, psl drinking self (sips delicious coffee and sighs happily) feels so strongly about.
I may force my love of pumpkin down my family's throats.
It's shameful. I need to have more respect.
See, Nate and I have very different dessert opinions. We both have humongous sweet tooths (teeth?) but for him, all he wants is chocolate everything. Now, don't get me wrong, I love a good chocolate dessert. I'm very well acquainted with working in chocolate to as many meals as possible (chocolate waffles anyone?). But I like a little more variety. I like chocolate desserts, fruity desserts. Anything that's sweet and satisfying.
Except this time of year. GIVE ME ALL THE PUMPKIN. I'm serious.
So needless to say, when I shared my plans to make this my husband wasn't thrilled. But given that it's only September he isn't begging for a chocolate dessert just yet.
Plus, this dessert is pretty dang delicious. It's pumpkin perfection appeals to my off the charts level of basicness. But it's perfection. Seriously. Think silky smooth filling, and a lightly sweet crust. The hints of cinnamon and ginger shine in the cheesecake filling. Plus the marscapone cheese- which is extra creamy Italian style cheesecake- makes it even yummier. It is the perfect dessert to serve on Thanksgiving.
And let me just leave you with this sweet truth: it is gluten free with an awesome crust made of Cinnamon Chex cereal and sweetened with honey. So it's practically health food.
Print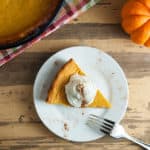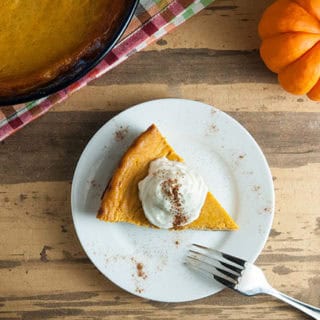 Italian Style Pumpkin Cheesecake
---
Prep Time:

10 minutes

Cook Time:

1 hour

Total Time:

1 hour 10 minutes

Yield:

8

slices

1

x
For the filling
2 cups

of marscapone cheese

1

15 ounce can of pumpkin puree

3/4 cup

honey

3

eggs

2 tsp

cinnamon

1/2 tsp

ginger
For the crust
3 cups

of Cinnamon Chex

3

tbs butter, softened

1 tsp

cinnamon

2

tbs honey
---
Instructions
Preheat the oven to 350 degrees.
Add the ingredients for the crust into a food processor and pulse until the cereal is ground up. The crust should just stick together in coarse clumps.
Press the crust into a 9 inch pie dish, sprayed with nonstick spray.
Bake for 5-7 minutes or until just golden.
While the crust is baking, whip the marscapone cheese in a stand mixer until fluffy, about 2 minutes. Add the pumpkin, honey, eggs, and spices. Mix until combined, scraping the sides of the bowl down to make sure all the ingredients are fully incorporated.
Pour the filling into the baked crust.
Fill an oven safe casserole dish half way with water. Place on the bottom rack of the oven.
Put the pie on the top rack and bake for 50-55 minutes or until the top is set.
Turn off the oven and crack the door. Let the pie cool in the oven for at least two hours before removing from the oven and cooling on the counter for another 2 hours.
Store uncovered in the fridge for up to 5 days and enjoy with whipped cream if desired.
Category:

pie

Cuisine:

dessert