Lightly sweet and super fluffy, these Honey Nut Cheerio pancakes are a treat for breakfast the whole family will love.
Who knew Honey Nut Cheerios are so versatile? They are not only total toddler crack, but they make incredibly delish Honey Nut Cheerio pancakes.
How did we come to this stunning realization? Well, once every weekend we have some form of pancake or waffle. It's practically tradition. I'm really big on tradition. Plus my toddler loves pancakes and waffles and they freeze really well. Well, one weekend we were presented a problem: hangry toddler (and mommy), only two eggs, and not enough traditional ingredients to make pancakes or waffles.
So my husband, being ever the resourceful fellow that he is, scrounged through our pantry and came out with one of our household staples: Honey Nut Cheerios.
We always have some variety of Cheerios (and Goldfish crackers). See Cheerios are pretty much toddler currency. And normally, since Goose likes to feed the adults in the household nearly as much as she loves to feed the dogs, we buy Honey Nut Cheerios because my husband and I prefer them. I know, I know. They aren't as healthy as regular Cheerios. Honestly though, I'm not that concerned given that this kid scarfs down chickpeas and quinoa like a champ. And really, if a sticky little hand is going to shove mushy Cheerios in my mouth, I'd rather have the kind I like.
Does that make me a bad mom?
Nah. Just a mom with limits. And I can't do mushy plain Cheerios. It's a hard no.
Moving on. The ever resourceful guy I married threw some of these Honey Nut Cheerios in the food processor with some oats and whipped up the most fluffy and delicious pancakes (and gluten free if you use gluten free oats!) I have ever had. I have to give him all the credit on these delicious Honey Nut Cheerio pancakes.
I knew I married him for a reason.
Looking for other breakfast ideas? Check out our oven baked apple pancake and these gluten free chocolate waffles.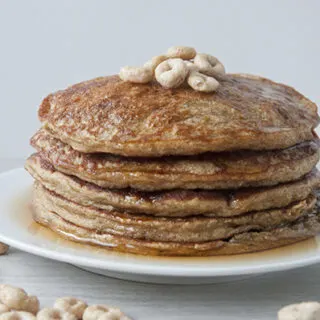 Honey Nut Cheerio Pancakes
Lightly sweet and super fluffy, these Honey Nut Cheerio pancakes are a treat for breakfast the whole family will love.
Ingredients
3 cups Honey Nut Cheerios
1 cup of rolled oats
2 eggs
1 1/2 cups of milk
1/2 cup honey
1 teaspoon baking soda
2 teaspoons baking powder
1 teaspoon cinnamon
1/8 teaspoon salt
Instructions
Grease a griddle with butter or spray nonstick spray. Heat over medium heat.
Pour Cheerios, oats, baking soda, baking powder, salt, and cinnamon into a food processor and pulse until the Cheerios and oats are a powder.
In a separate bowl, whisk together the milk, eggs, and honey.
Gently add the dry ingredients to the wet ingredients and mix until just combined.
Ladle out 1/8-1/4 cup of batter onto the griddle to create a pancake. Cook 3 minutes or until little bubbles form in the center and then flip and cook an additional 2-3 minutes.
Repeat for each pancake.
Nutrition Information:
Yield:

4
Serving Size:

4
Amount Per Serving:
Calories:

397
Total Fat:

7g
Saturated Fat:

2g
Trans Fat:

0g
Unsaturated Fat:

3g
Cholesterol:

100mg
Sodium:

867mg
Carbohydrates:

77g
Fiber:

4g
Sugar:

44g
Protein:

12g
Shop this recipe!
*These links are affiliate links. To read my affiliate policy click
here.