The Goose used to be such a good eater. Unfortunately, she's a toddler and the finicky nature of a toddler has finally caught up with us. Gone are the days when she'd happily eat anything on her plate like Pasta with Chickpeas and broccoli. No these days, all she wants is popcorn and cookies. That's where the idea for these healthy pumpkin cookies came in.
We are pretty relaxed in our house with rules. We don't mind letting her have a cookie occasionally and popcorn is a much better snack than say potato chips. She does still pick at veggies. In fact, just last night, I witnessed her lick a piece of broccoli. But, mom guilt is real you guys.
I mean there are only so many cookies I can let her eat before I feel like I am nutritionally depriving my kid. And there's only so many times I can tell her no to popcorn and cookies before I feel like she's never going to eat enough. I worry that she'll be hungry, but I feel guilty giving her food I know she'll eat just to fill her belly.
Moms just can't win, right? Well, I decided to beat her at her own game and I came up with these healthy pumpkin cookies. These cookies are gluten free, full of whole grain from oats, and free of sugar except for the chocolate chips. Plus, the pumpkin has some nutritional value- vitamin A and C- so I don't have to worry about rickets. Right? I don't know that they qualify as "health food" exactly but I figure it's better to let her eat these cookies than it is to let her eat chocolate chip cookies.
Further making me feel like a better mom, these cookies were really easy to make so Goose and I did them together. Ok, she basically just ate some raw oats and dumped a lot of cinnamon into the batter. I still feel like our first baking project together went well. She did eat these right up.
Print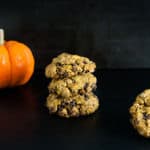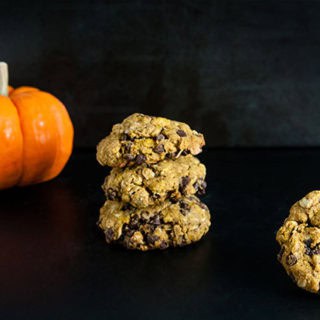 Healthy Pumpkin Cookies
---
Prep Time:

10 minutes

Cook Time:

10 minutes

Total Time:

20 minutes

Yield:

18

cookies

1

x
1 cup

of flour*

2 cups

of rolled oats

1 tsp

baking powder

1 tsp

baking soda

2/3 cup

honey

1/4 cup

molasses

2

tbs pumpkin butter

1 cup

pumpkin

4 tablespoons

of coconut oil, melted

1

egg yolk
pinch of salt

1

tbs vanilla

2

tbs cinnamon

1 cup

of dark chocolate chips
---
Instructions
Preheat oven to 350. Spray 2 cookie sheets with nonstick spray.
In a large bowl, gently combine the rolled oats, flour, baking powder, baking soda, salt, and cinnamon. Set aside.
In a separate bowl, whisk together 1 egg yolk, pumpkin, vanilla, coconut oil, honey, molasses, and pumpkin butter.
Gently fold the dry ingredients into the wet ingredients and stir until just combined.
Fold in the chocolate chips.
Roll golf ball sized pieces of cookie dough and lay them out on the cookie sheet. Gently flatten each one.
Bake for 7-11 minutes at 350 or until the edges of the cookies just start to turn golden brown.
Notes
Use gluten free all purpose flour and gluten free baking powder, oats, and vanilla to ensure a gluten free cookie. Feel free to use regular all purpose flour if not following a gluten free diet.