I have a secret. A deep dark secret. I'm in love…and not with my husband. Sorry babe. No I'm in love with this fried mozzarella caprese salad.
I mean really what's not to love about a classic dish that gets an updated based on melted, fried cheese?
Plus, it's salad, and salad is healthy by the sheer fact it's salad right?
Ok, maybe not. I may be spending too much time these days reasoning with a toddler. It's totally shifted my sense of logic.
But in this case, I like the way my logic has shifted. It works in my favor. Fried mozzarella caprese salad=healthy. Because salad. Instant justification.
So now you can dig into this easy dish guilt free and enjoy it. There's just so much to love about it. I mean it's essentially fried mozzarella topped with fresh from the vine tomatoes and a pesto drizzle. The gooey cheese and the sweet tomatoes are perfect. And the pesto drizzle? Yes please! I do believe I have mentioned how much I love pesto one or two times before.
And let's talk tomatoes for a minute. Summer is prime time for tomatoes. If you don't like grocery store tomatoes, try going to a farm stand or farmer's market and buying a tomato there. You could also try your hand at growing your own. A fresh tomato is totally different than a grocery store tomato. They are sweet, juicy, and firm all at the same time. A huge step above the sad tomatoes in the produce section.
Plus, it takes only a quick 10 minutes of prep before you are indulging in melted cheese heaven, making it perfect for a busy weeknight. But it's pretty enough and different enough to serve for company too.
Even Goose, who is going through a picky phase, ate this. I shouldn't be surprised. She loves mozzarella sticks. This is just a grown up take on that. I like encouraging grown up tastes. It makes me feel so much better about the mass amounts of goldfish and crayons she eats.
Print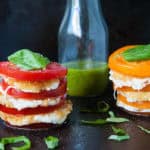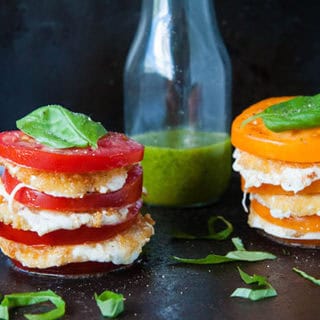 Fried Mozzarella Caprese Salad
---
8 ounce

ball of fresh mozzarella

1

egg

1/2 cup

of bread crumbs*

1/4 cup

of flour**

1/2 cup

of grated Parmesan cheese

3

tomatoes
tablespoon of olive oil
For the Pesto
1/2 cup

fresh basil

1/4 cup

olive oil

2

cloves of garlic

1/4 cup

of pine nuts or walnuts
---
Instructions
Heat olive oil over medium heat in a pan on the stove top.
While the pan is heating up, lightly beat an egg and mix together the bread crumbs, salt and pepper, and parmesan cheese in a small bowl.
Add flour to another small bowl.
Dip mozarella cheese into flour, then dip in egg, and then coat in the bread crumbs. Repeat until all cheese is coated.
Put all cheese in together. Cook each side for about 2 minutes.
For Pesto Sauce
Combine all ingredients in blender or food processor and mix until blended together.
Notes
* I used a gluten free all purpose flour blend.This recipe will work with regular flour as well.
** I used gluten free bread crumbs. Again, this recipe will work with regular bread crumbs as well.