Jenna here. This one is a good one. Nate is obsessed with French onion soup. He orders it when we go out to dinner a lot. But he is super particular about the way he likes it. The onions can't be too sweet. They have to have that perfect savory undertone. Well, let me tell you my friends, this french onion gluten free pizza is a thing of pizza beauty. I mean perfection in pizza form. And I am not even nearly as enthusiastic about French onion soup as he is. But dang. So good.
If you remember the white pizza post, I said make the two crusts and store the other one for this week? Well, this French Onion Gluten Free Pizza is why.
French Onion soup is on of my go-to soups. Made right, it is amazing. Which got me thinking. What else is amazing? Well, pizza is pretty amazing, if done right…
And then it clicked. Why not create a pizza using the onions in French Onion Soup? So that's exactly what I did with this French Onion Gluten Free Pizza recipe.
There are a few points I kept in mind while creating the French Onion pizza:
I need to cook the onions until they are all soft.
I need to make the soup more savory, less sweet.
It needed croutons – yes, even on top of a pizza crust, it still needed croutons because carbs.
Yeah, I can be picky about French Onion soup. It can be a real challenge at times. If the onions aren't cooked well, I don't like it. If the soup is overly sweet, I don't like it. And if someone crams a non-toasted piece of bread into it, I have a hard time eating it.
So, I took all this into consideration when making the French Onion Gluten Free Pizza.
Now, people get this impression that French Onion soup is hard to make. It's really not. The most labor intensive part is cutting up several onions. Even slicing six onions into thin slices took less than ten minutes. That was the only real prep.
After that, it is the cook time. It does take about an hour and fifteen to an hour and a half to get the onions just right. But this is not a stand in front of the pot and stir every minute scenario- no in fact, while the soup was cooking I was able to walk away and watch My Little Ponies with the Goose. The onions just do their thing. Really, it's only the last few minutes that are crucial to avoid burning.
Those of you afraid of the time commitment, the results are well worth the wait. The French Onion pizza melts in your mouth when you eat it and offers everything French Onion soup does: sweet, savory onions, gooey cheesiness, and crunchy croutons.
Tip: if you have a toddler, don't skip making the croutons. And make extra. Goose ate them like they were candy.
Meanwhile when you're waiting for those onions to do their thing, think about how delicious this will taste when they are done.
Print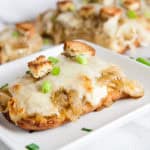 French Onion Gluten Free Pizza
---
Prep Time:

10 minutes

Cook Time:

1 hour 30 minutes

Total Time:

1 hour 40 minutes
6

medium sized onions

4

–

6

cloves garlic

1

stick of butter
salt and pepper about a teaspoon each

1 teaspoon

Thyme
pinch of Savory

1

bay leaf

1 cup

sherry

1

–

2

slices of bread cut into cubes*

6

–

8

slices of provolone cut into stripes

4 oz

of fresh mozzarella cheese

1

Gluten Free Pizza crust*
---
Instructions
Cut the onions into thin slices (If you make them thicker, that's OK, just add some additional cook time)
Melt the butter in a large pan over medium-high heat and add the onions, 1/2 cup of the sherry crushed garlic, and bay leaf.
About a half hour into cooking, add the other 1/2 cup of sherry as well as the Savory, Thyme, and salt and pepper.
Cook for about another half hour, stirring about once every 5 minutes.- if the onions are starting to burn, at any time, just reduce heat.
When the onions are starting to look brown and all seem limp, start stirring them more frequently. You do not want to let them sit for too long to avoid burning them.
When the onions are brown to dark brown in color and appear sticky, remove from heat.
Cut the mozzarella cheese into about quarter-size pieces and place around the entire crust.
Cover the crust with the onion mixture (remove the bay leaf unless you want someone at the table to win the prize)
Lay the slices of provolone in a checker board fashion.
Take the sliced bread and place between the slices of provolone
Bake at 425 for about 6-8 minutes or until the croutons are golden-brown and the cheese is bubbly.
Optional
Toss bread in a bowl or bag with salt, pepper, garlic, and olive oil before placing on-top of pizza.
Notes
*We use gluten free bread and homemade gluten free pizza crust. Feel free to substitute regular bread and crust to suit your liking. You can find the gluten free crust recipe .here.