Free New Years coloring pages printables with the cutest gnomes are a fun way to ring in a fresh start. Featuring 10 different pages, both you and your kids will love coloring these before the clock strikes midnight.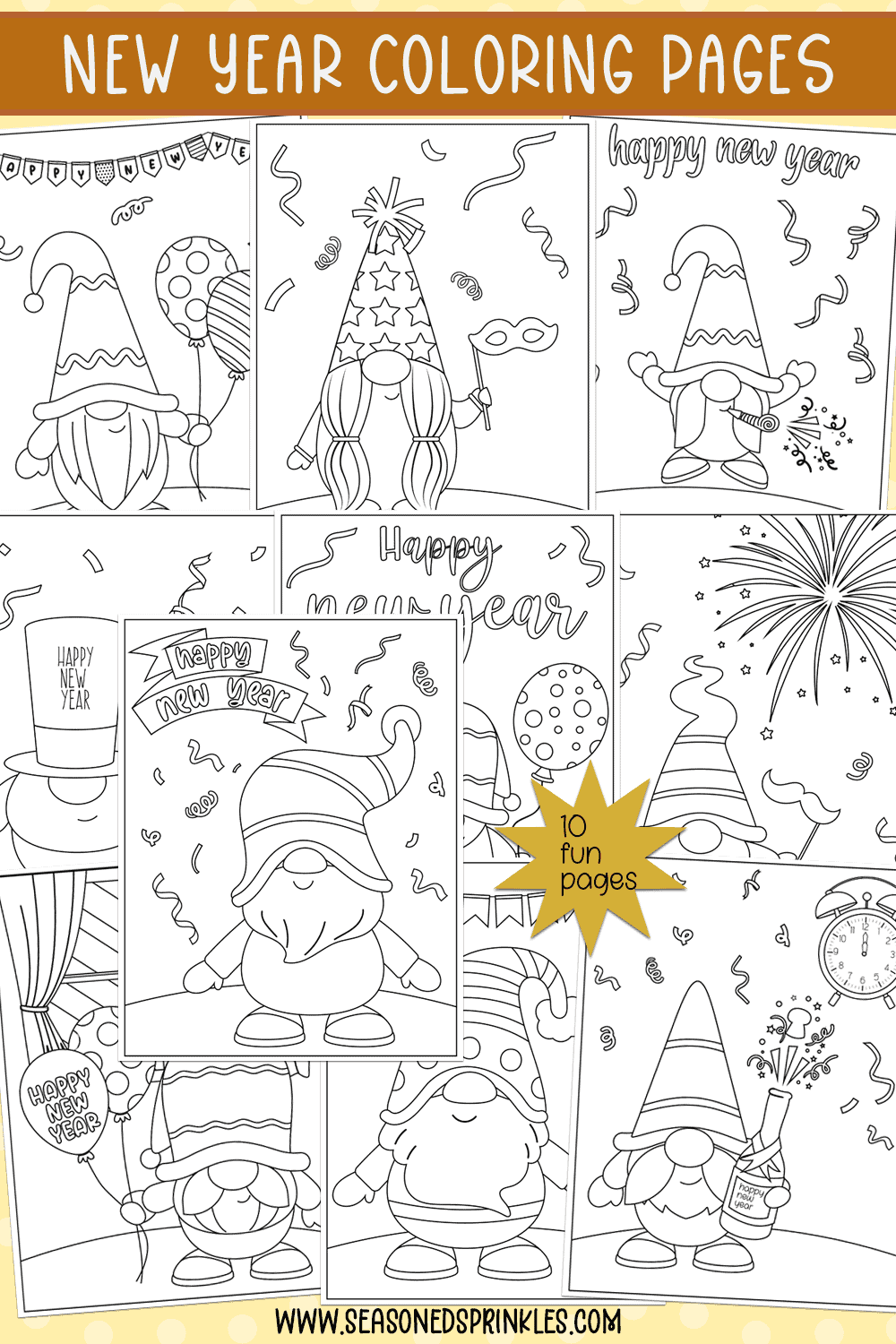 Post may contain affiliate links. As a member of the Amazon affiliate program, I may earn a small commision from qualifying purchases. To read my affiliate policy, click here.
Just because New Years marks the end of the holiday season doesn't mean all the good stuff has to go away.
Sure it may soon be time to de-deck the halls (at least if you are not like me and don't decorate for every single season) and pack up the favorite characters.
But- you know what is still always seasonally appropriate??
GNOMES.
I love that they are cute year round now.
And I am delighted to show you all these fun coloring pages with adorable little New Years gnomes.
Being the gnome loving adult that I am, I have fun coloring this in alongside my kids.
While these aren't as educational as say the Winter Alphabet Printables for Preschool and Kindergarten, they are so fun!
Gnome Activities for Kids
If you want to theme a day of activities along with these cute printable pages, I have a bunch of s gnome activities that you can do with your kids- including some that would count as a school activity for your early elementary or preschool homeschoolers.
Ideas include:
making a gnome collage out of construction paper shapes to promote math skills and cutting skills
crafting sock gnomes as a fun art activity
for 2nd grade and up having your child write a paragraph to go along with the coloring page
a more advanced literacy and creative writing activity could have your child craft a story using the coloring pages as illustrations for your very own gnome story
read the book The Little Book of Winter Gnomes
learn about the Scandinavian tradition of gnomes
Other Gnome Activities and Printables
Get your Free Printable New Year Coloring Pages- New Years Gnomes
Get your free printable New Years coloring pages New Years gnomes here.