Don't you just love a good soup on a chilly fall night? Is there anything cozier? This easy Tuscan white bean soup is so cozy.
It's the food equivalent of snuggling on the couch in your favorite bathrobe under the softest blanket you can find.
Pretty cozy. It's comfort food at its finest. Perfect for a cool fall night.
In short, this creamy bean soup is comforting and rich. Plus, it's very inexpensive to make so you can fit it into almost any tight budget even though it tastes like a million bucks. And unlike other comfort foods, it's actually super good for you. It's vegetarian for one thing. And for another the only fat in the soup comes from good for you olive oil and a tiny bit from some Parmesan cheese. There's no heavy cream. So you don't have to feel the tiniest bit guilty about dipping in some rustic bread and sopping up all the soupy goodness. Because using a bread for a spoon is fantastic.
So really this soup is pretty awesome.
Even more awesome? This hearty soup comes together so easily. Most Tuscan inspired dishes use very few ingredients and are easy to put together. This dish is no exception.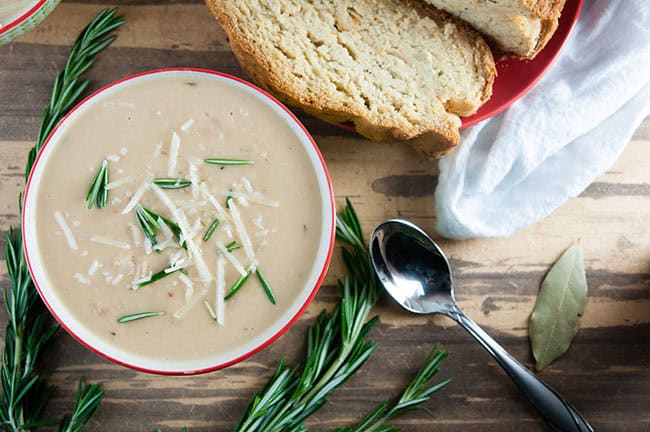 Thank goodness because Goose has been quite demanding of attention lately. Fortunately, her newest thing is adorable instead of exasperating. Her new favorite thing is saying, "Tiss Mama!" and lifting up her feet for me to kiss her stinky toes. I lean in to give them kisses and then make a face and say, "EW! Stinky!"
She thinks this is hysterical. I hope she's always this easily amused.
Even though it happens approximately 272 a day.
And it happened at least 10 times while I was making this quick soup.
Thank goodness this is quick to make so I could get back to giving Goose and her stinky toes kisses and making her laugh hysterically. And really is there anything better than making your little one belly laugh? I can't think of anything.
Print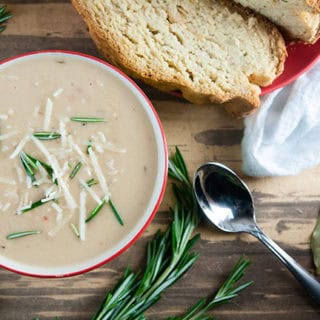 Easy Tuscan White Bean Soup
---
Prep Time:

5 minutes

Cook Time:

25 minutes

Total Time:

30 minutes

Yield:

6

1

x
5

16 ounce cans of cannelini beans, drained and rinsed

3 tablespoons

of olive oil

1

yellow onion, chopped

4

cloves of garlic, pressed

9 cups

of vegetable stock

1 cup

Parmesan cheese

1

tbs thyme

1

tbs rosemary

2

bay leaves
pinch of red pepper flakes*
salt and pepper to taste
---
Instructions
Heat the olive oil over medium heat in a large sauce pot.
Chop the onion and add it to the pot. Season it with salt and pepper and bay leaves. Let cook for 1-2 minutes, then press the garlic and add to the onions.
Cook garlic and onion over medium heat for 5-6 minutes, until onion is softened. Stir consistently to make sure the onion and garlic don't burn.
Drain and rinse the beans. Add them to the pot.
Pour in the stock.
Bring to a simmer, stirring occasionally.
When the soup simmers, pour about 5 cups of the bean and stock mix into a blender. Blend until smooth, and pour back into the pot.
Bring back to a simmer and then reduce heat to medium low and let slowly simmer for another 15 minutes. Soup should thicken during this time.
Finish soup by stirring in thyme, rosemary, red pepper, and Parmesan cheese.
Serve hot with crusty bread. Garnish with cheese and fresh rosemary.
Notes
*Omit red pepper flakes if desired.