Easy Turkey Cookies
Happy almost Thanksgiving!
Can you believe it'll be here in a week? It's crazy. The time of year from September through December just feels like it goes so fast. I know it's cliche, but for me at least it's true. And every year, I vow that I am going to slow down and do more crafts and more baking. Most years, I fail.
This year, though, I am actually doing a pretty good job at the whole crafting baking thing. Maybe it's because now that Goose is 3, she really likes helping in the kitchen and doing easy projects like these easy turkey cookies or the easy pumpkin Oreos we made for Halloween. It could be though that I have finally learned to cut myself slack in the baking department.
You guys, I am not an expert baker by any means. I like to bake, for sure. But I don't have the skills to make jaw droppingly gorgeous cakes and cookies. Plus, if I am going to make something decorative and fun like these cookies, then I'll be honest, I kind of don't want to add any extra steps because both Goose and I have pretty short attention spans. So you know what? I do the semi homemade version of these things. Sandra Lee, I totally get you now. Totally.
These easy turkey cookies use a roll of sugar cookie dough, store bought frosting, and Milano cookies. Sure, you can make your sugar cookie dough and frosting from scratch, but you definitely don't have to. And let me just tell you, no one will even know or care that these cookies are not 100 percent from scratch. Because even though they aren't 100 percent from scratch adorbs.
And super easy. Just slice the sugar cookie dough in about 1/4 inch thick slices and bake up the sugar cookies. Then let them cool and spread a layer of chocolate frosting on them. It doesn't even have to be pretty because most of the frosting is gonna get covered up.
Then lay in the outer row of candy corn for feathers. Just make a row in a semicircle that goes a little less than halfway around the cookie and stick the candy corn directly into the frosting.
Repeat this step with the inner layer of candy corn starting just inside the outermost candy corn. The second layer should rest on the first layer's pointy part of the candy corn.
Then put a little more chocolate icing on the back of a Milano cookie. Stick it on to the sugar cookie so it is in the center of the candy corn feathers. The end of the Milano should sit on the inner layer of feathers and that is totally ok.
Then finish them by popping on candy eyes with a little tiny bit of icing on the back to glue them together. Then cut the end of a piece of candy corn and dredge the not pointed end through vanilla icing mixed with red food coloring and pop it on the Milano.
And boom (gobble?) you've got turkey cookies. And a project to do with your littles. Winning.
Looking for other easy baked goods? Check out these:
Print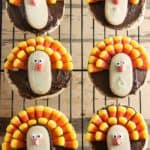 Easy Turkey Cookies
---
Author:

Prep Time:

30 minutes

Cook Time:

10 minutes

Total Time:

40 minutes

Yield:

approximately

15

cookies

1

x
Description
These easy turkey cookies are a family friendly food craft that will look festive and fun on the Thanksgiving table.
---
1

small roll of sugar cookie dough

1

package of Milano cookies, any flavor

1

can of premade chocolate icing

1

bag of candy corn
candy eyeballs

1 cup

of premade vanilla icing

8

–

10

drops of red food coloring
---
Instructions
Preheat the oven according to the directions on the sugar cookie dough. Slice the dough to create 1/4″ thick cookies. Put the sliced dough on a cookie sheet with aluminum foil. Space at least 4 inches apart prepared. Bake for 10 minutes or until the cookies are golden around edges. Remove from oven and let cool before moving cookies off sheet.
While the cookies are cooling, mix 1 cup of vanilla icing with 8-10 drops of red food coloring. Stir until mixed. Add more food coloring if desired to get a deeper color.
When cookies are cool, spread on a thin layer of chocolate icing. After cookies are iced, lay the outer row of candy corn feathers by putting candy corn around the outside edge of the cookie in a semicircle with all the points of the candy corn facing the center of the cookie. The semicircle should be just under half the cookie. Repeat and make another semicircle of candy corn directly inside the first layer. Spread a little chocolate icing on one side of a Milano. Attach the Milano to the sugar cookie by placing it on the cookie icing side down in the center of the candy corn rows. Attach two candy eyeballs on the Milano using a little icing on the back of the cookies. Finish by cutting the flat end off the candy corn. Discard that end. Dredge the flat end of the pointy piece of the candy corn through the red icing. Attach to the Milano in the center of the turkey's face.
Enjoy.
Notes
Feel free to use homemade icing but make sure the icing is thick like buttercream and not a thin glaze
Category:

dessert, cookies

Cuisine:

American
Shop this recipe!
*These links are affiliate links. To read my affiliate policy click
here.