I really love french fries. Like really love them. A lot. They might be one of my favorite foods. But sadly, most french fries are not exactly healthy. So I came up with a way to make them healthy and keep them delicious with these easy, spicy sweet potato fries.
Some people are all about the sweetness of sweet potatoes. I'm not one of those people. I avoid sweet potato and marshmallow casserole at the holidays and the only time I've ever sprinkled cinnamon on a sweet potato was for Goose when she was eating purees.
She takes after her mama. She's not much for cinnamon sweet potatoes either.
She will eat these sweet potato fries though. She must love the combination of the natural sweetness of the sweet potato with the spice from the rub because she eats these.
I know, it's kind of shocking that my toddler eats these when they are spicy. These sweet potato fries have a kick but aren't over the top spicy, just packed with flavor.
Plus, the are healthy without sacrificing taste. They are baked in the oven in good for you olive oil. A blend of smoky cumin, spicy chili powder, red pepper flakes, and salt and pepper add the flavor without any added calories or fat.
And they are so easy. Cut a potato into fries, toss in olive oils and spices, put in the oven and basically done. Can't beat that right?
Then there are those occasions that you are eating an over the top bacon and cheese stuffed bacon burger or jalapeno popper stuffed burger and need something to go with it that balances it out in a healthy way. These are the easy sweet potato fries for that job.
Because life is all about delicious balance. And fries.
Print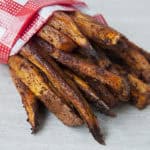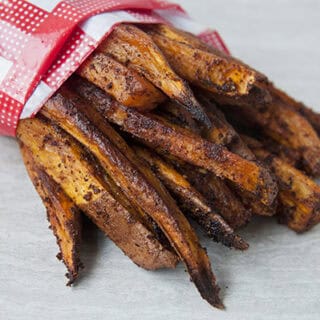 Easy Spicy Sweet Potato Fries
---
1

large sweet potato

1 tablespoon

of olive oil

1 teaspoon

of cumin

1/2 tablespoon

of chili powder

1/2 teaspoon

of red pepper flakes
salt and pepper to taste
---
Instructions
Preheat the oven to 400.
Spray a lined cookie tray with nonstick spray.
Cut the sweet potato into fry shapes. Do not peel the potato.
Put the fries into a bowl. Add the olive oil and toss the sweet potato until coated.
Toss with the seasoning.
Pour the seasoned fries onto the prepared sheet and bake for 35-40 minutes, flipping halfway through.
Enjoy!
Notes
Serve by themselves, topped with melted cheddar, or dipped into barbecue sauce for added flavor.