Easy Santa cookies are a festive food craft perfect to do with the kids at Christmas. These no bake treats are so fun to put together and look adorable on holiday dessert tables.
Post may contain affiliate links. As a member of the Amazon affiliate program, I may earn a small commision from qualifying purchases. To read my affiliate policy, click here.
I absolutely love getting into the kitchen with my kids.
7 is old enough now to be super helpful and involved in all sorts of cooking and baking projects.
3, on the other hand, well his MO is still getting into all sorts of things in the kitchen.
Like during the making of these cookies, he kept stealing the candy eyes and sprinkles.
It's ok, though.
All part of the fun of making cookies with kids.
And these cute Santa cookies are so easy to make that it didn't stress me out having a little candy thief underfoot while we made them.
Why do we decorate cookies for Santa?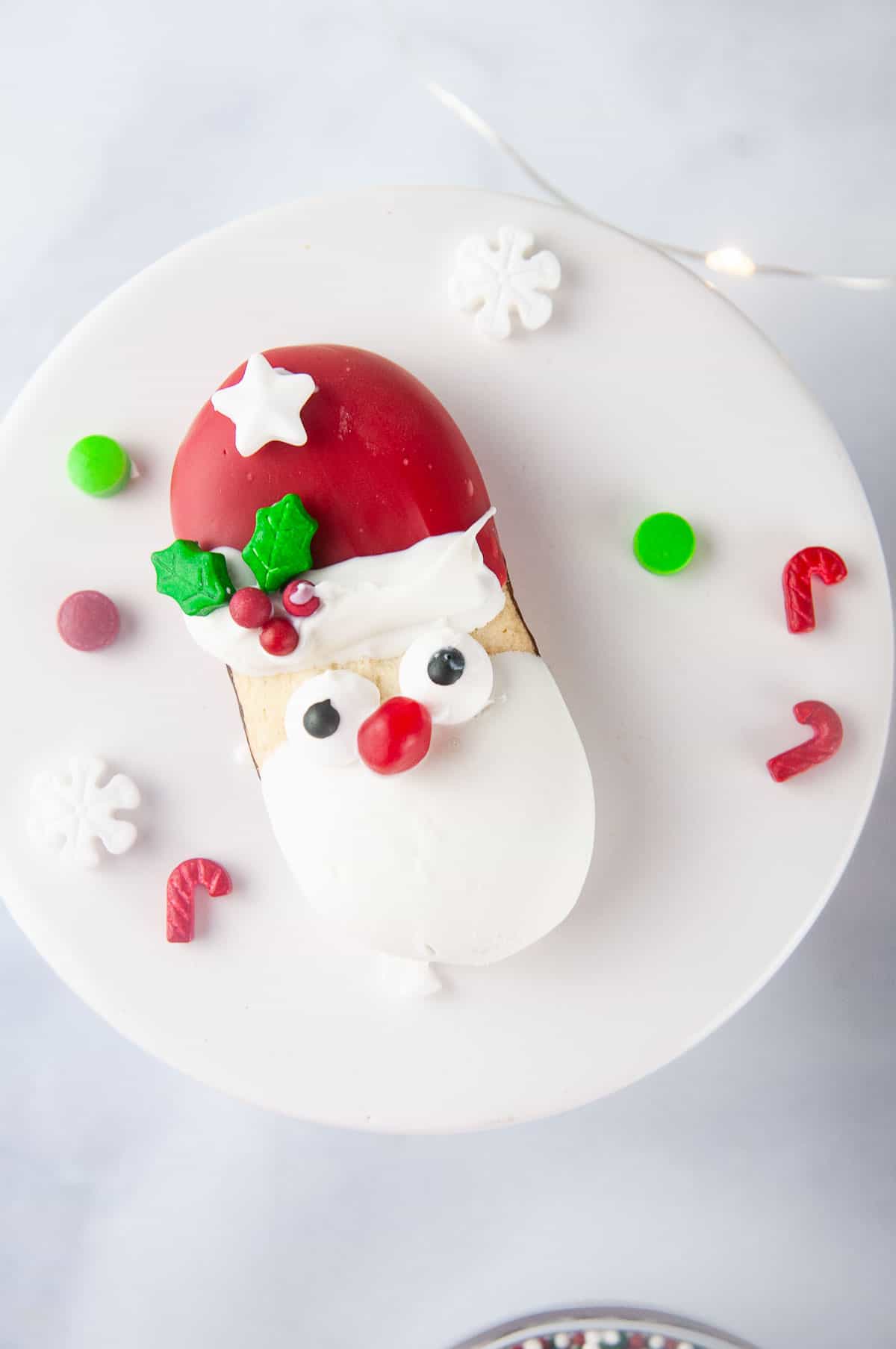 Leaving milk and cookies for Santa likely dates back to ancient times and civilizations across Europe, the Pacific, Asia, and Africa.
Many peoples in these regions would leave offerings for gods and other supernatural or magical beings.
Santa as we know him today is based on St. Nicholas, who lived during the third century.
The Dutch used to host enormous feasts to celebrate St. Nicholas day on December 6th and the young children who wouldn't be able to stay awake for the festivities would leave out snacks and treats.
In the morning, they'd wake to find small gifts to reward them for their kindness.
Ingredients for Santa Cookies
To make these cute cookies you'll need:
Cookies– I love using long cookies like Milanos or Nutter Butters, but you could use Oreos or even round sugar cookies though with round cookies it will change the way Santa's face looks.
Candy Melts– You will need red candy melts and white candy melts for his hat and beard.
Coconut oil– To make the candy nice and smooth and shiny when melted.
Candy Eyeballs– The small to medium sized ones work best though the big eyes are definitely a choice you could make.
Red Hots– These cinnamon candies make the perfect noses. Don't like them or can't find them? Use red M&M's with the logo side down instead.
Other decorations– Assorted Christmas sprinkles, holly sprinkles and snowflake sprinkles to decorate the hat and make the poofballs. You could also use mini marshmallows or white M&M's for the poofs.
How to Make: Decorating Santa Cookies
This isn't so much as a recipe for Santa cookies as much as it is a way to decorate cookies to look like Jolly Old St. Nick.
To do it:
1. Melt the candy.
Put the white candy melts in a microwave safe bowl and microwave it for 30 seconds. After 30 seconds, stir the candy melts and microwave in 15 second increments stirring after each increment until the candy is smooth. Once it is smooth, stir in the coconut oil. Repeat this with the red candy melts.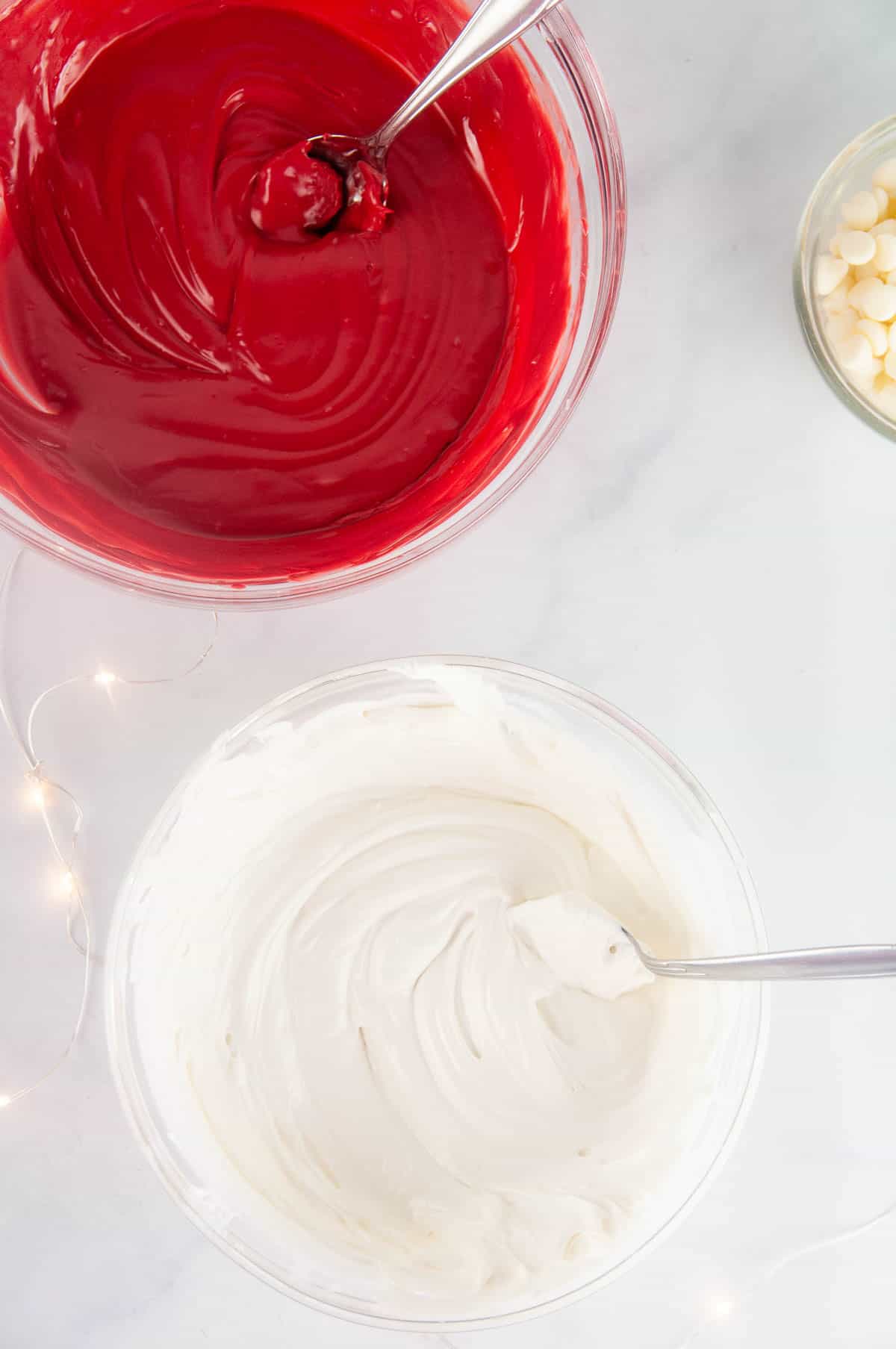 2. Dip half the cookies in red candy to make Santa hats.
After dipping the cookies in the melted candy, set them on a cookie sheet lined with parchment paper so they can set.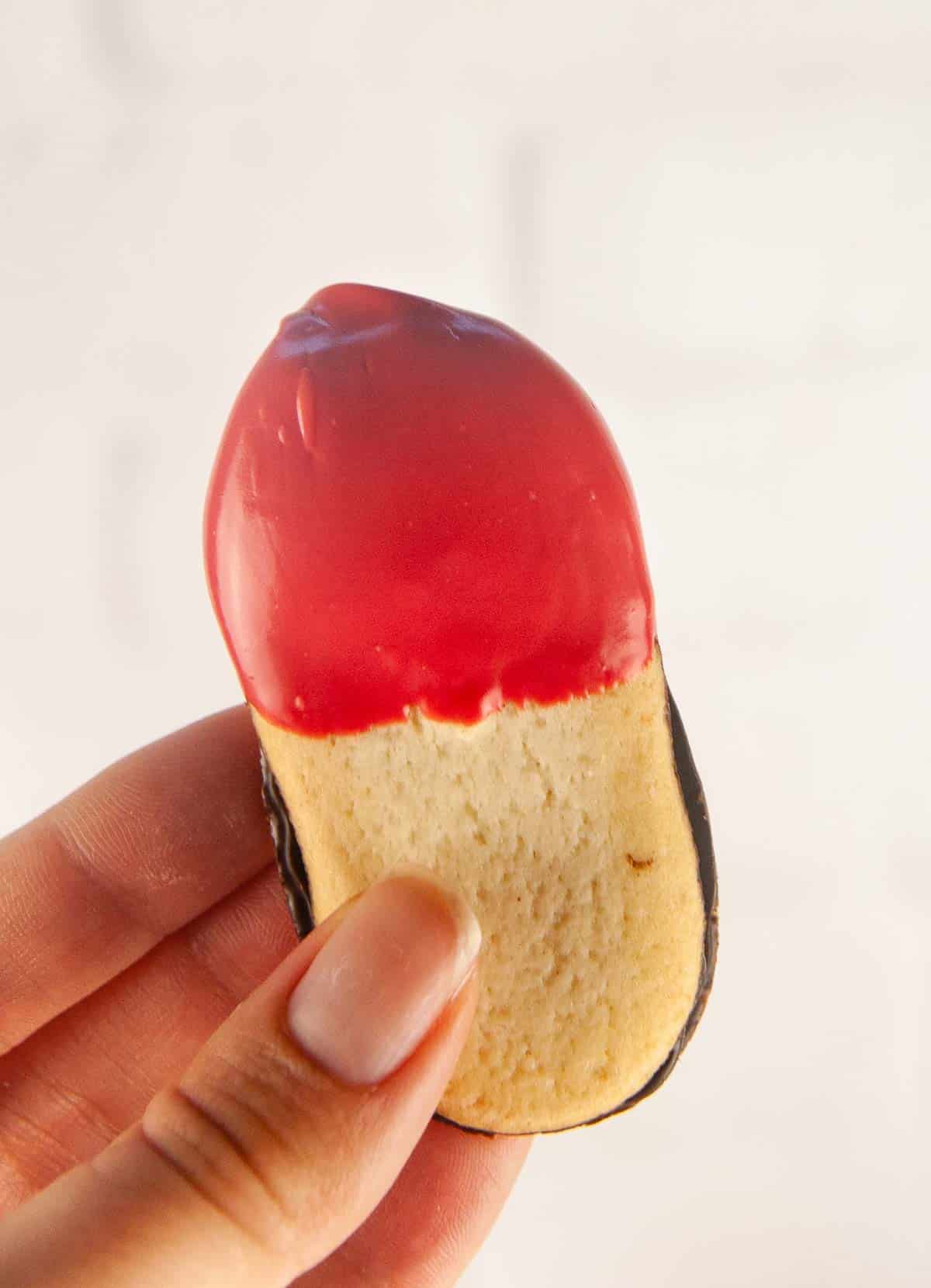 3. Decorate his hat.
Pipe or spoon on the white rim and embellish with sprinkles.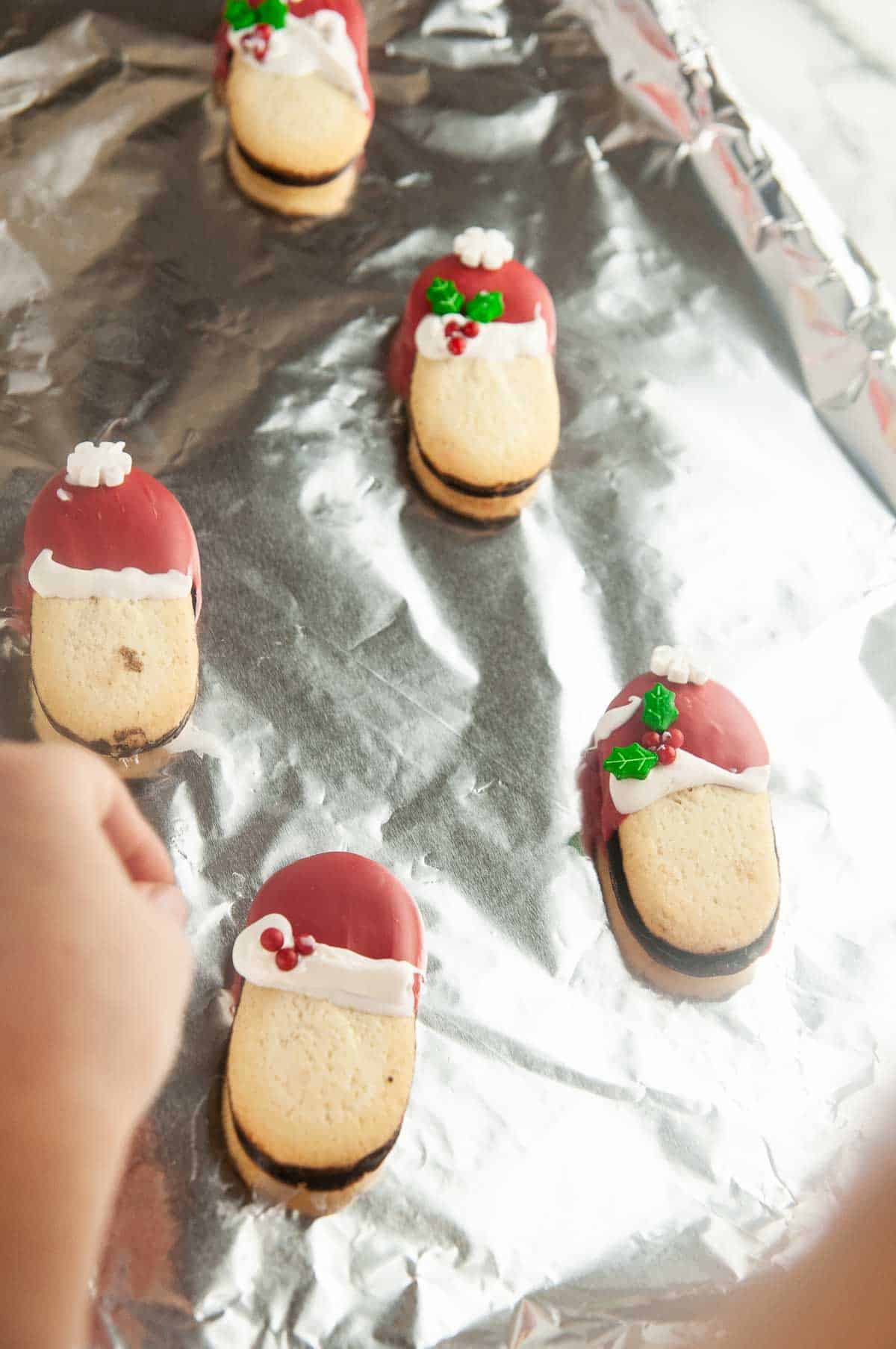 4. Dip the undipped half of the cookie in white candy to make his beard.
Once the hats are set, dip the other half of the cookie in the melted white candy.
4. Add decorations to finish Santa's face.
Use the white melted candy to glue on the eyes, nose, and any sprinkle embellishments.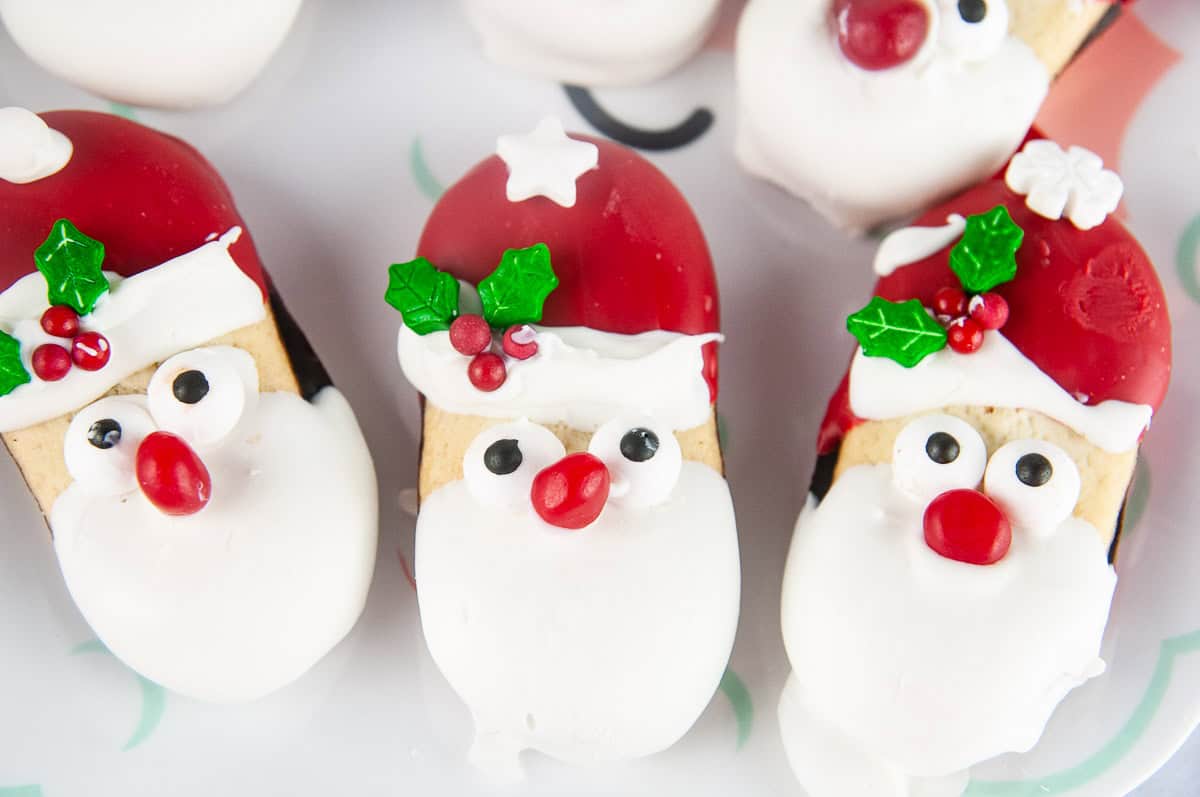 Storing Santa Cookies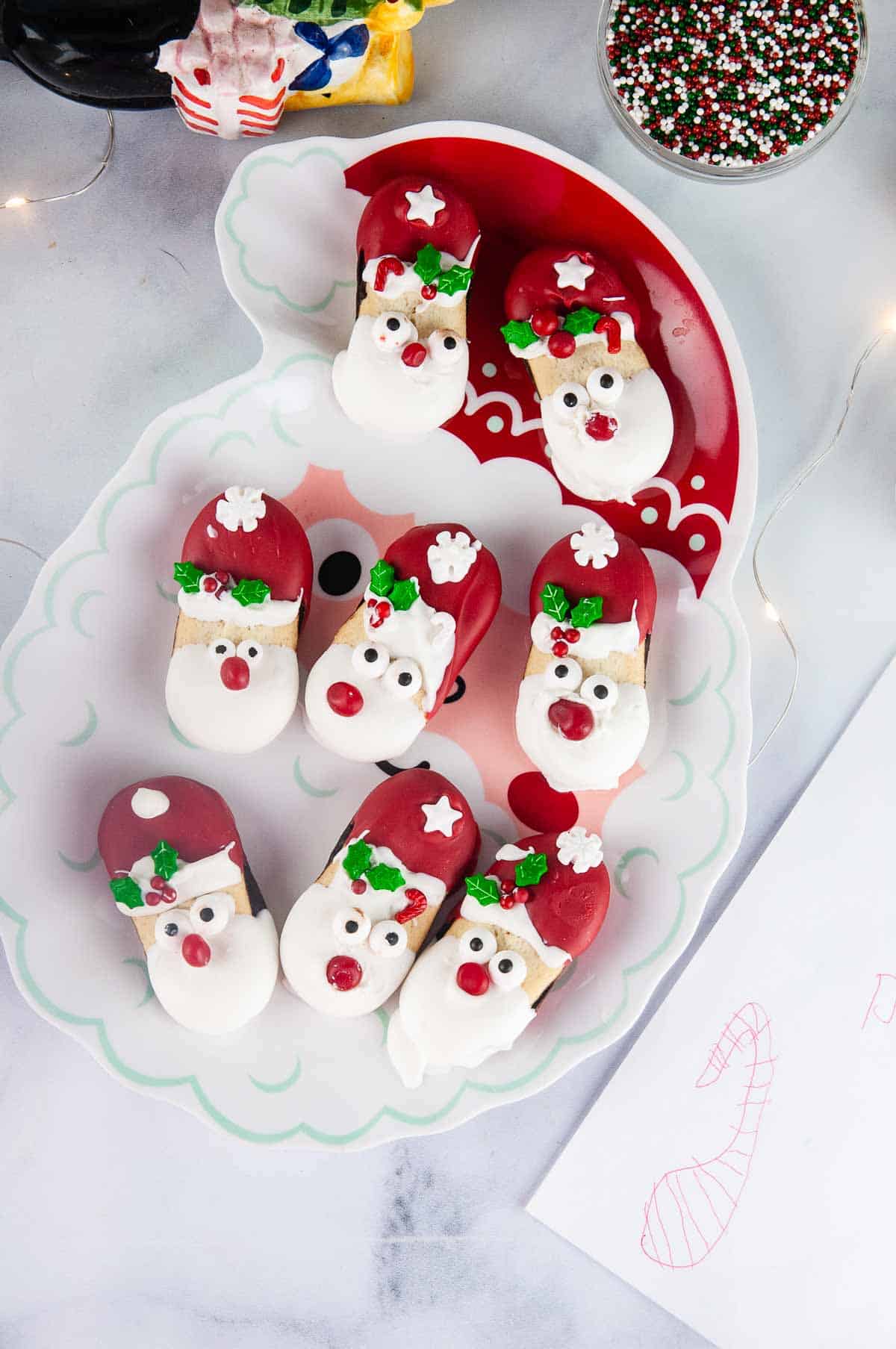 These cookies will stay good in a cookie tin or air tight container on the counter for up to 2 weeks- if they last that long!
Tips and Tricks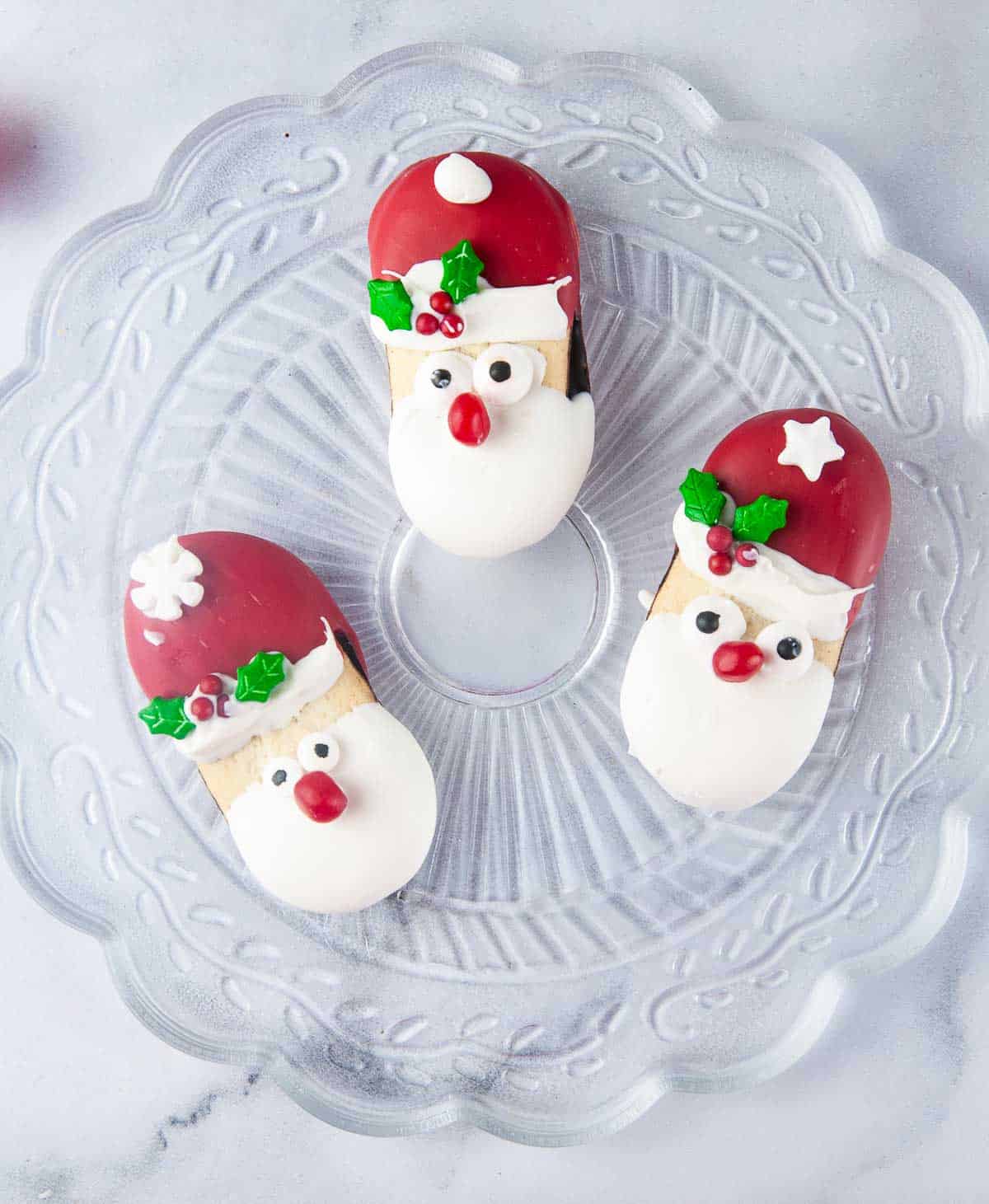 Make sure you don't overcook the candy. You want to just melt it and stir until it's smooth. If you overcook the candy, it will seize up and be generally gross.
You need to work quickly because the candy will start to harden as it cools. If it does get too thick, pop it back in the microwave for 15 seconds and stir. It should loosen up and be the right consistency for dipping again.
It helps to let the hat side set before you do the beard side. If you let the hat side set, you won't get fingerprints in it while you make the beards.
Have fun and get creative! If you have a decorating idea for Santa's hat or face that I didn't show, go for it! My daughter decided the hats all needed holly leaves, but you could omit them or add something else if you prefer.
Remember these don't have to be perfect! Let the kids do their own thing after you show them how to make one. It's super fun to see what they come up with.
Other Easy Christmas Treats to Make with Kids
I love making all kinds of Christmas food crafts and candies with my kids to dress up my dessert spread at the holidays. Here are a few more favorites:
Other Easy Decorated Cookies to Make for Other Holidays
I don't just do this stuff at Christmas time. Oh no, I play with my food and make things like this all year long. Here are a few other favorites for other holidays: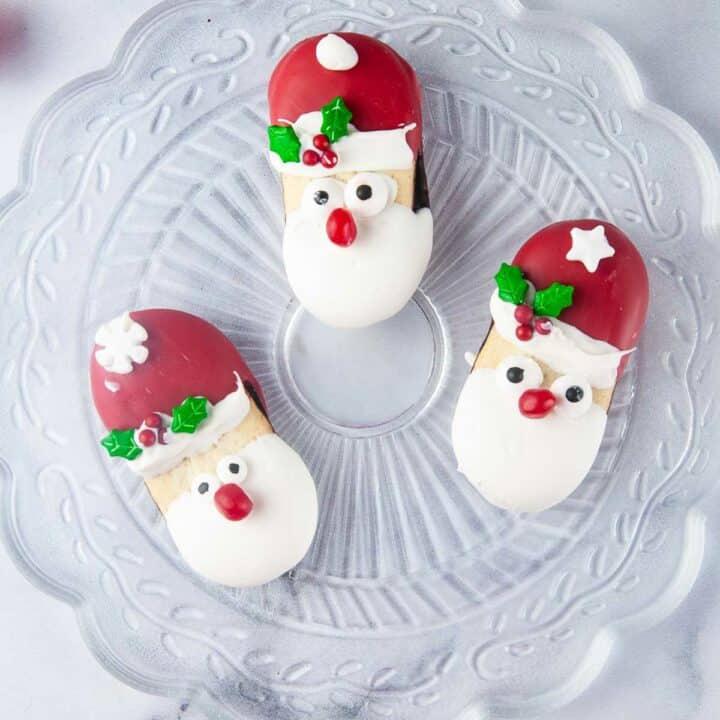 Easy Santa Cookies
Easy Santa cookies are a festive food craft perfect to do with the kids at Christmas. These no bake treats are so fun to put together and look adorable on holiday dessert tables.
Ingredients
12 Milano cookies
1 12 ounce bag of white candy melts
1 12 ounce bag of red candy melts
2 tablespoons of coconut oil, divided
24 candy eyes
12 Red Hots or Red M&M's
Other decorations like holiday sprinkles, mini marshmallows, etc
Instructions
Arrange the Milanos on a plate or tray so they are ready to go.
Add the white candy melts to a microwave safe bowl and microwave for 30 seconds. Stir. Then microwave again in 15 second increments, stirring in between each, until the candy is smooth and melted.
Stir in a tablespoon of coconut oil.
Repeat this process in a separate bowl with the red candy melts.
Dip the top third to half of each cookie in the melted red candy.
After dipping, set each down on a tray lined with parchment or wax paper to let the candy set.
Once set, dip the bottom third to half of each cookie into the melted white candy to make Santa's beard.
Then spoon or pipe on a line of white melted candy to make the fur trim on Santa's hat.
Glue on the eyes by spooning a little melted white candy onto the back of them to use as glue. Press them gently onto the face area.
Glue on the nose by repeating this with a Red Hot and pressing it gently in between his eyes.
Decorate each cookie more, by attaching sprinkles on the hats.
Serve and enjoy!