These Easy Pumpkin Donuts with their pumpkin spice icing are as simple to make as they are tasty. If you love everything pumpkin, then these shortcut donuts are a must.
Post may contain affiliate links. To read my affiliate policy click here.
Easy to make pumpkin donuts is where it is at in fall. As they bake, these amazing pumpkin donuts fill the house with the smell of fall that every Basic Chick craves: pumpkin spice.*
(*DISCLAIMER: Not responsible if a group of basic chicks clad in plaid shirts, leggings, and Uggs clutching their latest Pumpkin Spice Latte show up at your door when you make these)
These pumpkin donuts are semi-homemade. You really only need a Spiced Cake mix and a couple of other ingredients. And the glaze is only 4 ingredients and requires only a quick mix. So you don't need to spend hours in the kitchen making them. You'll save so much time, you can make my Easy Apple Cider Donuts or my Easy Gingerbread Donuts the same day.
For other shortcut baking recipes, check these out: Shortcut Bailey's Cake with Bailey's Chocolate Frosting or Shortcut Boozy Kahlua brownies
How to Make Easy Pumpkin Donuts
If you do this right, you can make my Easy Pumpkin Donuts faster than you can stand in front of the bathroom mirror and say "Pumpkin Spice Latte" three times.**
(**WARNING: A basic chick will appear if you do this. She will proceed to gush over all the things she loves about fall while taking selfies in front of pumpkins and colored leaves. Proceed with caution. Spoiler alert: the basic chick that will appear is me.)
Pick out your favorite sweater or plaid button down shirt and tank top, leggings, and Uggs Sorry, husband decided he needed to add that.
Preheat the oven to 425… cold ovens don't cook donuts very well
Pour the cake mix, pumpkin, eggs, and milk into a medium bowl
Mix until well combined (HELPFUL TIP: A hand mixer is even faster)
Make sure to spray the donut tray with nonstick spray
Pipe the batter into the tray leaving a little room at the top
Bake
Remove from oven and let cool in the pan for a few minutes
Remove from pan and place on cooling rack
How to Make the Pumpkin Flavored Glaze
If you are still dressed from Step 1 from "How to Make Easy Pumpkin Donuts" you can skip step 1 below. Start at Step 2.
Pick out your favorite sweater or plaid button down shirt and tank top, leggings, and Uggs
In a small bowl, combine the powdered sugar, butter, and pumpkin spice creamer (TIP: If you don't have Pumpkin Spice Creamer, don't tell your best Basic Chick friend, she may die of a heart attack.)
Whisk the ingredients together until smooth. If glaze is too thick for your liking, add a tsp of pumpkin spice creamer at a time until you get the consistency you want.
To Finish
Once the pumpkin donuts are cool and the glaze is made, you are ready to finish the donuts up. Here are some tips and suggestions:
The easiest way is to dip the donuts one by one in the glaze and return to the cooling rack. While the glaze is still wet, sprinkle on your favorite fall themed sprinkles.
Use a piping bag to add glaze to the top of each donut and add sprinkles
Use a spoon to pour and spread glaze over the donuts and then add sprinkles
And for you latte chugging, Uggs clad Basic Chicks out, check out this Instant Pot Pumpkin Spice Latte. It's the perfect compliment to your freshly baked donuts.
Storing
Store these donuts in a large sealed container on your counter. They will keep for 3-4 days but taste best the first day or two.
Is this baked pumpkin donut recipe healthy?
Well, they are baked and not fried so they are a lighter version of the treat. BUT they are still donuts and are made from cake mix and have a sweet, sugary glaze on them. Delicious? Yes. But definitely not health food.
Do I need to use the glaze?
Nope! You can roll them in cinnamon sugar the way I do with these apple cider donuts.
Other Pumpkin Treats to Try
Looking for other pumpkin sweets? Try these: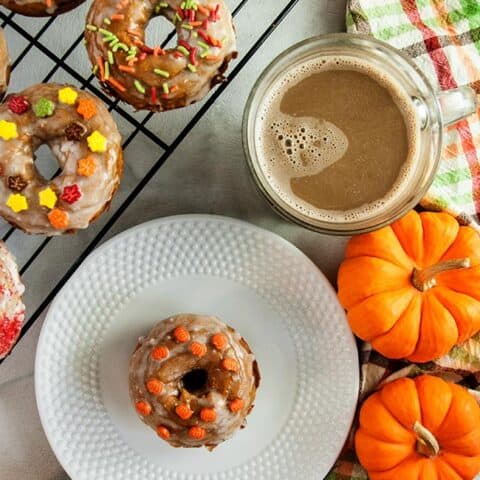 Easy Pumpkin Donuts
Easy Pumpkin Donuts are sure to please every pumpkin lover this fall!
Ingredients
1 box of spice cake mix
1 15 ounce can of pumpkin puree
2 eggs
1/2 cup milk
For the glaze
2 cups of powdered sugar
2 tbs butter, melted
3-4 tbs pumpkin spice coffee creamer*
1 tsp cinnamon
Instructions
Preheat the oven to 425. While the oven is preheating, stir together all the ingredients for the donuts until the batter is well combined. Spray a donut pan with non stick spray and spoon or pipe batter into the donut cavities. Bake for 10-12 minutes. Let cool and remove from donut pan.
While donuts are cooling, combine all the ingredients for the icing, starting with 3 tbs of coffee creamer. Whisk together until the icing is smooth. If desired, add another tablespoon of creamer to thin the icing out to a more glaze like consistency.
Dip the donuts into the icing and sprinkle with sprinkles if desired. Let icing set for about half an hour. Enjoy!
Notes
*Feel free to use milk or half and half in place of the pumpkin spice coffee creamer
Nutrition Information:
Yield:

15
Serving Size:

15 donuts
Amount Per Serving:
Calories:

255
Total Fat:

5g
Saturated Fat:

2g
Trans Fat:

0g
Unsaturated Fat:

2g
Cholesterol:

30mg
Sodium:

290mg
Carbohydrates:

50g
Fiber:

1g
Sugar:

35g
Protein:

3g
Shop this recipe
These links are affiliate links. To read my affiliate policy click here.

Wilton Non-Stick 6-Cavity Donut Baking Pans, 2-Count

Baker's Secret 1061483 10-by-16-Inch Nonstick Cooling Rack, Set of 2

Gourmet Home Products 6 Piece Nested Polypropylene Mixing Bowl Set, Orange