Easy Oreo Bunny Butts
Real bunny butts are the cutest things ever. Fluffy tails. OMG. I just can't with the cute balls of fluffy cottontails. So I had to take the cuteness and make it into some overly adorable Easter treat. Enter these easy Oreo bunny butts.
For some reason I am slightly obsessed with turning Oreos and other premade cookies into holiday themed treats. I made Oreos into pumpkins at Halloween and Milanos into turkeys at Thanksgiving. It's quite possible I have some sort of holiday cookie disorder.
Anyway, these Oreo Bunny Butts are so easy. I made them with my 3 year old and aside from her not quite being able to cut the marshmallows and needing a little help making the decorations on the feet, she was able to follow all the instructions and be quite involved with making them.
The bunny butts are super easy to make. You just melt some white chocolate in the microwave and stir in some coconut oil. Then stir until smooth. Don't skip the coconut oil. It makes the chocolate nice and smooth and viscous. If you don't use the coconut oil the chocolate isn't as smooth and is sort of chunky and gloppy when it coats the cookies.
Also, another dipping tip. Set your bowl of chocolate inside another bowl full of warm to hot water. White chocolate rehardens fairly quickly, even with coconut oil stirred in. Using the bowl of water around the melted chocolate keeps the chocolate melted. When it is warmer, it is easier to work with. That said, don't overheat the white chocolate or use boiling water to keep the chocolate warm. It will burn and burned white chocolate gets chunky and dry.
Then dip the Oreos into the melted white chocolate and make like Taylor Swift and shake off the excess. You could use a spoon to dip the Oreos, but I like to use this this tool
(affiliate link). It makes it super easy to dip the Oreos and shake away the excess.
Then you just let the Oreos set. It only takes a few minutes. By the time you have the last Oreos dipped, the first Oreos will be set and ready to decorate. Then you just snip some marshmallows into thirds and dip about half of one side of the marshmallows in white chocolate and attach them to the bottom half of the dipped Oreo for feet. Then a mini marshmallow makes a tail.
I finished them off by drawing pads and toes with decorator gel.
For a more detailed look at exactly how I did these Oreo bunny butts, check out this video.
Do you have any favorite spring or Easter treats? I'm always looking for new ones!
Print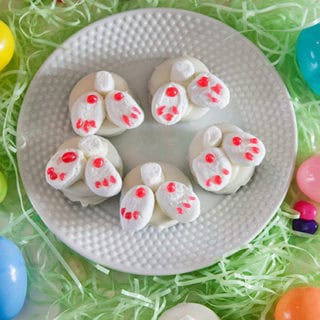 Easy Oreo Bunny Butts
---
Author:

Prep Time:

15 minutes

Total Time:

15 minutes

Yield:

15

Oreos

1

x
Description
Easy Oreo Bunny Butts make a fun Easter treat
---
15

Oreo cookies

24 ounces

of white chocolate chips

2

–

3

tbs coconut oil*

10

large marshmallows

15

mini marshmallows
pink decorator gel
---
Instructions
Cut the large marshmallows into thirds and set aside.
Melt the white chocolate chips in the microwave by microwaving them in a large microwave safe bowl for 30 seconds. Stir. Microwave again for 15 seconds. Stir. Repeat in 15 second increments until the chocolate is melted. Once chocolate is melted, immediately stir in coconut oil. Stir oil in a tablespoon at a time. I used 2 tablespoons for this project but the amount needed will vary. Stir until the oil is totally melted. The chocolate should be shiny and slippery feeling.
Dip the Oreos one at a time into the melted chocolate. Shake off excess and let them set on wax paper.
When the Oreos are set, make bunny feet by dipping half of one side of the large marshmallow thirds into the remaining melted chocolate. Attach to the bottom of the Oreo by holding the marshmallow in place until the chocolate begins to set. This only takes a couple seconds. Repeat this process with the second bunny foot, placing it on the Oreo right next to the first marshmallow bunny foot. Then make the bunny tail by dipping one end of the mini marshmallow in white chocolate and pressing it gently above but centered in middle of the two feet marshmallows. Let set.
Finish the bunny butts by drawing on feet details with decorator gel. Enjoy alone or use these to top cupcakes.
Notes
*Add coconut oil in a tablespoon at a time. The amount needed will vary by the consistency of the chocolate, weather, etc.
**These would make excellent Easter cupcake or cake decorations.
Category:

dessert, cookies

Cuisine:

American
*These links are affiliate links. To read my affiliate policy click
here.