Hot chocolate coffee combines two cozy drinks into one caffeinated delight! No need to visit your local barista when it is quick and easy to make this coffee shop style drink right at home.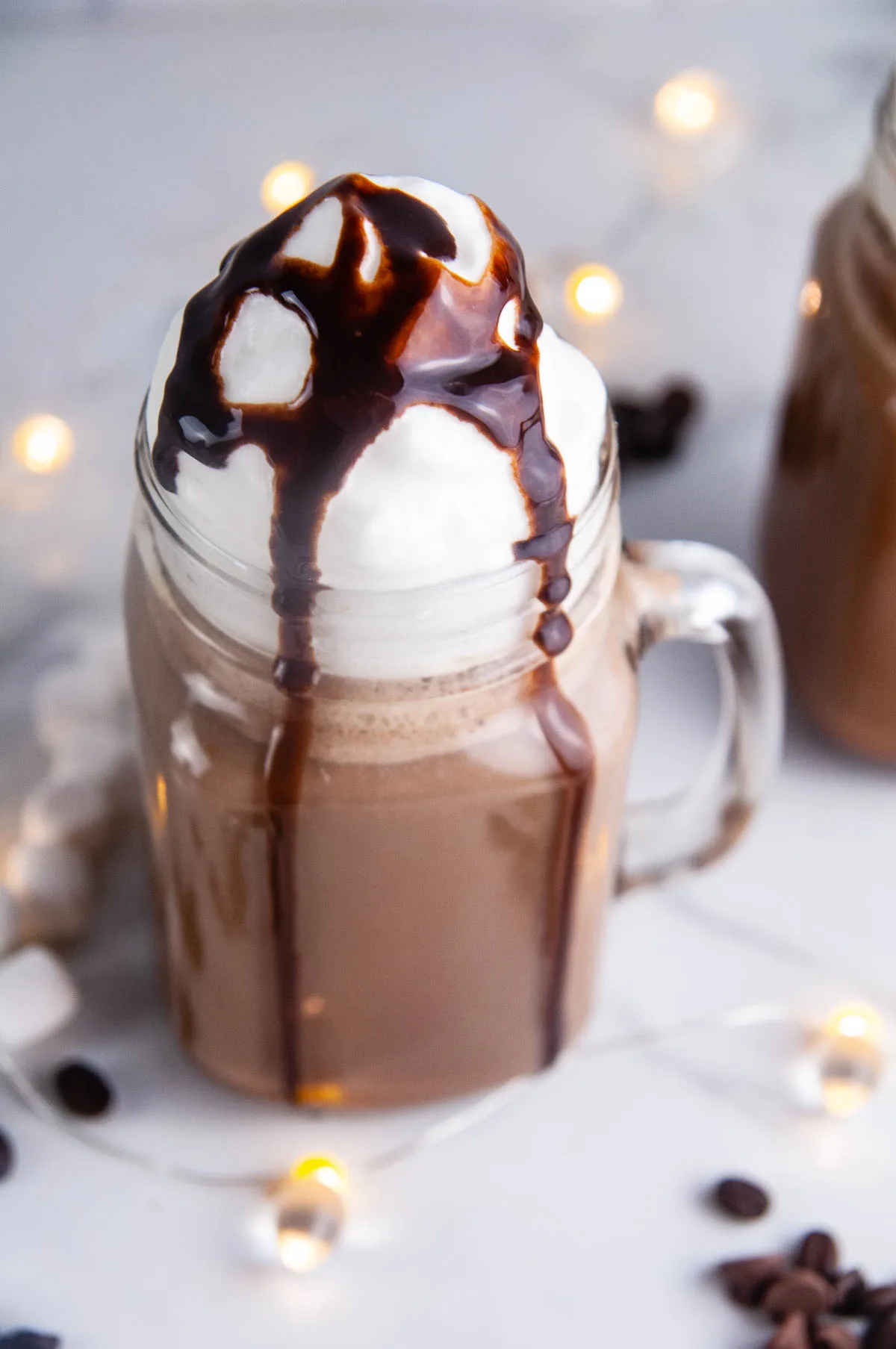 Post may contain affiliate links. As a member of the Amazon affiliate program, I may earn a small commision from qualifying purchases. To read my affiliate policy, click here.
I've told you all this before, but something fundamentally changed in my DNA when I had kids.
BK (aka Before Kids) I was not a coffee drinker save for the occasional PSL.
Nope tea was my drink of choice.
But now, I drink a ridiculous amount of the stuff (4 cups per day. No I don't need an intervention thankyouverymuch.)
It runs through my veins fueling me through the chaos and turning me into a magical unicorn of caffeinated excellence.
*Twitches*
And yes I love going out for coffee, but you know what I don't love?
How much it costs and how hard it is to load three kids (2 toddlers) into the car just so I can get my fix.
So instead of heading out for coffee, I make all my specialty coffee drinks like Cinderella Lattes at home.
And one of my favorites is definitely this coffee hot cocoa combo!
What is hot chocolate coffee? Isn't it just a mocha?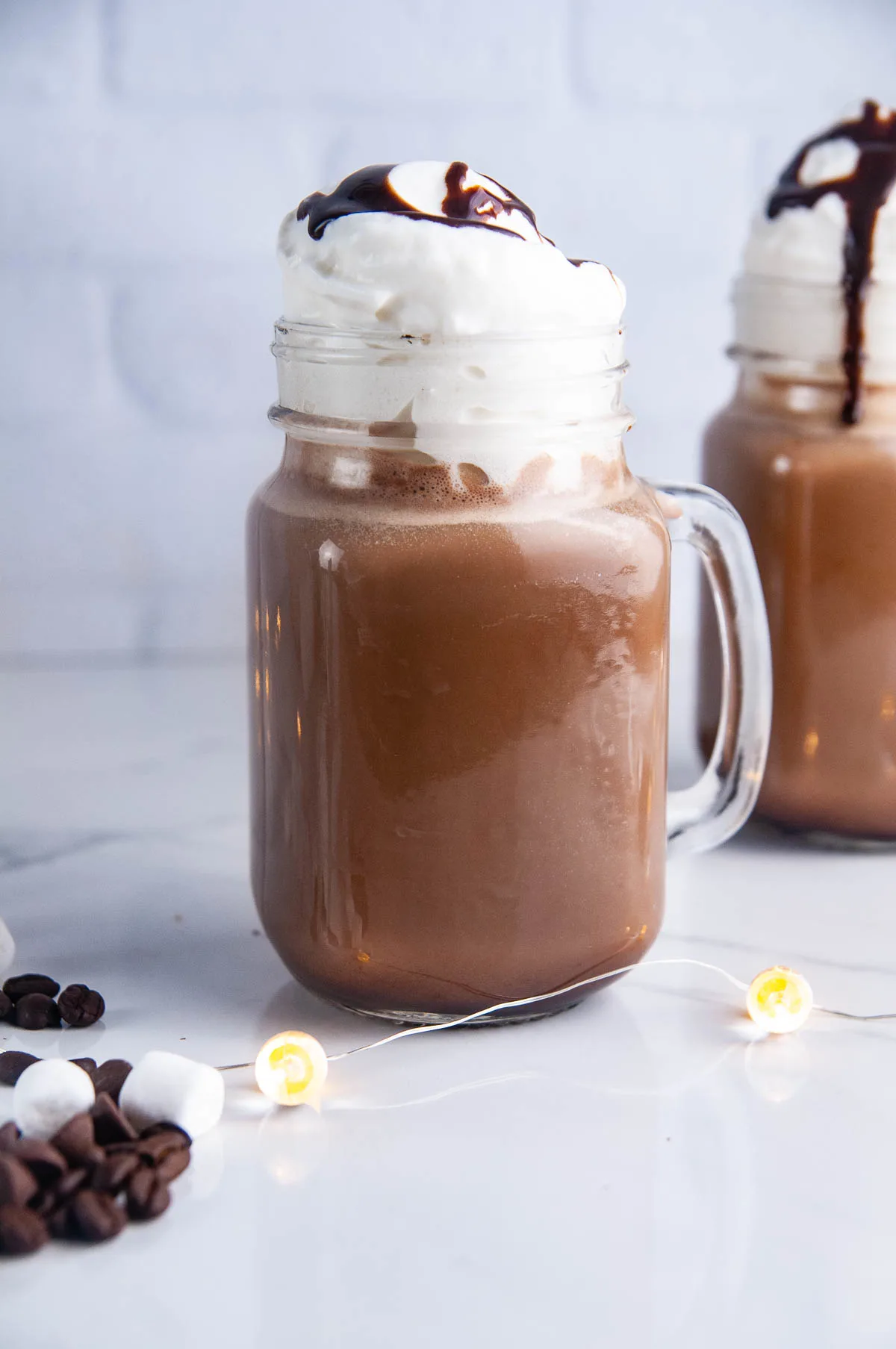 It's like a mocha's less involved cousin.
Mochas normally have a cappuccino base, made with espresso, some form of chocolate (cocoa powder, syrup, or melted chocolate), and a frothy warm milk topping.
Hot chocolate coffee is just what it sounds like: hot cocoa+brewed coffee.
Throw in some cocoa toppings and bam.
Chocolate coffee heaven.
Ingredients and Kitchen Supplies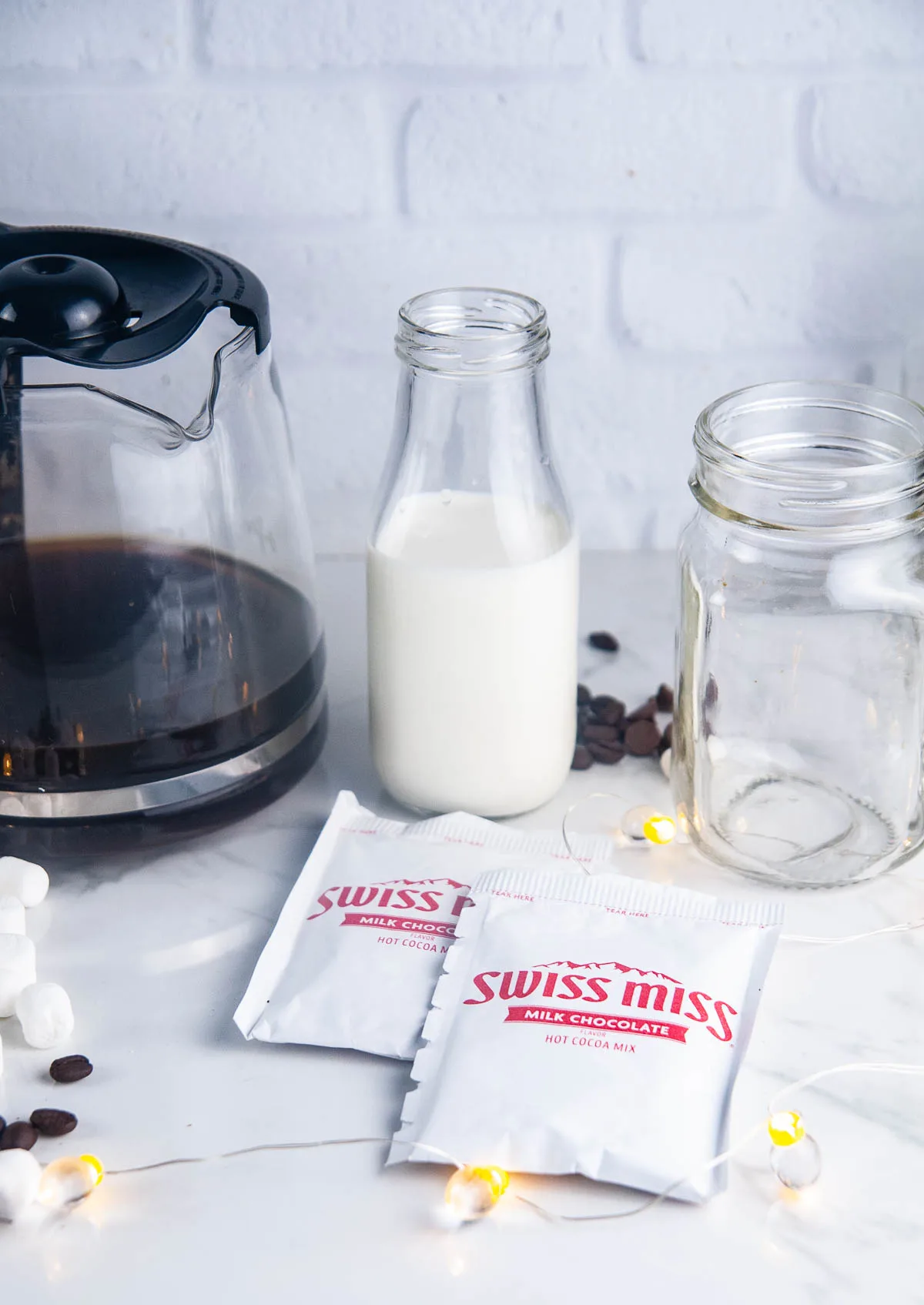 You don't need a whole lot to make this chocolatey goodness. If you can brew a cup or pot of coffee at home you can make this!
Brewed coffee– Use your favorite kind. I can be a coffee snob and buy specialty coffee beans to grind but seriously use what you like.
Hot chocolate– In the cold weather, we almost always have some hot cocoa mix on hand. You'll need a packet of your favorite kind.
Milk, cream, or half and half– To give your drink some glorious creaminess
Toppings– Whipped cream, marshmallows, etc.
You'll also need:
A coffee maker– We have this Ninja model and I LOVE IT. But there's no need for anything fancy.
Mugs– Use large mugs for this.
How to Make
1. Make your coffee.
Make your coffee however you normally make it.
2. Pour it over hot chocolate mix.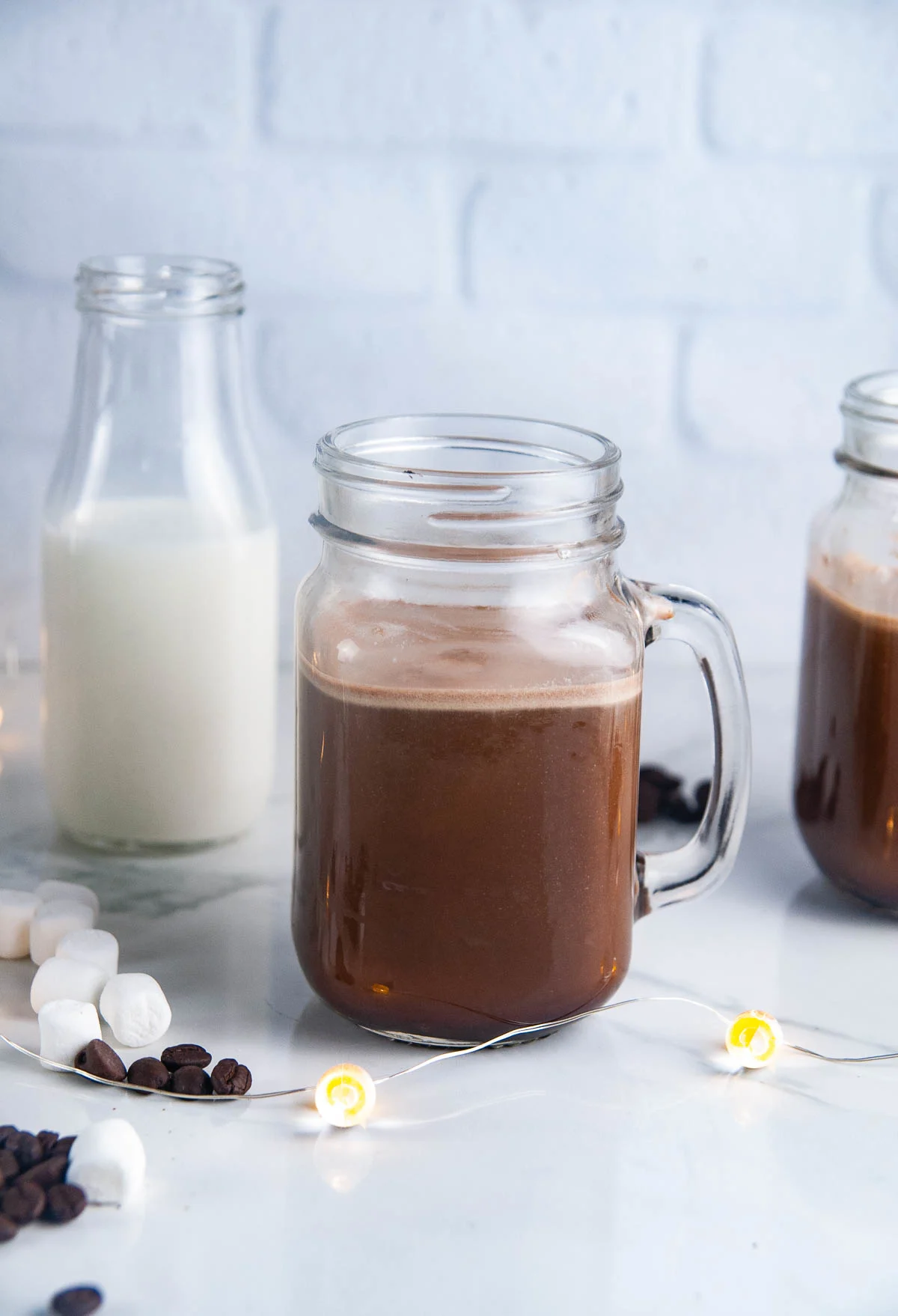 Pish. Forget using water to make your hot chocolate. You're going to pour your hot coffee right over top of your hot chocolate mix powder in your mug and give it a really good stir until it's combined.
3. Customize.
Add a splash of milk, cream, or half and half to your liking.
4. Top and enjoy!
Top it with whipped cream or marshmallows and enjoy!
Do I need to heat this on the stove?
If you are using a freshly brewed hot cup of coffee, no you don't.
The caveat: if your coffee has cooled off (moms I'm looking at you!) then you can heat it in a saucepan over medium low heat and whisk in the hot cocoa mix.
Just keep whisking occasionally until the chocolate coffee is warmed through.
Using Homemade Cocoa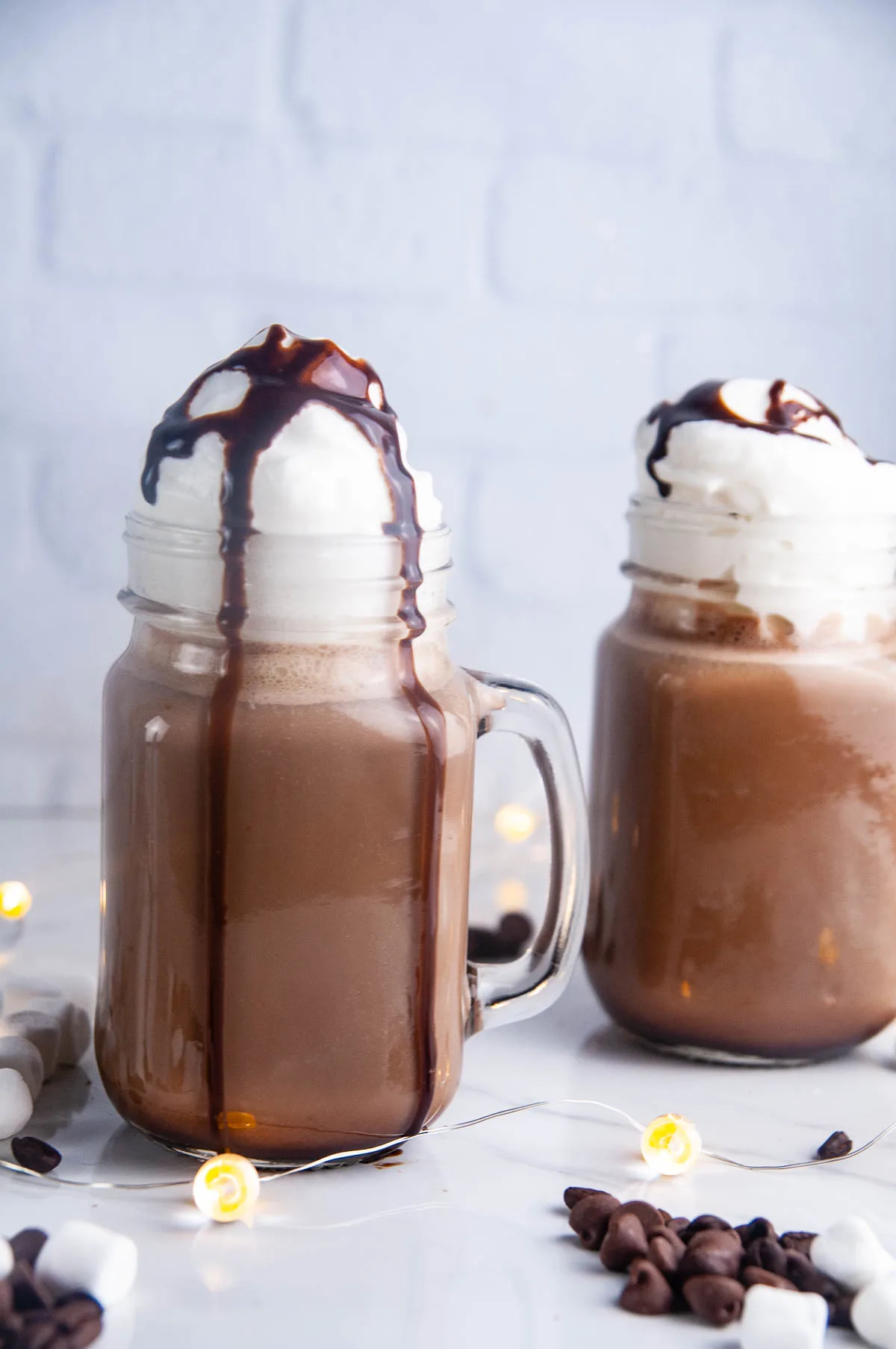 Ah, yes.
You totally can use homemade cocoa.
But you'll want to substitute a portion of the liquid for coffee.
Some of my favorites to turn into hot chocolate coffee would be this Slow Cooker Salted Caramel Hot Chocolate or this Easy White Hot Chocolate.
And of course for a festive spin you could 100 percent throw some coffee into this Peppermint Hot Chocolate.
Is hot chocolate mix good in coffee?
Yes! Chocolate and coffee are a natural pairing so it's safe to say that adding hot cocoa mix to coffee makes for some wonderful results.
What happens if you mix chocolate with coffee?
DISASTER. Kidding!
Chocolate adds a rich sweet background to your coffee. Perfect for a little treat yoself moment.
Tips and Tricks
While adding milk or cream isn't strictly necessary in this, I highly recommend it to get the best, creamy consistency.
In fact, I recommend using at least whole milk but preferably half and half, light, or heavy cream for the best results.
Like your coffee sweet? Taste it after you mix in the hot chocolate powder. The packets are sweetened and will sweeten your coffee, but if it's not enough for you add your desired sweetener.
Other Chocolate Coffee Recipes
Other Hot Chocolate Recipes
Did you make this? Let me know!
Did you make this hot chocolate coffee or any other recipe on my site? Leave me a comment below and let me know how you liked it. And make sure you follow along with me on Facebook, Pinterest and Instagram to see everything we've got going on.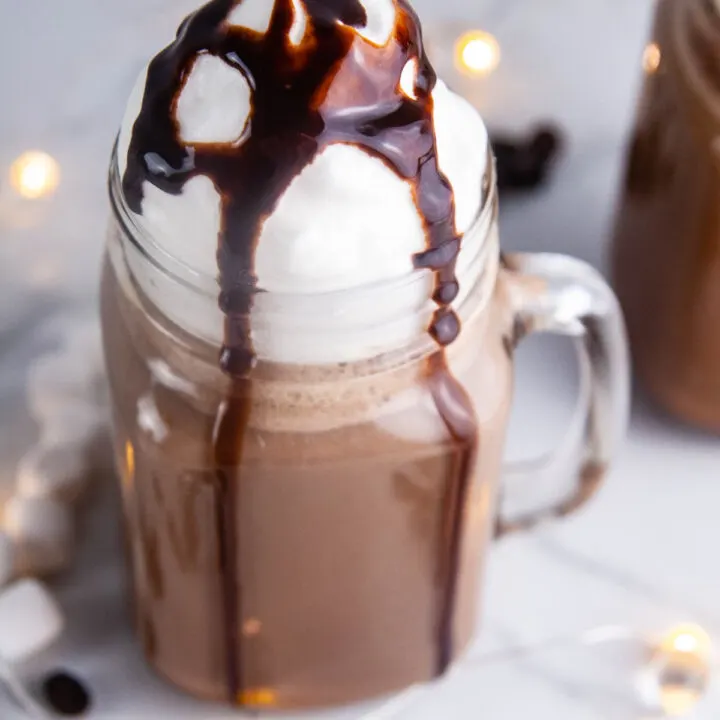 Easy Hot Chocolate Coffee
Hot chocolate coffee combines two cozy drinks into one caffeinated delight! No need to visit your local barista when it is quick and easy to make this coffee shop style drink right at home.
Ingredients
16 ounces of hot brewed coffee
2 packets of your favorite hot chocolate mix
Milk, cream, half and half to taste
Toppings like whipped cream, marshmallows, etc
Instructions
Make your coffee however you normally make it.
Add 1 packet of hot chocolate mix to the bottom of a large mug. Pour the coffee over the mix and stir until it's combined.
Add your desired level of milk or cream
Taste and add sweetener if desired.
Top with whipped cream and/or marshmallows.
Repeat with a second cup.
Serve hot and enjoy!
Nutrition Information:
Yield:

2
Serving Size:

1
Amount Per Serving:
Calories:

147
Total Fat:

4g
Saturated Fat:

3g
Trans Fat:

0g
Unsaturated Fat:

2g
Cholesterol:

15mg
Sodium:

140mg
Carbohydrates:

21g
Fiber:

1g
Sugar:

18g
Protein:

6g
Nutrition will vary based on brand of cocoa used, amount and type of cream or milk, and toppings.