Easy Eggplant Rollatini Pasta
Want to hear a story?
It's a good one.
The other night, I needed to pick up parmesan cheese to make this easy eggplant rollatini pasta dish. Yes, we had bought it during our weekly shop earlier in the week, but our household consumes an insane amount of cheese. I'd like to blame the Goose but really it's all of us, though Goose does go sort of nuts any time she sees the grated Parmesan cheese.
So a grocery store trip was necessary.
Unfortunately, this trip happened on a day when there was no nap. Ok, no big deal. One of us could have stayed home with Goose while the other went to the store, but nope. That smart idea went right out the window because I thought it would be fun to go to the park first and try to burn off some of the toddler energy.
So far so good.
Other than an unfortunate incident involving a merry go round, all was well. Then we got to the store. The plan was for only one of us to run
in while the other waited in the car with the Goose. Good in theory but as soon as we pulled into the parking spot, "Mama, uppies!" comes from the back seat.
"Uppies? Mama?" the little voice is becoming a whimper that will quickly escalate into a full blown tantrum if we don't all go in.
So we all go in. There was no fun car cart to put her in and she refused to sit in a regular cart. She also had turned the corner from tired to wired and wouldn't let me carry her.
Fine. We walked, hand in hand.
So far so good. We make our way back to the cheese section uneventfully. Goose is behaving nicely as we walk hand in hand.
An older gentleman that was wearing an outfit that reminded me a little of the man in Up's outfit was nearby in a motorized cart.
He starts going full steam ahead in the scooter.
Goose chooses the moment he is about a foot away from us to wriggle from my hand and dart out in front of him.
Time stood still in that moment. It was literally a split second but it felt like a lifetime. I was sure this is how it was all going to end for my daughter. By her running out in front of a motorized cart in the grocery store. The man gasps and slams the brakes of his scooter.
I swoop in and pick my kid up, shaking and apologizing profusely. The man is muttering about how I can't control my toddler and literally shaking his fist at me. My husband is witnessing this wide eyed and just sort of shaking his head at the whole thing. Goose is now trying to escape the clutches of my arms and wriggle down.
We have never high tailed it out of a grocery store so fast.
Fortunately, we did actually buy the cheese needed to make this easy eggplant rollatini pasta. This incident was all so I could make you this pasta my friends.
And even more fortunately, this dish is super easy to make. That was needed as my nerves were SHOT when I was cooking this. There is absolutely no way I would have been able to make actual eggplant rollatini. It just seemed like too much work whereas this dish is a quarter of the work and dirties only 2 dishes. Plus it takes a fraction of the time, and all I wanted was to calm my nerves with a big bowl of cheesy carbs.
This dish fits that bill. It's got 3 cheeses in it making it a perfect trifecta of cheesy, carby goodness. But I can still justify it as healthy because the eggplant is grilled, not breaded and fried and I used part skim ricotta. It might not be as healthy as some of the other pastas I've made like the quick bruschetta pasta or my pasta with chickpeas but it's still a good vegetarian option. Plus, as always it's gluten free with gluten free spaghetti. Granted, you could use whatever spaghetti or pasta you prefer.
I like to give you options, not orders when it comes to dinner, you know?
I give enough orders to my daredevil toddler. And you all see how well that works for me.
Print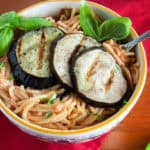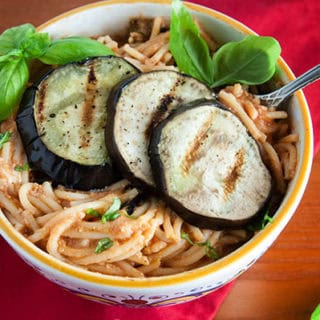 Easy Grilled Eggplant Rollatini Pasta
---
Prep Time:

5 minutes

Cook Time:

25 minutes

Total Time:

30 minutes

Yield:

4

-

6

servings

1

x
1

eggplant

1

pound of spaghetti

3 tablespoons

of olive oil

2 cups

of tomato purree

1 cup

of ricotta cheese

1/2 cup

of white wine

1/2 cup

of grated Parmesan cheese

1/2 cup

of mozzarella cheese

3

–

4

cloves of garlic

1 tsp

of crushed red pepper
salt and pepper to taste

5

–

6

leaves of fresh basil to garnish
---
Instructions
Cook the pasta according to directions on the package.
Heat a grill pan over medium heat and spray with nonstick spray.
While waiting for the pasta to cook, slice the eggplant into equally thick slices. Drizzle on 2 tablespoons of eggplant and season as desired with salt and pepper.
Lay slices of eggplant on the grill pan and let them cook for 3 minutes. Do not touch them until you are ready to flip them. Flip and cook on the other side for an additional 3 minutes.
Set aside.
When the pasta is finished cooking, drain the pasta water and return the pasta to the cooking pot. Reduce the burner to low heat. Toss with 1/2 cup of white wine and let cook for about 5 minutes. Then add the tomato puree, cheeses, garlic, and crushed red pepper. Season with salt and pepper as desired.
Cook over low heat until the sauce is warmed through.
Dice the eggplant and toss it in or serve it over top in slices.
Garnish with additional cheese and fresh basil.
Notes
I used gluten free pasta but feel free to substitute your favorite pasta.