Easy Crockpot Asian Barbecue Wings
It's funny. I logged into read my husband's Crockpot Asian Barbecue Wings post with intent to write about how much it has absolutely stunk to not be able to eat this. See Goose is a huge fan of sharing. She likes to share her toys, her food. I normally encourage this. However, she also shared Hand, Foot, Mouth with me. That was way too much sharing. I totally understand why she was miserable. My mouth has been a warzone that has made it impossible to eat even things like mashed potatoes and chicken soup. But these wings… we had bought the ingredients for them the day before I got hfm. They spent the day in the slow cooker making our house smell tantalizingly delicious. My poor tummy rumbled. I tried one when they were done. What a deliciously painful mistake.
Torture. It's the best word to describe this past week. Jenna's sickness made eating nearly impossible for her. Lucy has had more "down" days of little activity than she has ever before. And both Jenna and I are forced to open the fridge up each day and see these Asian Barbecue Wings staring back at us. They beg to be eaten. And though it would be torture for Jenna to eat them, she wants them.
So we wait. Each day she woke up still sick was another day we didn't have the wings. Most nights, she struggled to get bland food past her aching mouth. But she was steadfast in her desire to have the wings one night. And so they wait.
Sure, I ate a few. After all, I had to taste test them to make sure they came out well. And I may have wanted them for lunch at work. But the bulk of them still wait.
Yes, I am restraining myself on Jenna's behalf. Yes, really, with no need for threats from Jenna. After all, I can't say that if I was chocking down a bland diet, I would enjoy seeing Jenna eat the product of a recipe that she inspired. See, Jenna likes variety in her wings more so than I do. You might remember that from the Grilled Buffalo Wings post a few weeks back. But I try not to argue with variety and ended up making a wing recipe that is different and specifically for her.
The irony is these Crockpot Asian Barbecue Wings are a delicious mistake. Jenna wanted much more simple, crockpot wings. (Spoiler Alert: That recipe is coming soon.) Don't get me wrong, these are very easy to make. But they have a few more ingredients than what Jenna was thinking.
Still, I think you'll agree if you try them that:
They are delicious.
They are easy to make.
They are hard to resist.
Torture. Like I said.
Print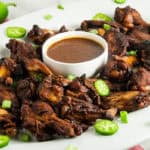 Easy Crockpot Asian Barbecue Wings
---
Prep Time:

10 minutes

Cook Time:

3 hours 30 minutes

Total Time:

3 hours 40 minutes
For the wings
2 1/2

–

3

lbs fresh or frozen wings (thaw if first if frozen)

1

sprig of green onions chopped

1

heaping tsp each of cumin, ginger, curry, chili powder, and garlic powder
For the sauce
1 teaspoon

ginger powder

1 teaspoon

curry powder

1 teaspoon

garlic powder

2 teaspoons

chili powder

1 teaspoon

cumin

1 cup

crushed pineapple (in pineapple juice NOT heavy syrup)

1 cup

molasses

1/2 cup

gluten free soy sauce

1/4 cup

honey

2

–

4

cloves garlic crushed

1

jalapeno diced

1/2 cup

sirachi sauce
To thicken sauce at end (optional)
3 Tablespoons

gluten free flour

3 Tablespoons

water
---
Instructions
Thaw wings (if frozen) and separate wings at the joints (if needed)
Spray crockpot with non-stick spray.
Place chicken wings in crockpot covering the bottom. Sprinkle the spices for the wings over top. If there are more wings to add, add then sprinkle the new layer with the same spices.
In a medium bowl, combine all ingredients for the sauce. Do not add the flour and water at this time.
Whisk ingredients and pour on top of wings.
Set crockpot to LOW for a 3-4 hour cook time or HIGH for a 1 1/2 – 2 hour cook time.
Wings are done when they are "falling off the bone" but still attached.
Remove wings from crockpot and serve or finish the sauce below.
Optional
Remove wings from crockpot and set aside.
Carefully pour the liquid in the crockpot into a food processor or blender.
In a small bowl, mix the flour and water together and add to blender/food processor.
Blend ingredients together.
Pour the sauce over the wings or dip the wings in the sauce.