Beautiful, fragrant cinnamon ornaments are a fun decoration to make with the kids for any holiday. With only two ingredients, these cinnamon ornaments are easy to make and smell positively heavenly.

Once upon a time, when I didn't have kids, I used to be a champion ornament maker. Painted ornaments with intricate designs on them, pine cone ornaments, beaded ornaments. If it was crafty and I could hang it on my Christmas tree, I probably would make it. But I haven't done that in years because, well, kids.
It's probably not fair to blame the kids. In reality as I've gotten older, life has just gotten busier between yes having little kids at home and running a business. But I really miss going all homemade ornament crazy so this year, we did really fun easy ornaments.
I know, if you've read this blog before, you know I post mainly about food and this is not a recipe. I do the occasional food craft like making turkey cookies or pumpkin patch brownies or bunny butt Oreos, but I love to craft craft too and may start sharing more of that with you.
Plus, you do make these ornaments primarily with food and food accessories. Everything else is optional. So I think it kind of counts as a recipe. Let's just go with it, ok?
The Easiest Cinnamon Ornament Dough Ever
Like I said, you primarily make these ornaments out of food or food products. To make the cinnamon dough you just need cinnamon and applesauce. That's it! I know I was skeptical of this too when my friend told me about it, but it really does work and it works well. The consistency of the dough is sort of like play dough just very cinnamon-y.
Other things you'll need to make the ornaments:
And if you want, you could paint them with acrylic glitter paint, like we did. You absolutely don't need to paint them with glitter, but in my world, glitter makes everything better.
How to Make Cinnamon Ornaments
Making cinnamon ornaments is so easy even with kids involved. I used 1 cup of cinnamon, which amounts to 1 of the larger sized, 4.1 ounce spice jars of cinnamon that you can find in your grocery store and 3/4 cup plus 1 tablespoon of applesauce. Just combine both ingredients in a large bowl and use your hands to mix them together. The cinnamon and the applesauce will create a play dough like consistency.
Once the ingredients form a ball, you can take them out of the bowl. I divided the ball into two even smaller balls and laid them on parchment that I liberally sprinkled with cinnamon.
Then I rolled them out until the dough was about a 1/4 thick and we used Christmas cookie cutters to shape them. And yes, those are hearts ornaments too courtesy of my daughter who wanted hearts. Hey, I'm good with that! It'll transition right over to Valentine's Day.
Once all the ornaments had been cut into shapes with cookie cutters, we used a straw to poke holes in them so that we would be able to hang them from a string or ribbon.
Then we baked them at 200 for an 2 and a half hours on parchment lined cookie sheets. And let me just tell you, it smelled absolutely heavenly while they baked.
Decorating Cinnamon Ornaments
I let the ornaments cool completely and rest for a day before we painted them.
You don't have to paint them, but my daughter and I both have a deep seated love of glitter and being a little extra. You could use glitter spray paint, or you could do what we did, which was just brush a layer of glittery acrylic paint on the front of them. I kept the backs bare to keep the amazing smell. Then to finish them off I just threaded a ribbon right through them and hung them on the tree.
That's it! These cinnamon ornaments were a fun project to do with the kids that will be part of our holiday tradition for years to come.
Make some this year and let me know what you think!
Print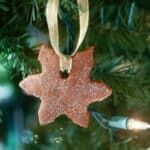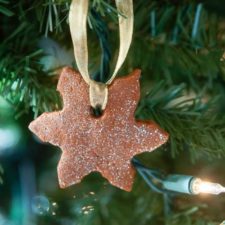 Easy Cinnamon Ornaments
---
Author:

Prep Time:

20 minutes

Cook Time:

2 and a half hours

Total Time:

21 minute
Description
Beautiful, fragrant cinnamon ornaments are a fun decoration to make with the kids for any holiday. With only two ingredients, these cinnamon ornaments are easy to make and smell positively heavenly.
---
For the dough
1 cup

cinnamon

3/4 cup

plus 1 tbs applesauce
Other supplies
cookie sheet
parchment paper
rolling pin
cookie cutters
straw
glitter paint (optional)
ribbon or twine
---
Instructions
In a bowl, mix together the applesauce and cinnamon with a large spoon until it starts to come together to form a dough. When it starts to form a dough, use your hands to shape it into a ball. Divide it into two even balls and put one ball on parchment paper you have liberally sprinkled with cinnamon. Roll the dough ball out with a rolling pin until it is 1/4 inch thick. Then use the cookie cutters to cut into shapes. Once the you've cut the dough into shapes, use a straw to poke a hole for your string or ribbon near the top of the dough. Then place the ornaments on a cookie sheet lined with parchment. Repeat with the other dough ball until you have used all the dough. Then bake at 200 for 2 and a half hours. Let cool thoroughly. Once cool you can either hang them by threading a ribbon or twine through the hole or you can paint the front with glitter paint and then let them dry and hang them.
Category:

food craft, craft

Method:

baking
Keywords: cinnamon ornaments