Easy baked sweet potato fries give basic French fries a healthier upgrade. The perfect side dish for almost anything! Kid friendly and parent approved.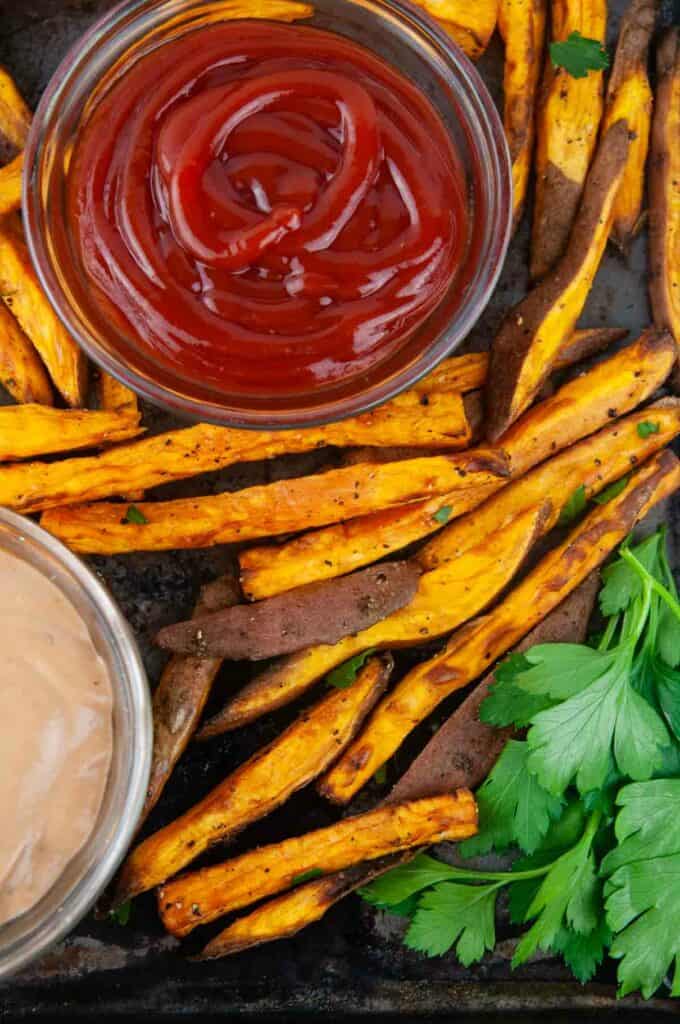 Post may contain affiliate links. As a member of the Amazon affiliate program, I may earn a small commision from qualifying purchases. To read my affiliate policy, click here.
Is there anything yummier than French fries?
Really carbs in general.
I love them so much that I'd eat them pretty much whenever, wherever.
But you know, since the year on my driver's liscense and birth certificate indicates that I am an adult, I figure I should try to eat like one and make sure to put the good stuff into my body occasionally.
So I try to pick foods with extra nutritional value when I can.
And because I may very well be an adult- IDK the jury's still out- I do live with three actual children so I want to keep most things kid friendly.
These baked sweet potato fries fit the bill.
Sweet potatoes are jammed packed with good for you things AND they are yummy dunked into ketchup so the children in your life will happily eat them.
Ingredients and Kitchen Tools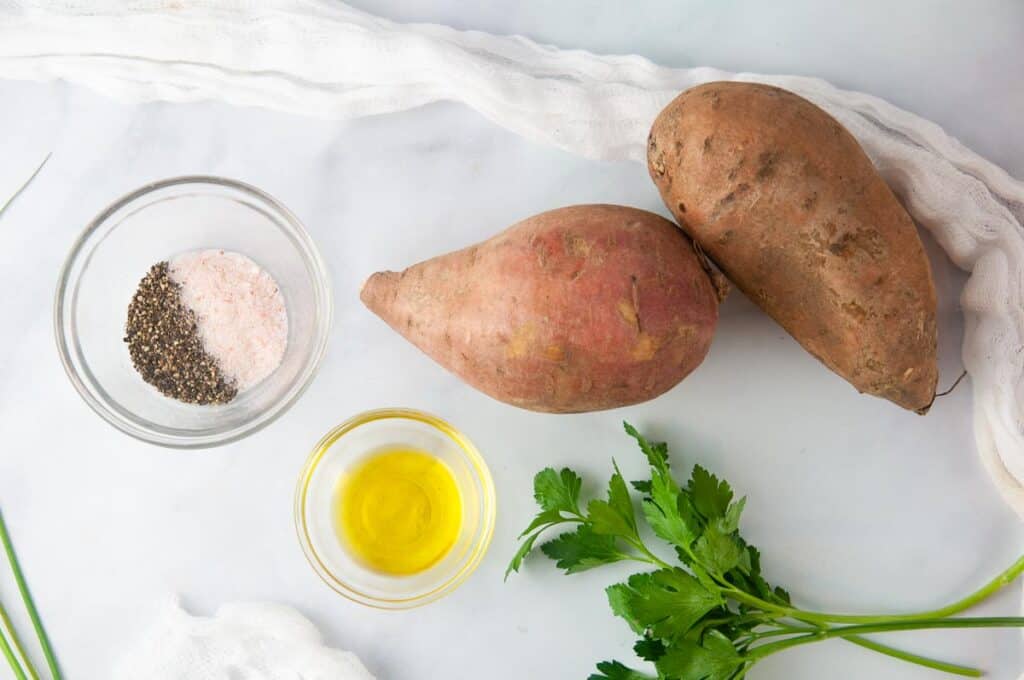 To make the basic version, you only need 3 ingredients.
Sweet potatoes– You need a large sweet potato with the eyes cut off and cut it into fry shapes.
Olive oil– Just a little bit. If you want to skip on the oil, you could use cooking spray, or you could use a mister to spray the oil on.
Spices– You could keep it basic with plain old salt and pepper or kick it up with different flavor combinations.
You'll also need a few basic kitchen supplies and tools including:
Cutting a Sweet Potato for Fries
Cutting a potato or sweet potato into fry shapes can be a little tricky if you've never done it before.
It helps to have a nice, sharp chef's knife and good cutting board.
To do it:
Cut off the ends of the sweet potato.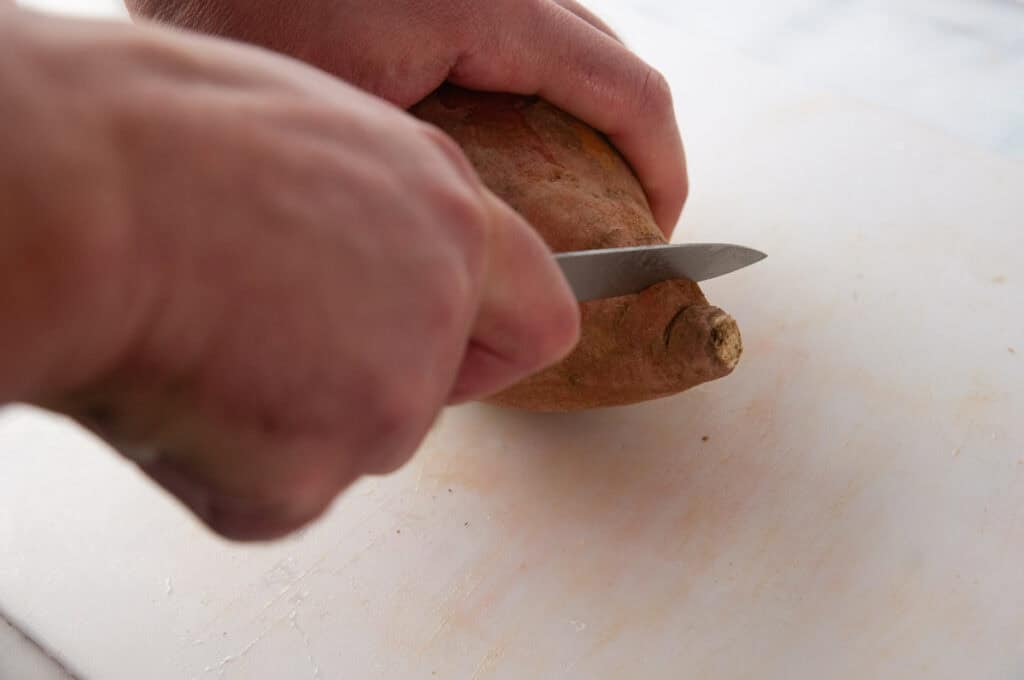 You want a flat end on each side of the sweet potato.
Cut the sweet potato in half legnthwise.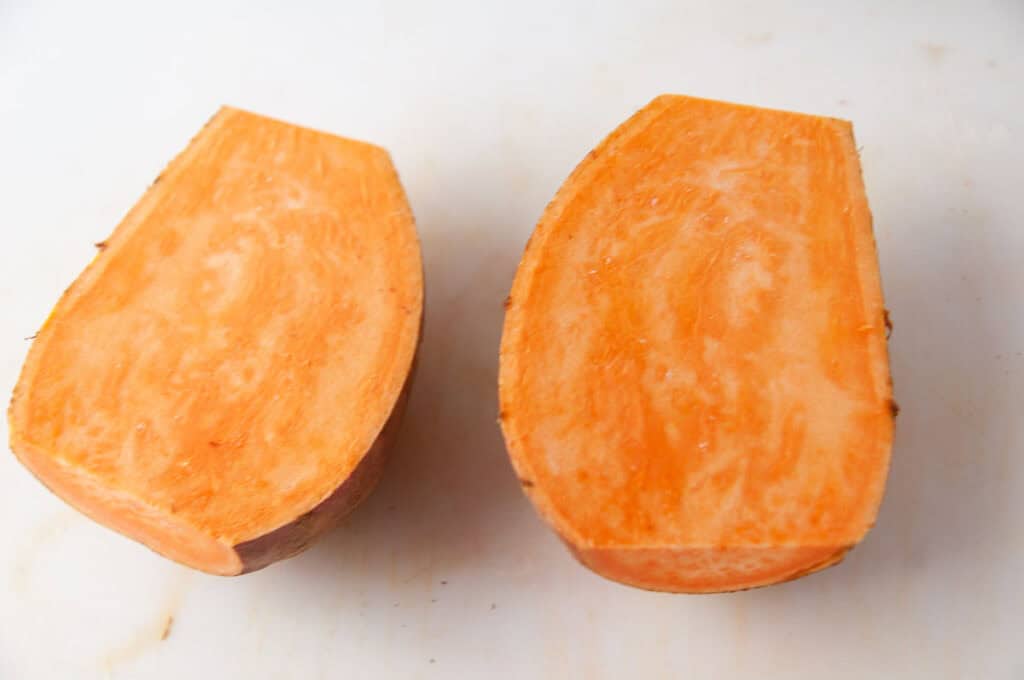 Cut the halved sweet potatoes into roughly equally thick slices.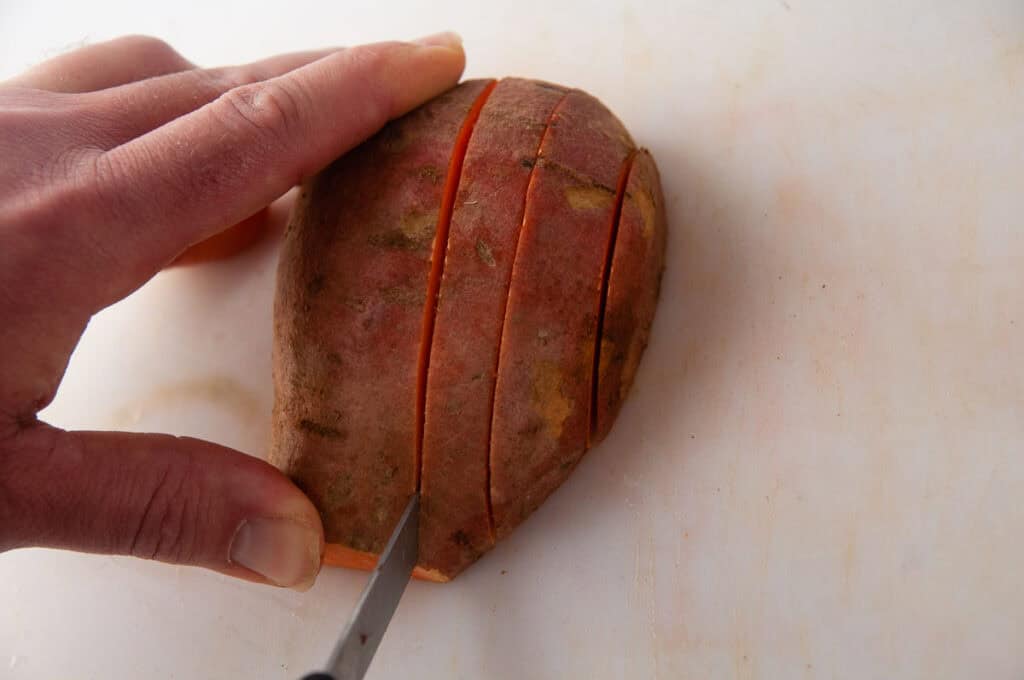 Put the halved sweet potato flat side down on the cutting board to make it easier and more stable to slice.
Cut the slices into thirds.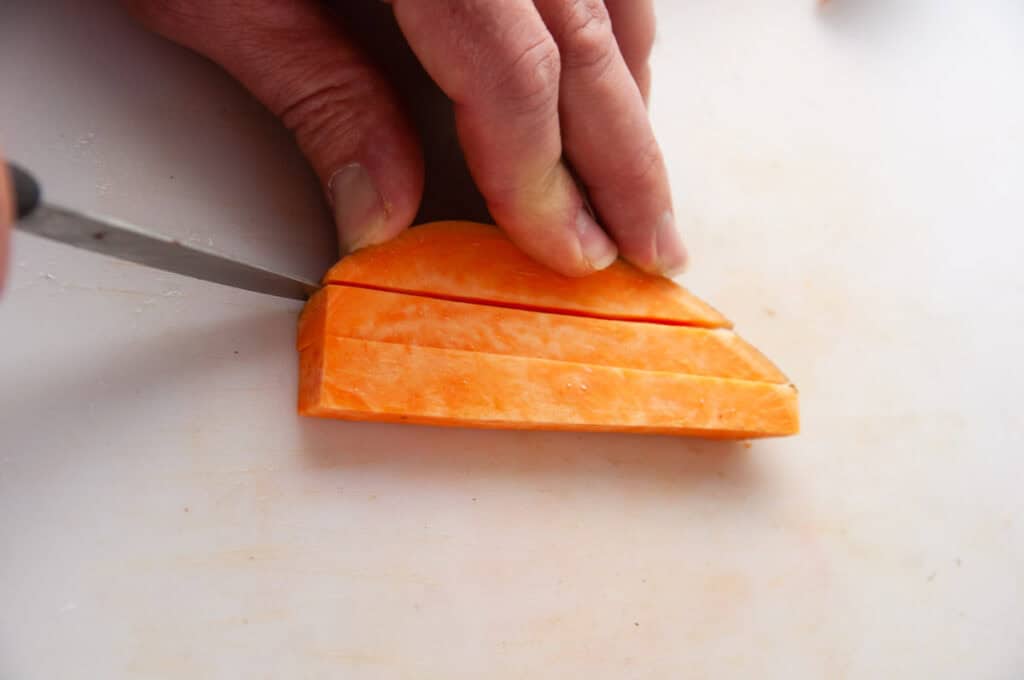 Lay each slice on its side so the flat surface is on the cutting board and quickly slice it into thirds. Repeat with all the slices.
How to Make Baked Sweet Potato Fries
1. Put the cut sweet potato fries in a bowl to season.
2. Toss with olive oil and seasonings.
3. Bake.
Put the fries on a cooking tray lined with aluminum foil and sprayed with nonstick spray. Bake at 400 degrees for 35-40 minutes, flipping halfway through. Serve and enjoy!
Seasoning Ideas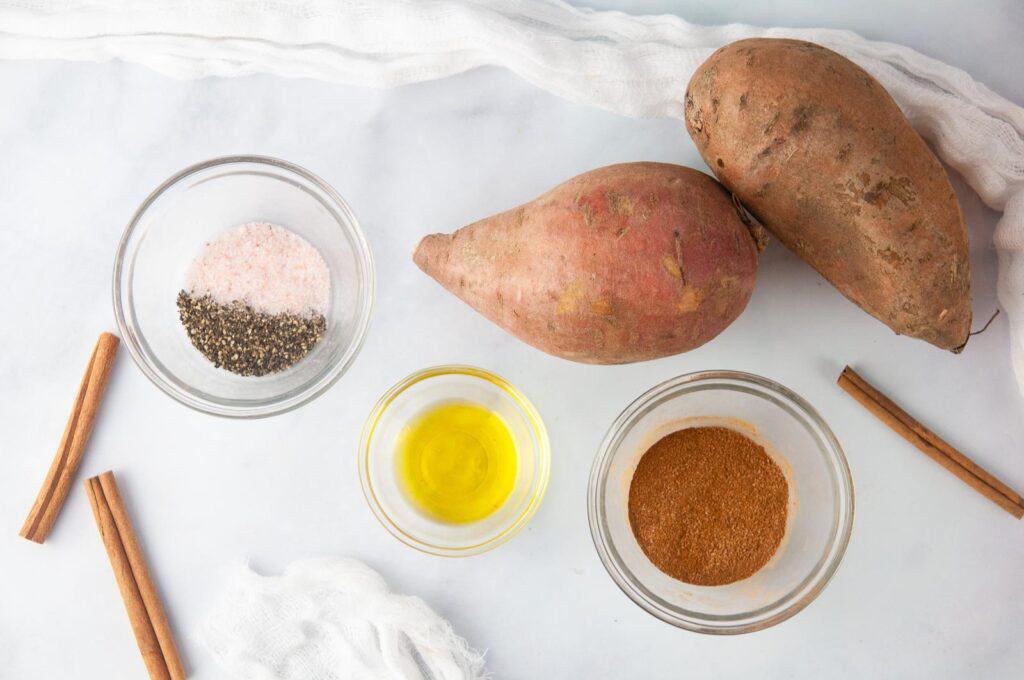 This recipe for sweet potato fries is simple and uses just salt, pepper, and olive oil.
But, I almost never make this simple and change the spices to suit my ever changing, fickle moods.
Some of my favorite ways to season sweet potato fries are:
Southwestern Spicy– Use a blend of chili powder, cumin, and cayenne.
Chili lime- Lime zest and smoked (or plain!) chili powder
Cinnamon sugar– For a sweeter treat, sprinkle the fries with cinnamon and brown sugar.
FAQs
Are sweet potatoes good for fries?
I think so, but it depends on your personal tastes.
The sweet potato has a different, sweeter (shocker, I know) flavor than a regular potato so the fries will take that flavor on.
Their natural sweet flavor makes them perfect for layering on bold, spicy seasonings without the mixture becoming too overpowering.
Are sweet potato fries healthier than regular fries?
According to Healthline, both sweet potatoes and regular potatoes have a lot of nutritional value.
Sweet potatoes do have a lot more vitamin A and some more fiber than regular potatoes.
However, whether or not sweet potato fries are healthier than regular fries depends on how both are prepared.
How can I make sweet potato fries healthier?
It's all about preparation!
When you buy the frozen premade kind, they often have more sodium and other not as great additives.
To keep sweet potatoes better for you, definitely make them yourself from fresh sweet potatoes.
And bake them or air fry them instead of deep frying them.
Why are my sweet potato fries soggy?
Take a good look at your baking sheet before you pop these bad boys in the oven. The fries are sort of antisocial and need their personal space.
If the sheet is crowded and the sweet potato fries are in a single layer, not touching each other.
If the fries are too close together or on top of each other, they will steam instead of baking and be soft and sort of soggy and sad.
Are baked sweet potato fries bad for you?
In and of themselves, baked sweet potato fries are a good source of lots of vitamins like vitamin A and filling fiber.
How to Serve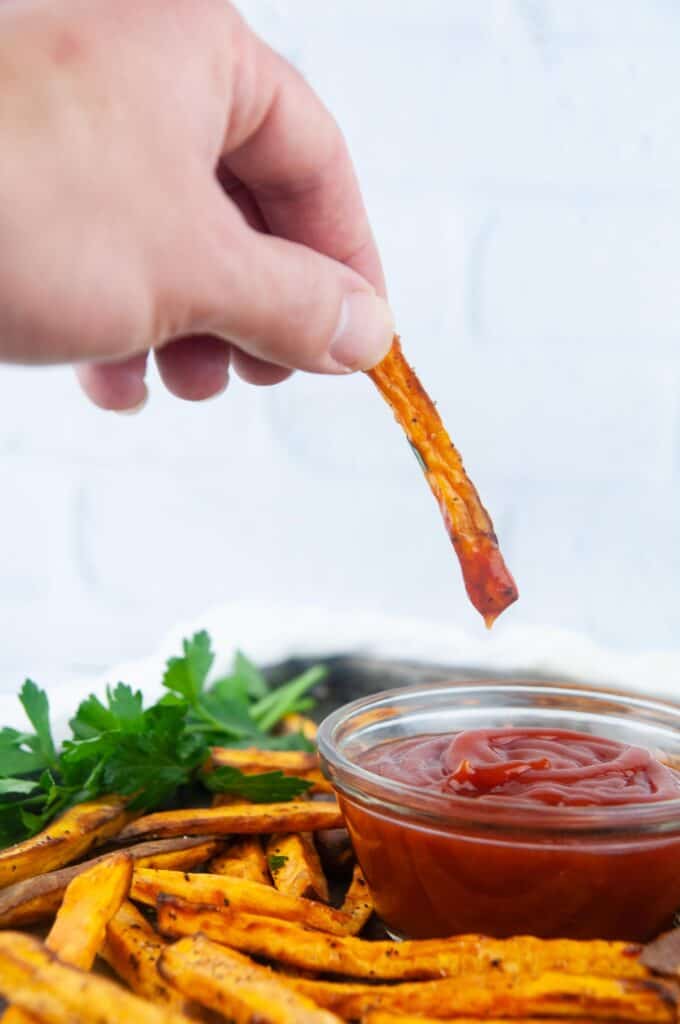 Oh you have so many options when it comes to making and serving sweet potato fries.
You can put them on the side of your favorite burger like Pineapple Barbecue Burgers or Jalapeno Popper Stuffed Burgers.
Sometimes, we serve them with Baked Parmesan Chicken Nuggets and plenty of ketchupto make a totally kid friendly meal.
But my very favorite thing to do is serve them as the base of a meal or an appetizer. I love to load them up with toppings like black beans and avocado for Healthy Loaded Sweet Potato Fries or top them with buffalo chicken to make Buffalo Chicken Sweet Potato Cheese Fries. Both are perfect game day snacking.
What should I dip them in?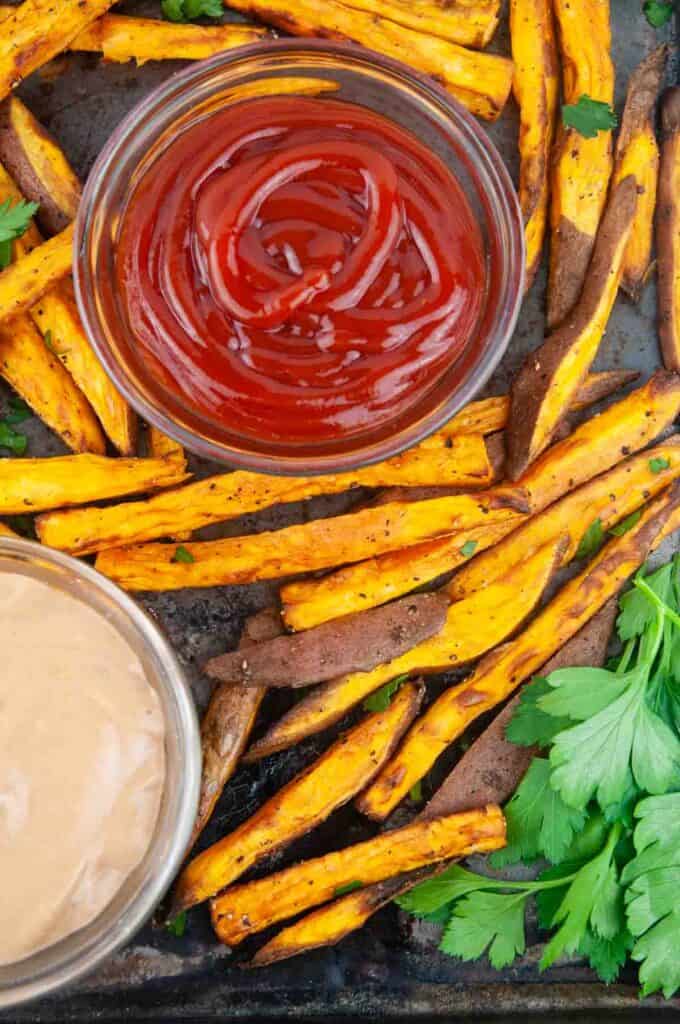 Oh, my dear, sweet friend, dip them in whatever sets your little heart a flutter.
I personally like mine dunked in barbecue sauce or campfire sauce (bbq and mayo).
My kids use them as a vehicle for a bottle of ketchup.
And my husband? He covers his in hot sauce or taco sauce.
All of these are perfectly reasonable options.
Storing Leftovers
Keep leftover sweet potato fries wrapped tightly in aluminum foil inside an airtight container. The foil helps prevent the fries from getting soggy in the fridge.
Tips and Tricks
Make sure to cut the fries into equal sized pieces so they cook evenly.
Cook the fries in the upper third of the oven to prevent them from burning as the sweet potato caramelizes.
Don't forget to flip the fries halfway through cooking them.
Save yourself time and don't worry about peeling the potatoes. I don't.
Did you make these BAKED SWEET POTATO FRIES or any other recipe on my site? Leave me a comment below and let me know how you liked it. And make sure you follow along with me on Facebook, Pinterest and Instagram to see everything we've got going on.
Easy Baked Sweet Potato Fries
Easy baked sweet potato fries make a yummy side dish for almost any meal.
Ingredients
1 large sweet potato
1 tablespoon of olive oil
salt and pepper to taste
Instructions
Cut the sweet potato into fry shapes. See the post for detailed instructions.
Put the cut sweet potatoes into a bowl and toss with olive oil and your desired amount of salt and pepper.
Spread the seasoned sweet potato fries out onto a large baking sheet lined with aluminum foil and sprayed with cooking spray.
Bake at 400 degrees for 35-40 minutes, flipping halfway through.
Serve and enjoy!
Nutrition Information:
Yield:

2
Serving Size:

1
Amount Per Serving:
Calories:

141
Total Fat:

7g
Saturated Fat:

1g
Trans Fat:

0g
Unsaturated Fat:

6g
Cholesterol:

0mg
Sodium:

180mg
Carbohydrates:

19g
Fiber:

3g
Sugar:

6g
Protein:

2g