Easy baked cinnamon sugar sweet potato fries are a sweet take on the side dish. These are a treat when you want a little something sweet and cinnamony.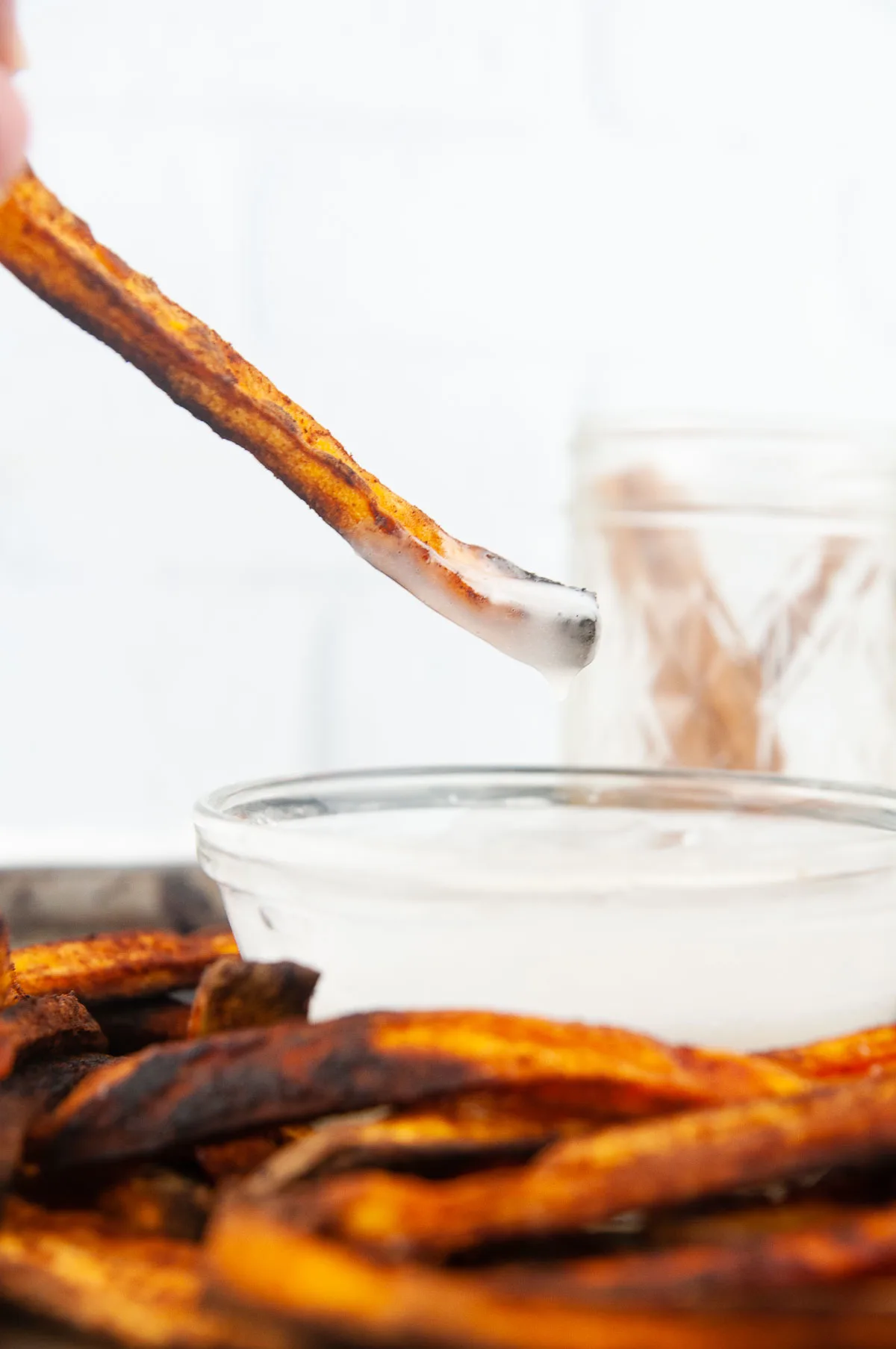 Post may contain affiliate links. As a member of the Amazon affiliate program, I may earn a small commision from qualifying purchases. To read my affiliate policy, click here.
I have a deep seated love of sweet potato fries.
They are one of my favorite things to make and eat.
Maybe because they feel a little more nutritious than regular old French fries.
Or maybe because sweet potatoes have so much flavor that regular ole potatoes don't have.
This cinnamon sugar version is a sweet take on the side.
It's delicious as a snack or as a side.
I especially love them as a side in the fall when the flavors of cinnamon just feel extra cozy.
Heck, you could even sneak them onto the Thanksgiving table for a sweet side that would pair so well with Brown Sugar Butternut Squash.
Ingredients and Kitchen Supplies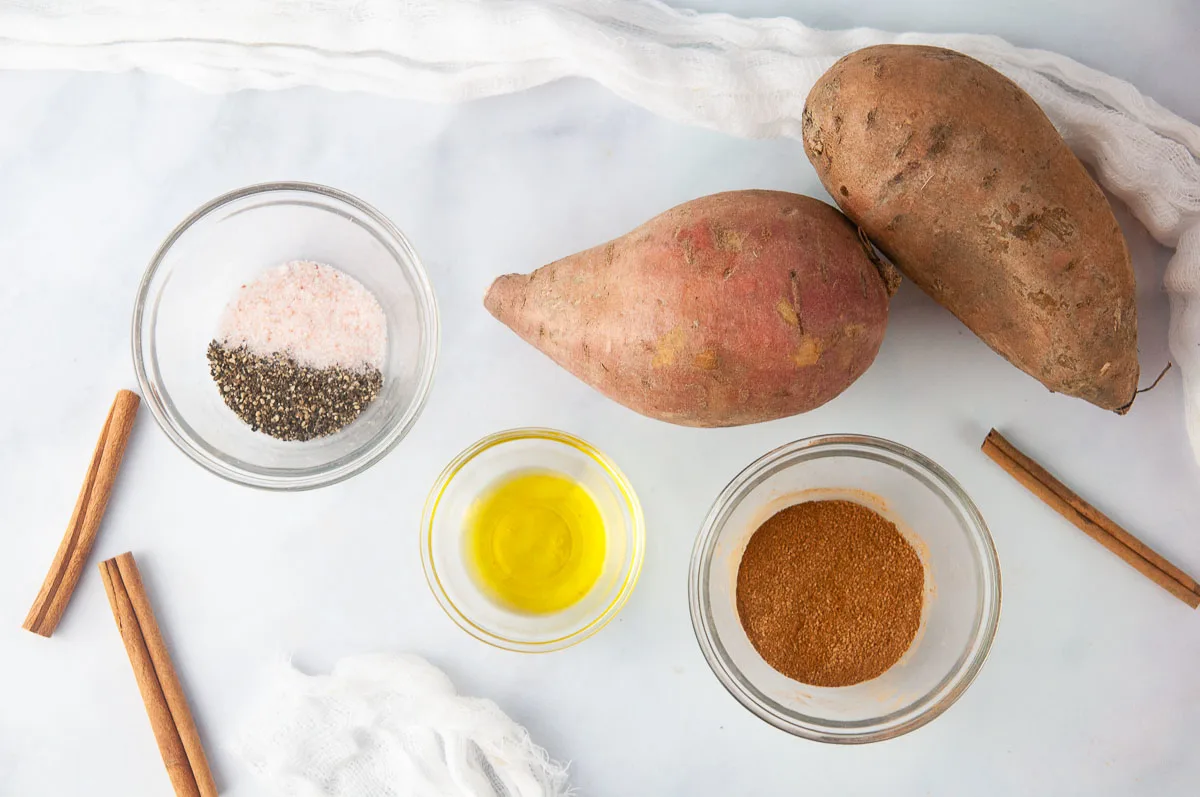 To make this you'll need:
Sweet potato– There's really no substitute. I used a fairly large sweet potato.
Oil– Just a touch of olive oil
Cinnamon
Sugar– Brown or white depending. Brown sugar will give the sweet potatoes a little more of a caramely molasses flavor.
Salt- To balance the sweet flavor
Black pepper– Optional but does add a yummy depth.
Dipping sauce ingredients– (This is optional) but powdered sugar and milk
You'll want to have the following tools on hand:
A sharp knife
Cutting board
Baking sheet
Foil
Cooking spray
How to Make
Cut the sweet potatoes into fries.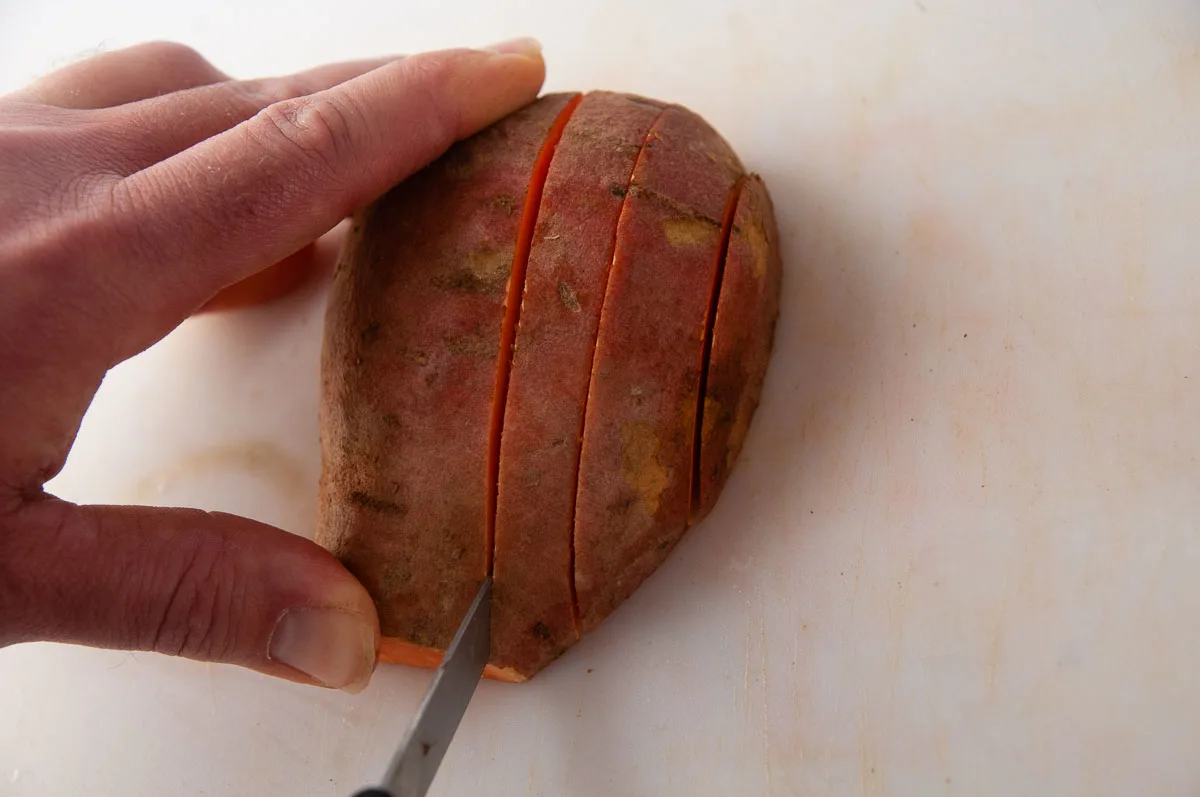 Wash the sweet potato and cut off any eyes. Then slice them into fries. For a full how to, check out my air fryer sweet potato fries recipe.
2. Season the fries.
Put the cut potatoes into a bowl and toss them with olive oil, cinnamon, sugar, and salt and pepper until they are evenly coated.
3. Bake the sweet potato fries.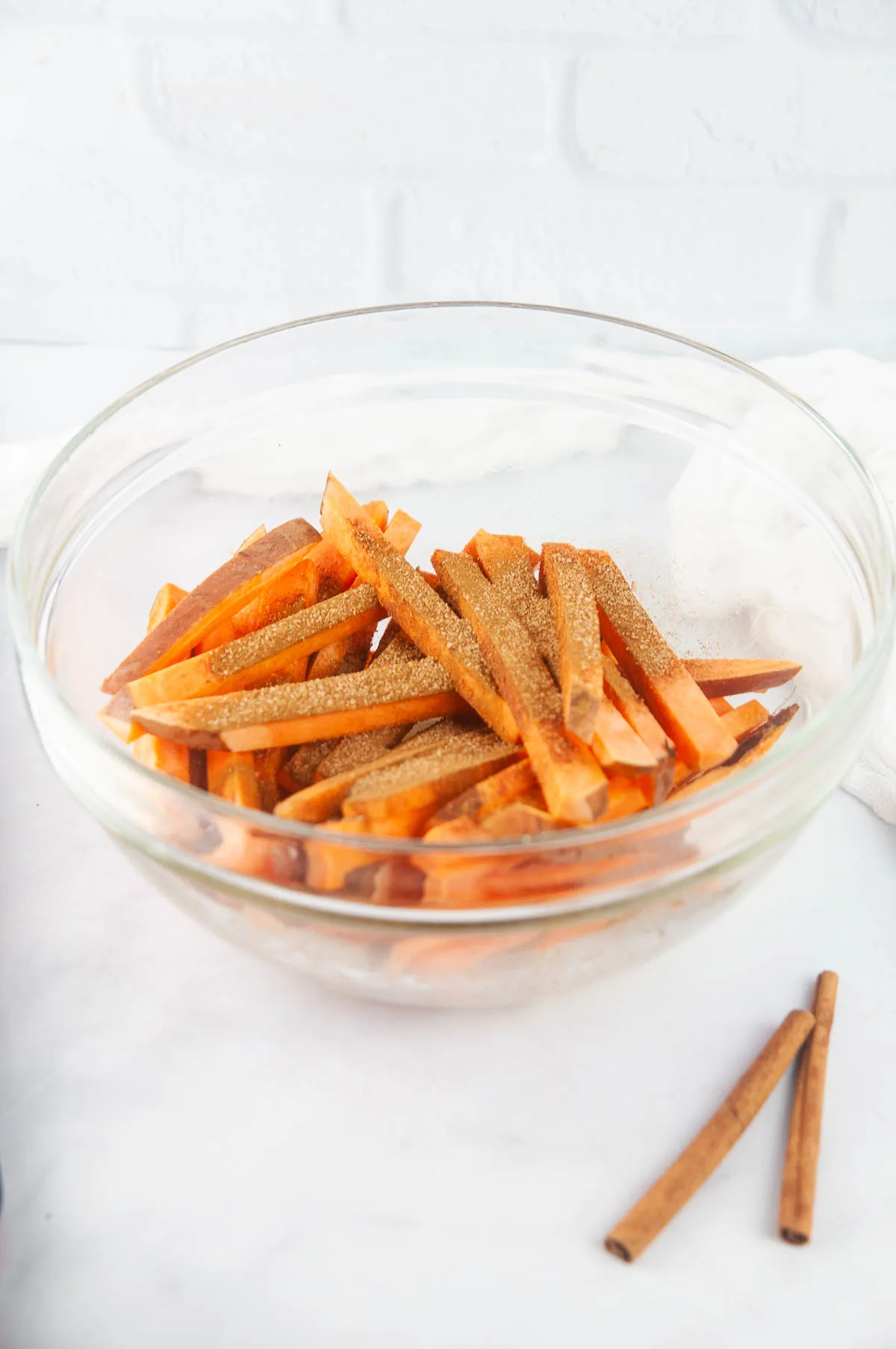 Spread the fries out evenly over a baking sheet you've lined with aluminum foil and sprayed with nonstick spray.
Bake in a 400 degree oven for 35 to 40 minutes, flipping around 20 minutes. Remove from the oven, serve and enjoy!
Sweet Dipping Sauce
If you want, you can serve these with a sweet sugar glaze to use as a dipping sauce.
For that you'll need:
Confectioner's sugar– Powdered sugar, not granulated.
Milk
Flavoring- You have options here. Cinnamon, a touch of maple syrup, or plain old vanilla extract all work well,
To make it, just stir the powdered sugar with the milk and flavoring until a smooth glaze forms. Dip your fries in and enjoy!
Can I make these in the air fryer?
Yes! You could absolutely put them in the air fryer. Season them and prep them as directed, but instead of putting them on a prepared sheet pan, put the fries in the basket of your air fryer. Air fry the fries at 400 for 12 to 15 minutes, flipping halfway. For more, check out my air fryer sweet potato fries.
Can I put cinnamon and honey on these instead of cinnamon sugar?
Yes. I have done that and be aware that the honey makes for a slightly stickier experience.
Tips and Tricks
Want other sweet variations of these fries? Try substituting the brown sugar with maple syrup and sprinkle a little pumpkin spice on in addition to the cinnamon.
If you want the fries really crispy, soak the cut fries in cold salted water before cooking for about 30 minutes. Then pat them dry, season, and cook as directed.
Flipping the fries will make sure they cook evenly.
This recipe serves two but you could easily double or triple to feed a crowd.
Other Sweet Potato Fries Recipes
I love sweet potato fries and make tons of variations. Here are some of my favorites:
Did you make this? Let me know!
Did you make these BAKED CINNAMON SUGAR SWEET POTATO FRIES or any other recipe on my site? Leave me a comment below and let me know how you liked it. And make sure you follow along with me on Facebook, Pinterest and Instagram to see everything we've got going on.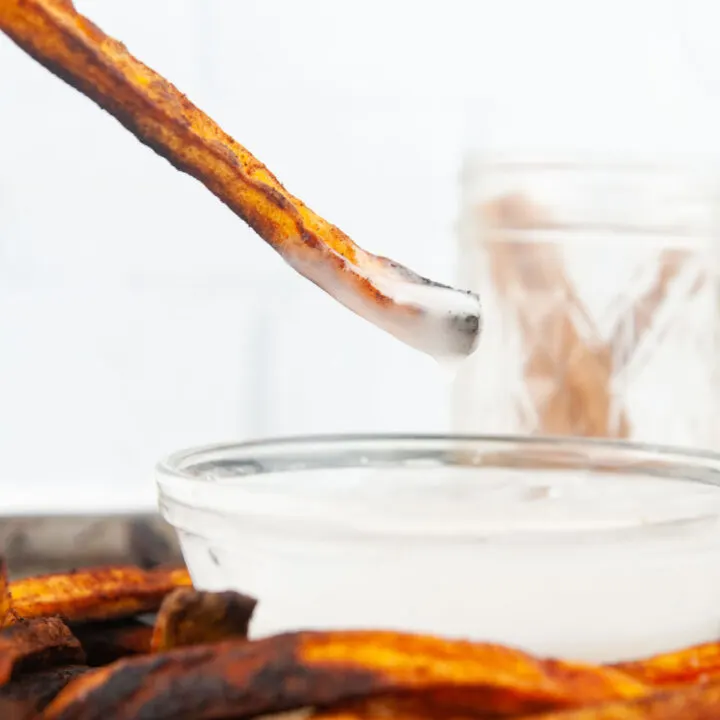 Easy Baked Cinnamon Sugar Sweet Potato Fries
Easy baked cinnamon sugar sweet potato fries are a sweet take on the side dish. These are a treat when you want a little something sweet and cinnamony.
Ingredients
1 large sweet potato
1 tablespoon of olive oil
1 teaspoon of cinnamon
1/2 tablespoon of sugar
salt and pepper to taste
For the dipping glaze
1/2 cup of powdered sugar
1 to 2 tablespoons of milk
1/2 teaspoon of vanilla extract or maple syrup
Instructions
Preheat the oven to 400.
Wash the sweet potato. Cut off any eyes or nobs.
Cut the sweet potato into similar sized fry shapes.
Put the fries into a bowl and toss them with the olive oil until coated.
Toss them with the cinnamon, sugar, salt, and pepper until evenly coated.
Spread the seasoned fries out onto a sheet pan lined with foil and sprayed with non stick spray.
Bake in a preheated oven for 35 to 40 minutes, flipping the fries over approximately halfway through.
Just before the fries are done, stir the powdered sugar, a tablespoon of milk, and the vanilla together until smooth. If the glaze is too thick, stir in another tablespoon of milk.
When the fries are done, remove from the oven and serve with the dip.
Enjoy!
Nutrition Information:
Yield:

2
Serving Size:

1
Amount Per Serving:
Calories:

358
Total Fat:

7g
Saturated Fat:

1g
Trans Fat:

0g
Unsaturated Fat:

6g
Cholesterol:

2mg
Sodium:

192mg
Carbohydrates:

72g
Fiber:

4g
Sugar:

56g
Protein:

3g
This is with the fries and the dip