2 ingredient pumpkin muffins with cake mix are the easiest fall treat ever. These easy breakfast treats use spice cake to pack in the cozy fall flavors.
Post may contain affiliate links. As a member of the Amazon affiliate program, I may earn a small commision from qualifying purchases. To read my affiliate policy, click here.
According to my very picky daughter, these muffins are the bee's knees.
In fact, they taste just like a cinnamon rainbow sprinkled in fall.
Whatever that means.
But I kind of get it.
They are perfectly autumnal bites of spiced pumpkin flavor that even pumpkin skeptics end up loving.
And they are easy enough for the kids to make more or less on their own.
Ingredients and Supplies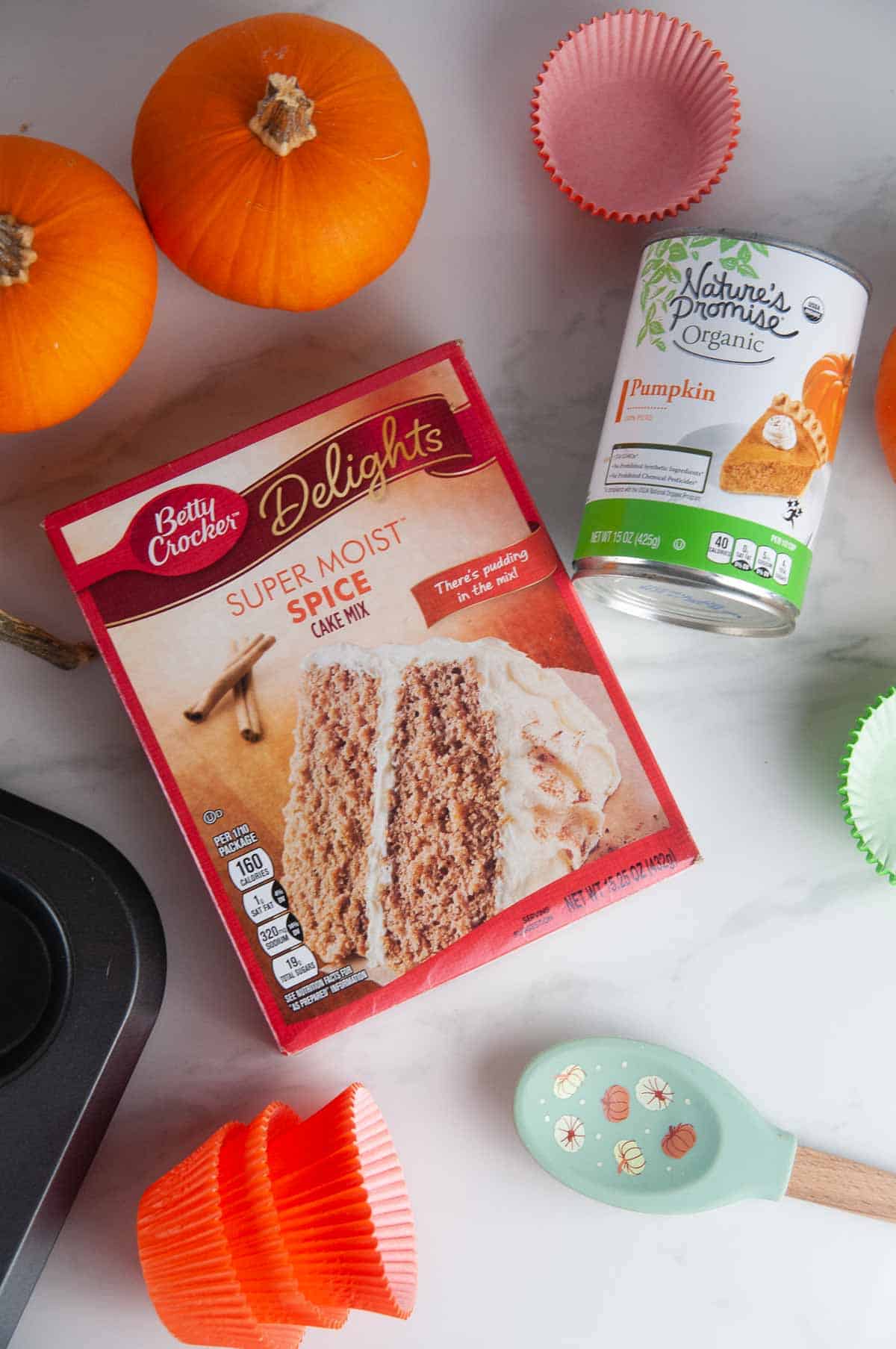 You only need two things for these muffins:
In terms of kitchen supplies, you'll need:
Cupcake liners or nonstick spray
A mixing bowl
Spatula or sturdy spoon
How to Make Pumpkin Muffins with Cake Mix
1. Make the batter.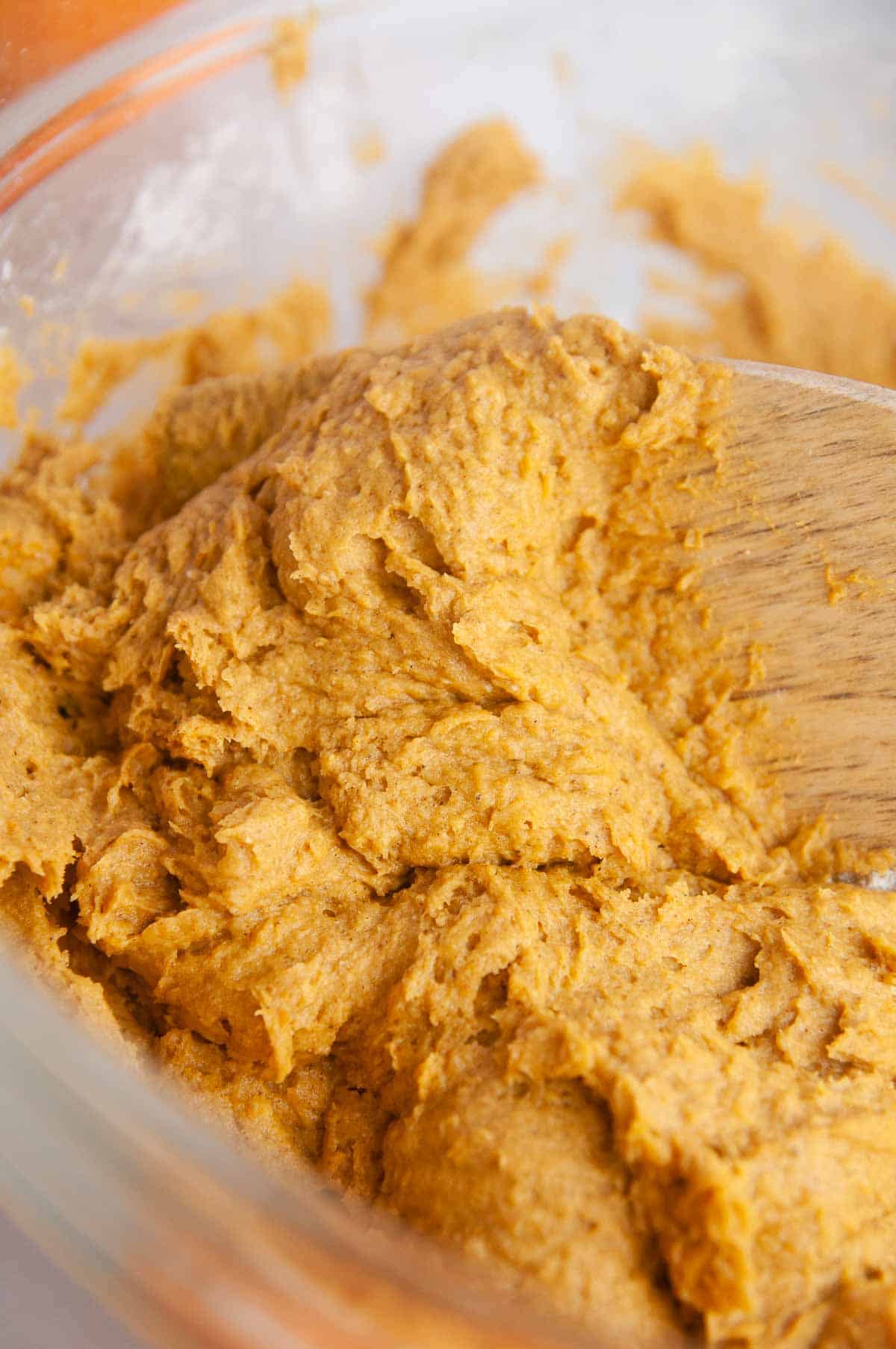 Stir the canned pumpkin and cake mix together in a large bowl until there are no dry spots left in the cake mix. The batter will be thick. If you want, you can use an electric mixer instead.
2. Fill the muffin tins and bake the muffins.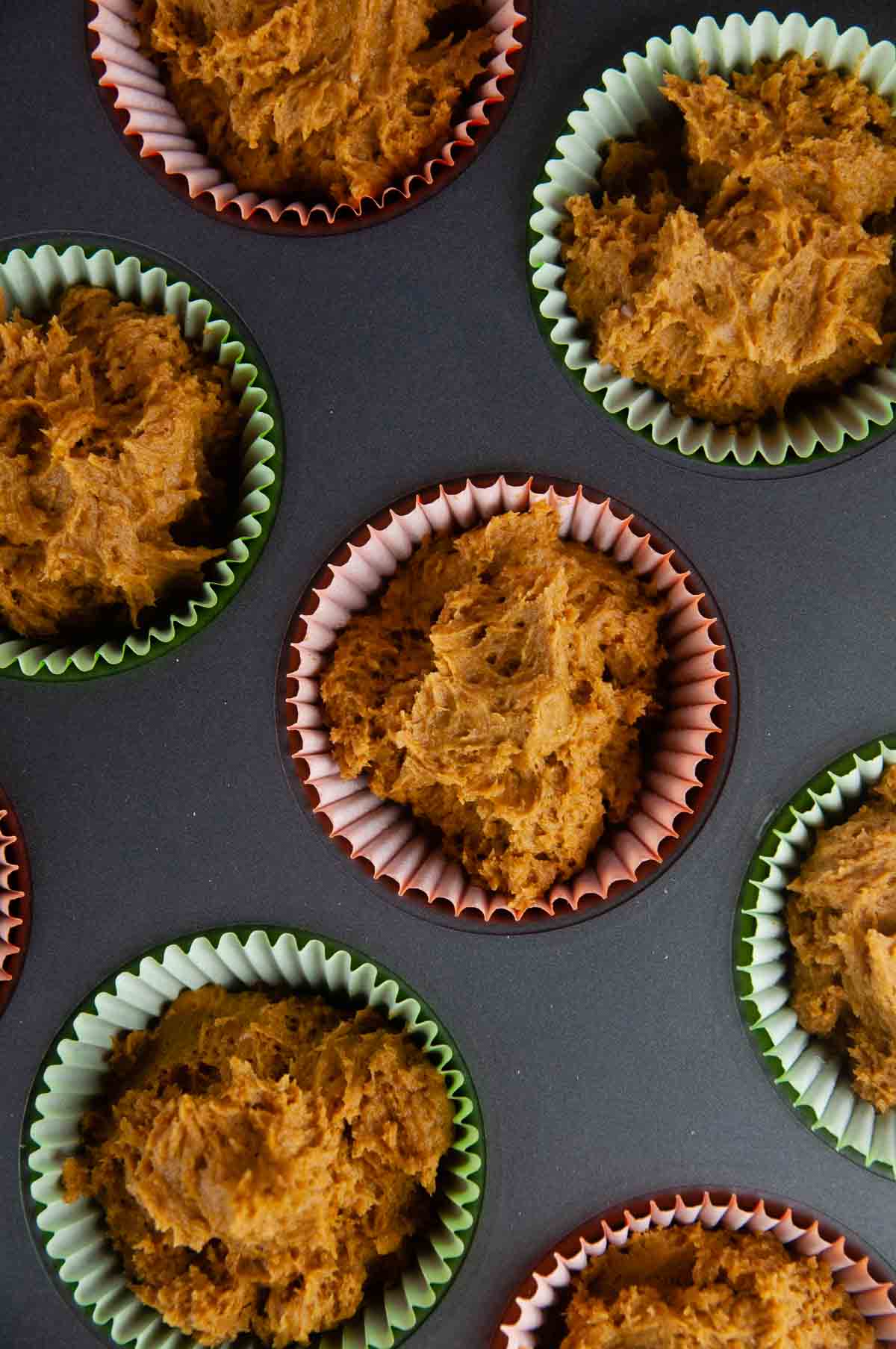 Once the batter is ready, use a batter spoon or scoop to scoop the batter evenly into muffin tins either lined with cupcake liners or sprayed with nonstick spray. Bake at 375 for 17 to 20 minutes or until a toothpick inserted in the center comes out clean.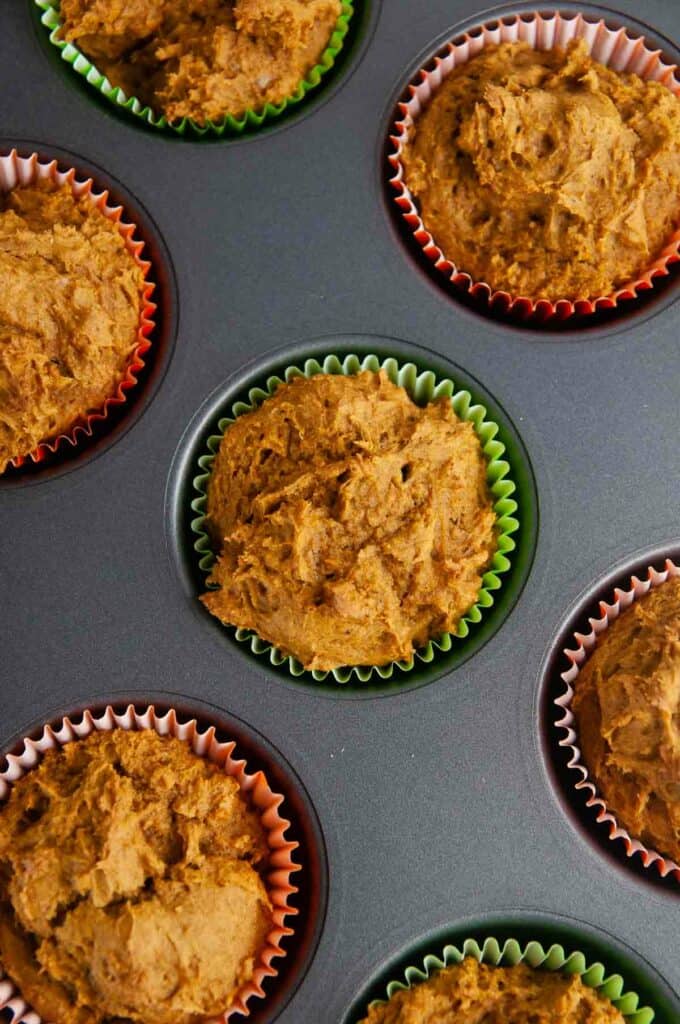 Storing
Store these in an airtight tupperware container on the counter for up to 5 days.
Can I freeze pumpkin muffins?
Yes! To freeze these, just let them cool and then put them into a sealable freezer bag. They should freeze well for up to 3 months. To thaw, take a muffin from the bag and let it defrost on the counter.
I do recommend toasting the thawed muffins in a warm skillet for best results.
Can I use yellow cake mix in these pumpkin muffins?
You can but if you go that route and want the pumpkin spice flavor, you will need to add a teaspoon of pumpkin spice and a teaspoon of cinnamon. If you don't care so much about the pumpkin spice flavor, then you won't necessarily need to add any additional ingredients.
Other Add In Ideas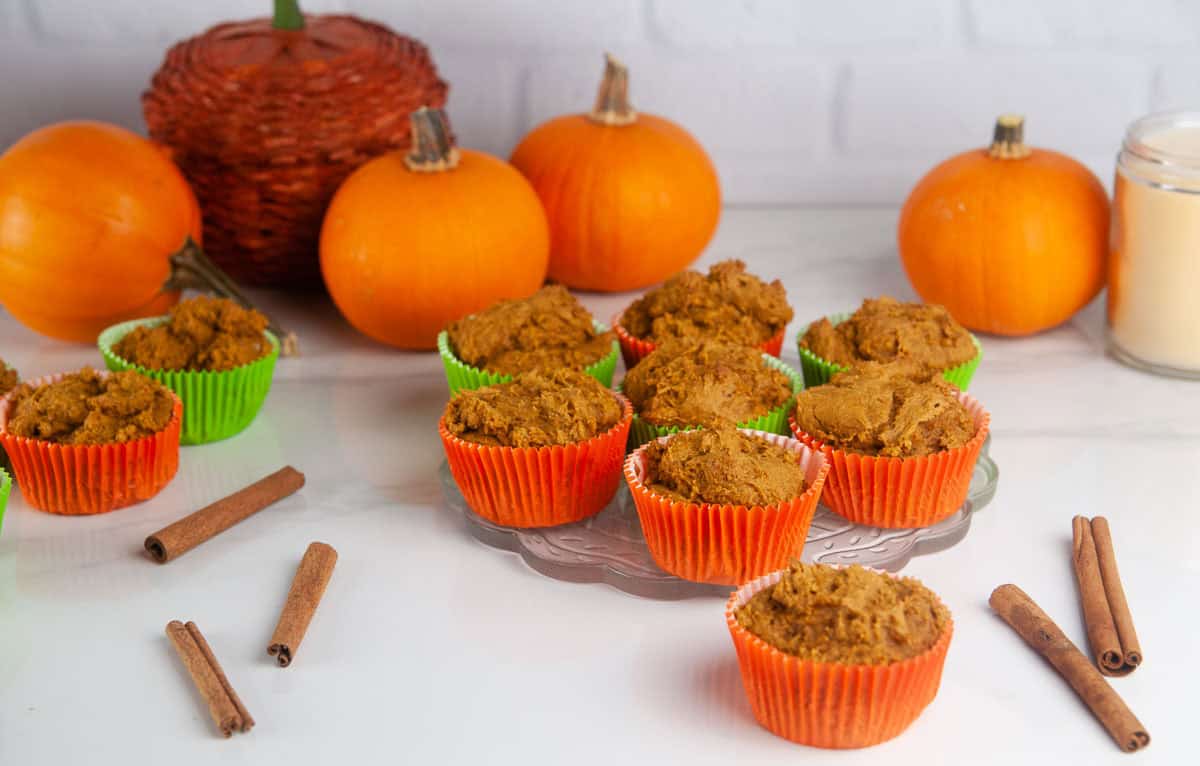 These muffins are delicious as is, but if you want, you can dress them up even more with other add ins or toppings.
Some ideas:
fold in mini chocolate chips for pumpkin chocolate chip muffins
top with a streusel topping like I did in this cinnamon swirl pumpkin bread
fold in chopped walnuts or pecans for pumpkin nut muffins
drizzle with a powdered sugar glaze
Tips and Tricks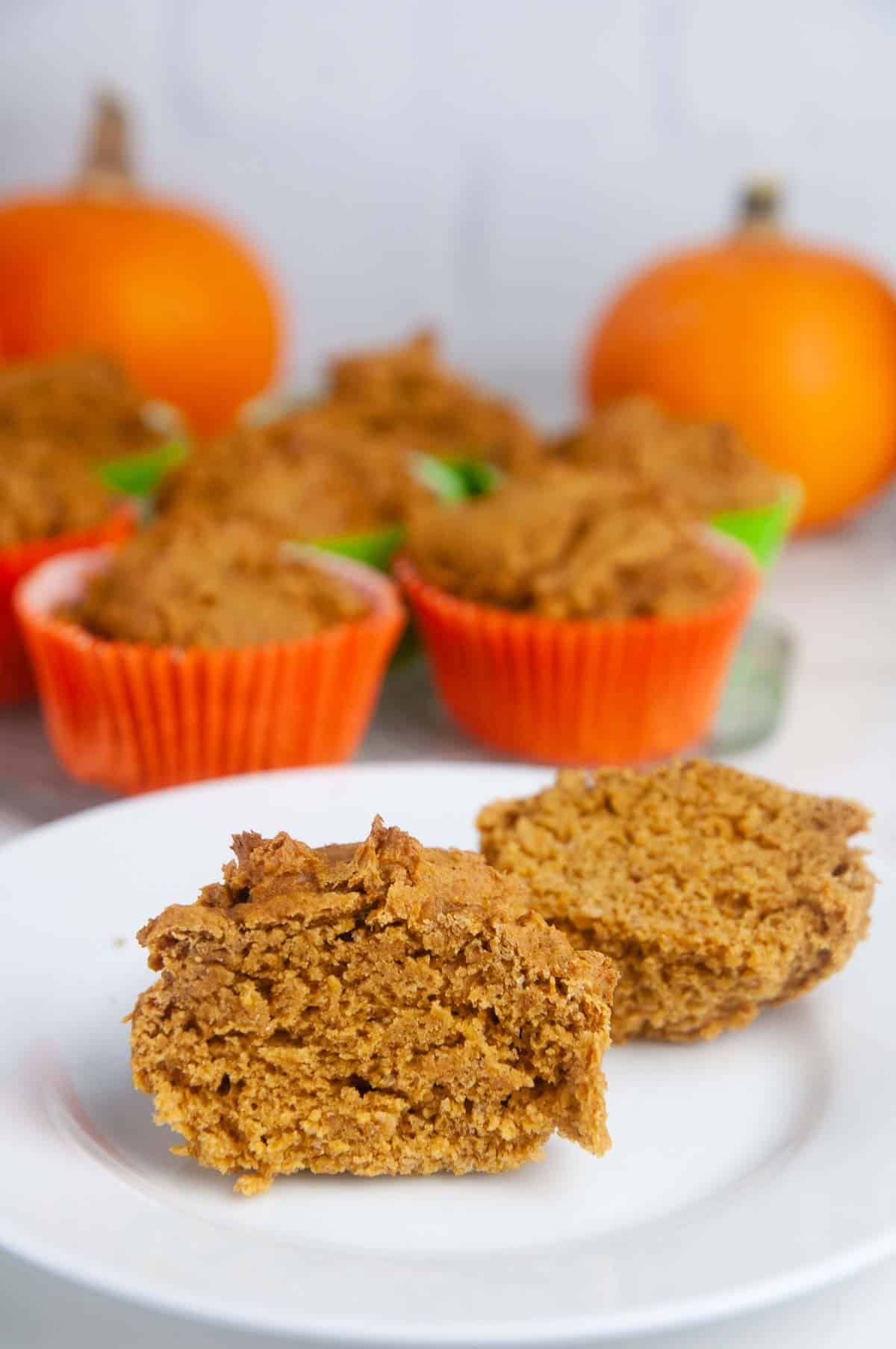 A cookie scoop or batter scoop will help make the muffins a uniform size.
The batter will be quite thick. That's ok!
To turn these into mini muffins, reduce the cook time to 8-11 minutes.
Other Sweet Pumpkin Recipes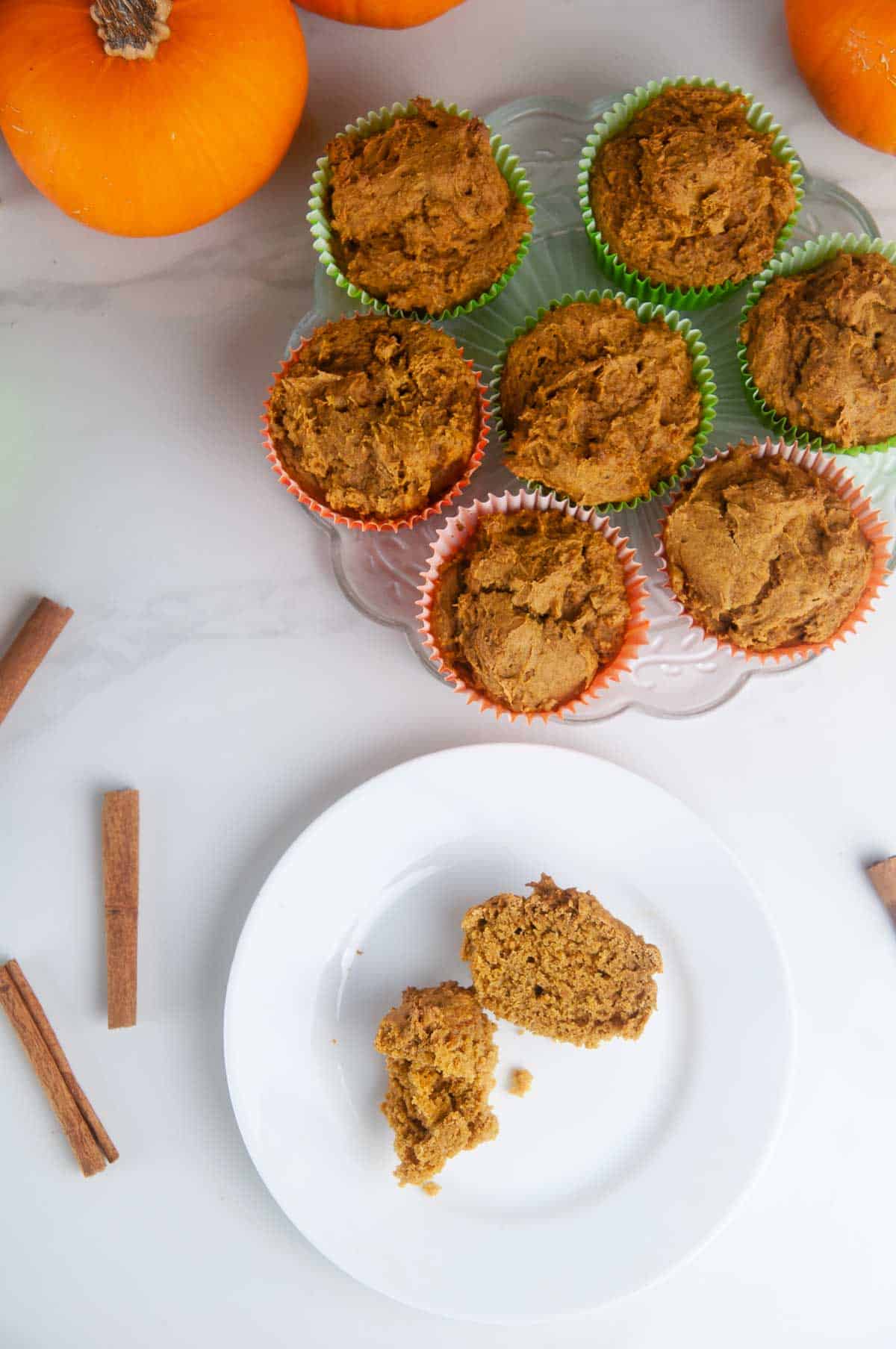 2 ingredient pumpkin muffins with cake mix are an easy fall treat we love!
Looking for other pumpkin goodies? Try these:
Did you make this? Let me know!
Did you make these 2 INGREDIENT PUMPKIN MUFFINS WITH CAKE MIX or any other recipe on my site? Leave me a comment below and let me know how you liked it. And make sure you follow along with me on Facebook, Pinterest and Instagram to see everything we've got going on.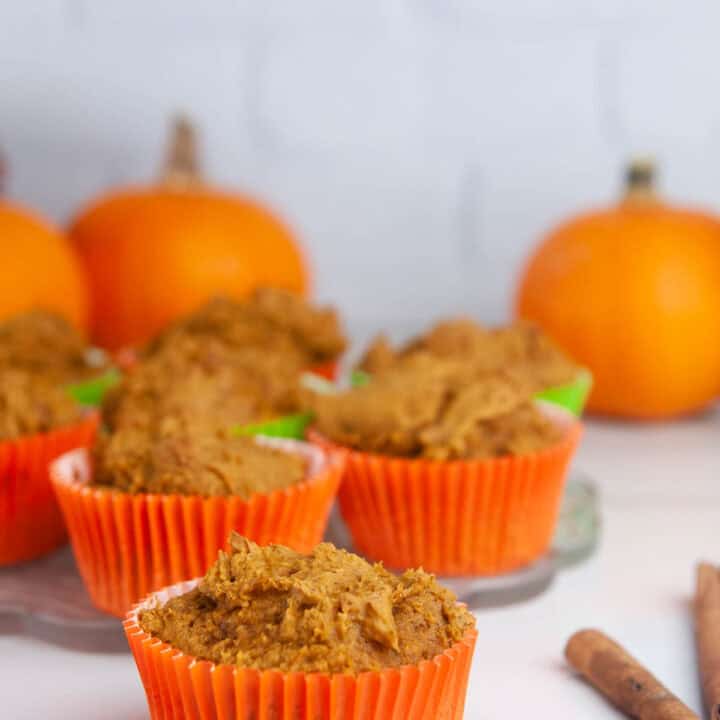 2 Ingredient Pumpkin Muffins with Cake Mix
2 ingredient pumpkin muffins with cake mix are the easiest fall treat ever. These easy breakfast treats use spice cake to pack in the cozy fall flavors.
Ingredients
1 15.25 ounce box of spice cake mix
1 15 ounce can of pumpkin puree
Instructions
Preheat the oven to 375.
While the oven is warming, mix the can of pumpkin puree with the box of cake mix until a thick batter forms.
Scrape down the sides as needed so that there are no dry clumps of cake mix.
Divide the batter evenly into a muffin tin you've either sprayed with nonstick spray or lined with liners.
Bake the muffins for 17-20 minutes at 375. The muffins are done when a toothpick inserted into the thickest part of the muffin comes out clean.
Remove from oven and let cool. Enjoy!