One of the best parts of growing up with an Italian influence was Christmas eve food. In Italy, it's traditional to celebrate Christmas with the Feast of the Fish. The dishes are pretty intense. Scungili (eel- yuck!) is a big one in some parts of Italy. Rather, my mom took the tradition she grew up with and served a hodgepodge of seafood every Christmas eve. We would normally have shrimp cocktail, crab, sometimes lobster, and always shrimp scampi. Always.
When I was a kid, we'd pile in the car on Christmas Eve night, go to church early, come home and she would whip up a buttery batch of scampi for dinner. It was one of the only things my mom could cook well. (The Italian cooking gene must skip generations.)
And fortunately, she did cook this meal well. This meal was sheer torture on all fronts, but it was so worth it.
The first part of the torture: back in the day, when I was a kid, they must not have sold cleaned shrimp. I remember spending Christmas eve day at the kitchen table with my mom and my aunt cleaning and peeling shrimp. It felt like it took hours. Literally hours.
Second part of the torture: waiting for it to be made. The scampi never took long after the shrimp was peeled. But the thing was, immediately after we ate dinner, we'd have our family gift exchange. So of course, dinner felt like it took FOREVER.
But, like any dish made with tons of butter and garlic, it was delicious. We loved it. My cousins would beg her to make it again the next day. And sometimes the following day.
So, ultimately it was worth it.
My husband and I have continued the fish tradition on Christmas Eve. We like to have a quiet day at home (though the quiet part is debatable now with a toddler) before all the craziness of Christmas Eve night and Christmas Day. We normally make some form of shrimp scampi, but try to make it more festive than this Chipotle Shrimp Scampi that we enjoy at other times.
This Christmas shrimp scampi is all kinds of delicious. It's not the basic shrimp scampi dish that my mom served, though it does have its fair share of buttery, garlicky goodness just like my mom's. We just dressed it up with asparagus and red peppers. You know, Christmas colors? That and added deliciousness.
It's the perfect precursor to salted caramel chocolate chip butter bars.
Fortunately, making this dish doesn't feel nearly as painful as waiting for the Christmas shrimp scampi of the past. These days I buy pre cleaned shrimp. Plus I have considerably more patience when it comes to presents.
Maybe…
Print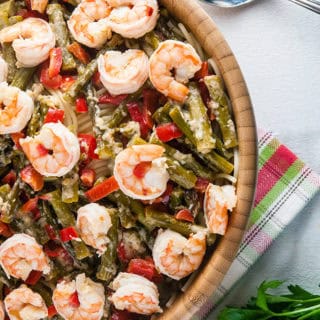 Christmas Shrimp Scampi
---
Author:

Prep Time:

10 minutes

Cook Time:

15 minutes

Total Time:

25 minutes

Yield:

6

servings

1

x
1

pound of shrimp, precleaned

1

pound of asparagus, cut into thirds, with the white stalk removed

2

red peppers, chopped

1 1/2 cups

of white wine

6 tablespoons

of butter

5

–

6

cloves of garlic
the juice of 1 lemon
salt and pepper to taste

1/2 cup

of parmesan cheese
fresh parsley for garnish

1

pound of pasta- spaghetti, linguine, or angel hair
---
Instructions
Cook the pasta according to package directions.
While the pasta is cooking:
In a large skillet over medium heat, melt the butter. Add the asparagus, seasoning with salt and pepper and crushed garlic cloves. Cook for 2-3 minutes. Then add the pepper and cook 2-3 additional minutes. Stir occasionally.
Add the shrimp to the skillet, seasoning with salt and pepper. Cook approximately 90 seconds. Add the wine and the lemon juice, bring to a simmer. Let simmer for 2-3 minutes. At this time the shrimp should be pink on both sides.
Pour the shrimp and vegetables over the drained pasta, tossed with parmesan cheese. Garnish with parsley.
Notes
I used gluten free spaghetti, but substitute whatever pasta you prefer.
Category:

dinner

Cuisine:

Italian
Shop this recipe!
>
Please be aware that this post may contain affiliate links. I only link to products I use and would recommend. For my full disclosure policy check here.