There's pie. And then there's pie. By that I mean there's your basic everyday pie, and then there's junked up but oh so delicious pie. This chocolate caramel pecan pie is an example of pie.
I was going to make a really trashed up pumpkin pie, but I took pity on my pumpkin tolerating husband. Like he told you all, he was happy to have a break from pumpkin when we made the Cranberry Orange Chicken. He's just not a pumpkin lover, and I am. I have forced it down his throat since the end of August when I made no churn pumpkin ice cream with caramel swirl.
It continued with Pumpkin Penne with Peas, Parmesan, and Sage. The obsession reached new levels with Chipotle Pumpkin Cheese Dip. Plus I've already made an Italian Style Pumpkin Cheesecake.
Enough is enough I suppose. Plus, he loves chocolate the way I love pumpkin. So it was time.
One of his favorite desserts is the chocolate pecan pie from Cracker Barrel. Have you tried it? It's so good. Like a pecan chocolate chip cookie. It definitely falls into the pie category of things.
And so does this chocolate caramel pecan pie. Instead of using traditional ingredients like molasses or corn syrup in this pie, I used caramel. The caramel adds this gooey, decadent candy bar flavor to this pie. And then, we topped it off with chocolate chips. Because, one simply can't have too many chocolate chips.
Ask the Goose. She knows. When I break out the chocolate chips to bake with, she stands at my feet, tugs on my pants, and says, "Mamamamamama! Some! Peas!" (Peas is toddler speak for please.)
My choices: either don't give her a little bowl of chocolate chips and have to pick her up so that she can try to stealthily steal chocolate chips off the counter while I finish, or save my back and sanity and give her some.
Guess what I choose.
Thankfully this chocolate caramel pecan pie is easy as, well, pie to make making it perfect for Thanksgiving or Christmas. I totally take a short cut and use premade pie crust. If you want to make your own, go for it. At one point, I would have been all about that, but well, now with a toddler hanging off my leg while I bake, ease is important. And this easy. 10 minutes of prep, less than an hour in the oven, and bam.
Beautiful, delicious pie.
Print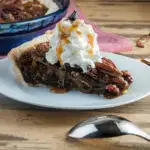 Chocolate Caramel Pecan Pie
---
Prep Time:

10 minutes

Cook Time:

45 minutes

Total Time:

55 minutes

Yield:

8

1

x
1

pie crust (or use your favorite pie crust recipe)

2 cups

of pecan halves

1 cup

of caramel topping

1/2 cup

of brown sugar

3

eggs

1 cup

of chocolate chips

1 tsp

of vanilla extract

1/2 tsp

of cinnamon
pinch of salt
---
Instructions
Preheat the oven to 350.
Press pie crust into a pie dish sprayed with nonstick spray. Set aside.
Whisk together caramel, sugar, eggs, cinnamon, vanilla, and salt. Fold in the pecans and chocolate chips. Pour filling into crust.
Trim off any extra crust.
Bake at 350 for 40-50 minutes or until the middle of the crust is cool.
Remove from oven and let cool. Serve with whipped cream and caramel if desired.