Chimichurri Steak Tacos
I really love Target. It's a place where magic happens. I know, I know. What does that have to do with chimichurri steak tacos? Well, pull up a chair and hold on a sec. I'm getting there. Promise.
A few weeks ago I went to Target on a mission: to buy eye cream. Yep. I've been waking up in the morning and looking in the mirror only to find my eyes had bags under them that could fit a few pairs of shoes at least. And the dark circles were real. It was looking like I was having college style fun the night before but doing it as a full fledged adult.
Spoiler: I was not having college style fun the previous night ever. So now I had the bags but none of the story.
And since I am pretty much the most low maintenance person ever and have been known to take my mascara off with baby wipes and pretty much have been washing my face with body wash since forever, I thought it was time to be a grown up and do some skin care. Friends suggested heading to Sephora or a dermatologist for a recommendation. I figured hey, whatever Target sells is better than the big fat nothing I am putting on my skin currently.
So a few Saturdays ago, I went on a mission to do away with my bags and dark circles. I got overwhelmed by all the options in the beauty aisle because I know next to nothing about them other than some googling I did that recommended an eye cream by Olay. I made friends with a 21 year old makeup aficionado. I let my kid put some really blue nail polish into the cart.
I had a mini meltdown because when in the world did I become old enough to care about eye cream?? So I do what I do whenever I am having a mini meltdown. I wondered aimlessly around Target. (I've also been known to do this in Michael's.) I looked at slogan shirts. I checked out cooking stuff because obv.
And then on a forgotten shelf in the cooking aisle I found a gorgeous gem: a Kitchen Aid food processor on clearance for 50 percent off.
Trumpets blared, bells rang. My heart rejoiced. I put that sucker in the cart so fast. I am a huge fan of food processors. I love making pestos like this pea pesto and hummus and all kinds of things. But my last two food processors broke really fast. So I have been making due with my blender. I knew I wanted to invest in a good food processor but it's hard to justify spending 5 times the cost of one product.
It was like the kitchen gods answered my prayers. My brand new baby (aka this Kitchen Aid food processor) came home with me that day. As did the eye cream and blue nail polish, but I digress.
Since that fateful Target trip, I have found myself wanting to making all the things in the food processor. We had homemade pesto over the weekend and I have wanted nothing but some delish homemade chimichurri. Chimichurri, in my opinion, is pesto's highly underrated Latin cousin. Chock full of cilantro, garlic, parsley, and lime it is flavor city. Most people put it on meats. I put it on salads and love to dip big hunks of bread into it.
It's just perfect for warm weather with it's zesty flavors and lime background.
And on these steak tacos? So good! The steak itself was seasoned with a bit of chili powder and cumin and seared on a hot cast iron pan. You could also grill it. Either way. Then after it rests, just slice the steak and lay it into corn tortillas. Top them with fresh salsa and slices of avocado (or as Goose says: avadicados). Then drizzle on the chimichurri and keep some handy to dip the tacos into. So good!
Don't feel like tacos? Try this same steak over a big crunchy romaine salad with halved cherry tomatoes, corn, and black beans. Then top it liberally with the the chimichurri. You won't be sorry!
Looking for other taco recipes? Try these:
Print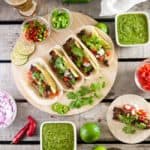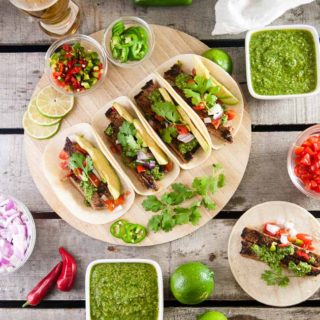 Chimichurri Steak Tacos
---
Author:

Prep Time:

10 minutes

Cook Time:

8 minutes

Total Time:

18 minutes

Yield:

8

-

10

tacos

1

x
Description
Chimichurri steak tacos make a perfect quick meal and put a fun spin on taco night.
---
For the steak
2 teaspoon

chili powder

2 teaspoon

cumin

2 teaspoon

garlic

1 tsp

cayenne
salt and pepper

1

tbs olive oil
juice of

half a

lime

1.5

pounds of thin cut round steak
For the chimichurri sauce
1 cup

of cilantro

1 cup

of parsley

1 cup

of olive oil
juice of

1

lime

1

small red onion

4

cloves garlic

1 tsp

red pepper flakes*
salt and pepper to taste
For tacos
corn tortillas

1 cup

diced cherry tomatoes

1/4

diced jalapeno peppers

1/2

red onion chopped
juice of

1/2

a lime
avocado slices
---
Instructions
For the chimichurri sauce
Place all the ingredients in a food processor and pulse until combined.
For steak
Squeeze lime on steak. Whisk all the spices together and press onto both sides of the steak. Let rest while pan heats.
Heat a large cast iron skillet or grill pan over medium high heat. Add the tablespoon of olive oil.
Cook steak on medium high heat for 2-4 minutes per side depending on desired level of doneness. Remove pan from heat when steak reaches desired doneness. Brush with chimichurri sauce. Let rest for 10-15 minutes. Slice steak against the grain.
For tacos
Dice the fixings for tacos as described in the ingredients list or feel free to use whatever taco ingredients you like. Toss the veggies together with lime juice. Build tacos by layering about 2-3 slices of beef on a corn tortilla with a spoonful of veggie mixture and an avocado slice if desired. Finish by drizzling more chimichurri on top of the tacos. Enjoy!
Notes
*red pepper flakes are optional
*jalapeno is optional
** You will have some leftover chimichurri. The leftovers can be stored in an air tight container in the fridge for 3-4 days. It makes delicious salad dressing or stir it into rice and do a rice skillet with leftovers.
***Speaking of salad, you can take this whole recipe and serve it over crispy romaine and make a big salad instead of tacos and it is fabulous.
Category:

tacos, dinner, steak

Cuisine:

Latin, Argentine
*These links are affiliate links. To read my affiliate policy click
here.