Spicy Baked Egg Casserole
You know how they say the way to a man's heart is through his stomach?
Come to think of it I'm not sure who they are exactly.
Well, they are right and it totally goes both ways. The way to this gal's heart is through her stomach. And God love my husband. He totally knows this and cooks me food. He cooks most when I am stressed.
Why am I stressed?
Being a toddler mom is fun. I actually mean that. I wouldn't trade it for the world, but I totally understand how moms forget to eat and shower. Because, hello, welcome to my life. The daily grind of working from home and keeping a young kid from wallpapering the wall with stickers and mopping the floor with Elmer's glue is hard, ok. Most days, I just try to enjoy and form sentences before my brain wants to.
I am really not a morning person. By that I mean I LOATHE mornings with a passion. Truly hate them. I think it's cruel and unusual to have to use brain power before 10 am.
But I have a kid. A cute, lovable kid.
It's not that my kid is a particularly early riser. She's not. Actually she keeps rather creative hours for a toddler and it suits us just fine. Normal wakeup time for her is somewhere between 9:30 and 10:30, which I love. But I do wake up with my husband generally and stumble to my office to write for my clients or play on Pinterest write blog recipes. First I stumble to the kitchen to get my coffee. Because coffee=life.
And I never take the time to make breakfast then, because…priorities and limited time. Plus I do try to eat with my daughter when she eats her breakfast around 10:30. But lately, that's been failing too since she's in the stage of, "Mommy, milk peaz (please)!" or "More peaz!" Of course she says these things as soon as I get ready to sit down. And mama's breakfast sits all lonely and forgotten.
If I even get a chance to make one.
Then the repeat happens with lunch and suddenly it's almost 5 pm and I realize I have had nothing but a handful of cereal or shredded cheese and I am starving to the point of raging hanger. So I making it a mission to feed myself breakfast.
I am a food blogger after all.
Anyway, make ahead meals have been my friend like these peach oatmeal bars and these egg muffins. They are ready to go and then I literally have no excuse to not eat breakfast. And when I have these make ahead meals for busy days of toddler and word wrangling, then I DO eat. Then I don't get hangry. And all is well in my world.
So, what does this have to do with my husband?
Well, my poor husband hears me talk about how hard it is to carve out time to take care of my basic needs. Seriously, it's hard. He comes home from work and gets tired, frazzled, HANGRY me. Not pretty.
So he surprised me this weekend and made a spicy baked egg casserole that I can eat for several days this week.
AND HE DID IT WHILE I WAS IN BED SLEEPING LATE.
Love him. A whole lot.
And love the casserole. We both love spicy, cheesy things (jalapeno popper burgers anyone?). And I am big on eggs with lots of flavor. This spicy baked egg casserole totally fits the bill. The spicy eggs- thanks to a pretty hefty helping of hot sauce and jalapenos- sat on a bed of shredded potatoes. And because he loves me, he topped the whole thing with cheese. Then it was baked in the oven so he could do other things- like clean the kitchen- while it cooked into an amazingly flavorful breakfast casserole.
Make ahead breakfast perfection.
The husband for the win. <3
Print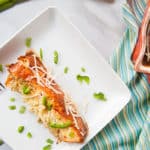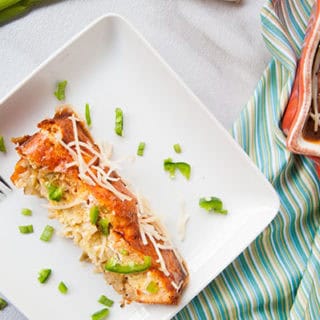 Spicy Baked Egg Casserole
---
Prep Time:

10 minutes

Cook Time:

45 minutes

Total Time:

55 minutes

Yield:

6

1

x
6

eggs

2/3 cup

hot sauce

3 tablespoons

of butter, melted

2

medium Russet potatoes

1/2

medium jalapeno diced

1/4 teaspoon

of salt

3/4 teaspoon

of black pepper

2

garlic cloves

1/2 cup

of cheese of your choice

1/8 cup

of olive oil
---
Instructions
Preheat oven to 400. While the oven heats, grate the potatoes.
Toss the shredded potatoes in a bowl with olive oil and salt and pepper.
Spray an 8 inch baking dish with nonstick spray. Spread potatoes evenly and bake for 8-10 minutes.
While potatoes are baking, whisk together the rest of the ingredients until scrambled.
Remove potatoes from oven and pour mixture over them.
Bake for 40-45 minutes.
Serve with extra cheese and hot sauce if desired.
Notes
Feel free to add less hot sauce if it is too spicy or use a mild hot sauce if preferred.