Cheesy Shepard's Pie
Does anyone else out there make way too much food on Thanksgiving or Christmas? Well, obviously. Is this even a real question that I'm asking?
Maybe I should rephrase this: am I the only one that always overestimates my capacity to eat some variety of mashed potatoes on major holidays? Like every year I make no lie at least 5 pounds of potatoes of some variety.
I don't know why. We never eat them all, despite my best efforts.
Wait, I totally lie. I do know why I make that many potatoes. Because I aim high, ok? I'm a reacher. I set goals. My goal on Thanksgiving or Christmas: achieve carb coma and dive my spoon into a giant bowl of cheesy mashed potatoes. In the war between the button on my pants and carbs, carbs always win on the holidays. Always. Sorry skinny jeans, see ya sometime in January.
And every year, I'm sorry to say, I fall short. I just cannot stuff myself nearly as full of potato as I think I can. It's sad. Tragic really.
Let me just also add to this that I also entertain my vegetarian sister on the holidays who also has a strong, strong love of cheesy potatoes. She's really picky but she really loves my parmesan garlic twice baked potato casserole. She also digs my mascarpone mashed potatoes with rosemary butter. In fact, we may have both kinds of potatoes for our next holiday. Because we like to live dangerously. And we clearly hate to be able to button our pants from the end of November through January first.
Well, even with both of us, we NEVER eat all the potatoes. And since I only make some variety of mashed potato like three times a year due to my propensity to drown myself in their beautiful fluffiness, I refuse to throw the leftover potatoes out.
Nope, can't do it. So I have to use them. Repurpose them into something equally delicious and comforting but not full of turkey. Enter this cheesy shepard's pie. Every year on Black Friday and the day after Christmas, you can bet your bottom dollar that we are making this in our house. It just screams comforting satisfaction to me and makes me think of Christmas decoration and naps on the couch in a happy little food coma.
Plus, it is so delicious. It's creamy and full of potato awesomeness from the potatoes with a little melty goodness from the cheese. Plus hello, the filling. Rich ground beef with a flavorful background of garlic and tomato paste and the veggies to give it a little wholesome feel. Oh yes. I could eat this for days.
Just trust me. You won't even miss the turkey with this one. And you know what? Even though this is my post holiday leftover meal, you could definitely eat this cheesy shepard's pie all winter long. It's hearty and comforting, perfect for cold winter nights cuddling under a blanket. And it's an awesome excuse to make more mashed potatoes so winning. Boom.
Print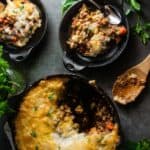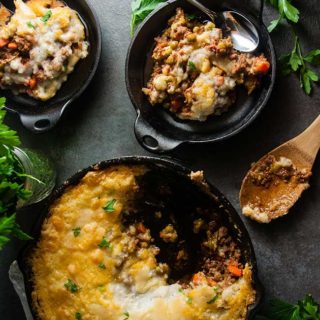 Cheesy Shepard's Pie
---
Author:

Prep Time:

5 minutes

Cook Time:

40 minutes

Total Time:

45 minutes

Yield:

6

-

8

servings

1

x
Description
Cheesy shepard's pie uses up all those leftover mashed potatoes in a comforting, hearty one pan meal.
---
3

tbs olive oil

1

small onion, diced

4

–

6

cloves of garlic, pressed*

2

bay leaves
salt and pepper to taste

1

pound of 90/10 ground beef

1 tsp

thyme

1 tsp

rosemary

6 ounces

of tomato paste

2 cups

of frozen peas and carrots
approximately

2 cups

of leftover mashed potatoes**

1 cup

of Parmesan cheese
---
Instructions
Preheat oven to 350.
Heat a large cast iron skillet over medium heat with 3 tbs of olive oil. Add the onion, garlic, bay leaves, and salt and pepper. Cook until the onion begins to sweat about 3 minutes. Stir regularly. Add the beef and season with additional salt and pepper if desired and the herbs. Cook until the beef is brown about 10 minutes. Pull out bay leaves and discard. Stir in tomato paste and continue stirring until the tomato paste melts. Add the peas and carrots, stir. Remove from heat. Spread out a layer of potatoes on top of the meat and veggies. Bake for 20 minutes. Top with cheese and bake for an additional 5 minutes or until the cheese turns golden. Serve hot, and enjoy.
Notes
use more or less garlic to taste
Category:

dinner

Cuisine:

American
Nutrition
Serving Size:

6-8 servings
Shop this recipe!
*These links are affiliate links. To read my affiliate policy click
here.