Cheddar apple soup. It sounds kind of weird, right? But it's not. It's delicious, cheesy goodness with a slight sweet tartness from the apples. It's the perfect fall soup and would be an awesome starter for Thanksgiving dinner.
It's amazing. Perfect fall soup with the apples and just as cozy and satisfying as the Easy Tuscan White Bean Soup I made you last week. Plus it's naturally gluten free and vegetarian. So combine that with the fact that an apple a day keeps the doctor away and you can almost justify this soup as healthy.
This recipe was the amazing brainchild between my husband and I. See, we went apple picking with the Goose this past weekend. All good fun, but she needs to work on the way she puts the apples in the basket. Rather than gently putting the apple in the basket, she'd wind up and chuck them in so hard that the apples would land with a thud.
Clearly all my talking about soft hands and being gentle hasn't fully sunk in yet.
After apple picking, I was all set to start making delicious apple things: oven baked apple pancakes, pumpkin apple soup. Well, Nate wasn't exactly thrilled by the prospect of pumpkin apple soup. We've had a lot of pumpkin in this house lately: pumpkin penne with peas, parmesan, and sage, pumpkin granola, Italian Style Pumpkin Cheesecake. But I was stubbornly going to make the pumpkin apple soup anyway. Because it's amazing. (Sorry honey.)
Then we started talking about the upcoming holidays and taking Goose back to see Santa. We have made going to see Santa into a family date the past two years.
The first year, she was only about 6 weeks old so we made sure to do it on an off day. We researched what the Santa sets at the nearby malls looked like and picked the one we liked the best. Clearly we take Santa really seriously in this house. We rode down as a family to the one we liked super excited to put Goose in her adorable fluffy red Christmas dress that had been sitting in her closet since I was 3 months pregnant and had no idea if she was a girl or boy. (Good thing Goose was a girl!) We walked the mall, had some dinner, and then changed her into the outfit. She fell asleep on Santa's lap. The adorableness was overwhelming.
Bear with me, I'm getting to the part about the cheddar apple soup I swear!
Fast forward to the next year. We did the same Santa recon and decided to make a date out of it again to follow our tradition. If we are big on Santa in our house, we are even bigger about coming up with these traditions. This year we had a gift certificate to the Melting Pot. We decided to go after our Santa session, with our young toddler in tow. At this point I was questioning our judgement, taking our 15 month old to the Melting Pot because eating there takes forever and it's kind of nice there.
Well we decided to just get cheese and chocolate. Goose LOVED it. And so did we.
So here's where I get back to the soup. The Melting Pot serves tart green apples with the cheese fondue. These green apples are our favorite dipper for the cheese because the combo of apple and cheese is perfect. Sweet, savory, tart, and cheesy. This combo hits all the taste buds.
So in talking about last year's Santa trip, I started thinking about the Melting Pot and dipping those apples in the perfect cheese. The thought caused me to suggest we play with the idea and make a cheddar apple soup.
While I originally came up with the idea, we truly collaborated on this recipe. I wanted to use cream and stock as the liquid. Nate suggested wine or sherry. He also suggested adding just a little heat with the jalapeno apple garnish. And well you already know, Goose picked and bruised the apples.
The result? Perfection. A cheddar apple soup that was rich and cheesy with hints of sweetness from the apples and a background of flavor from the sherry. Parsley added freshness. And serving it with some apple slices and a variation on this super soft and easy gluten free bread made it next level awesome.
Print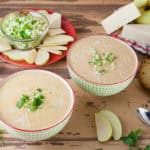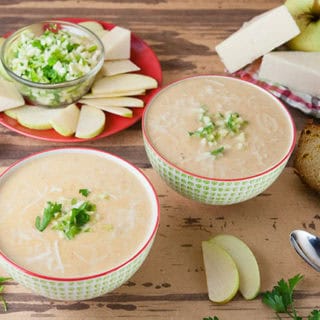 Cheddar Apple Soup
---
1 1/2 cups

Sherry or dry white wine

4 cups

vegetable or chicken stock

2 cups

half and half

5

small to medium apples

3

–

4

small to medium onions

6

garlic cloves
salt and pepper to taste

2

bay leaves

2 cups

cheddar cheese

2

jalapeno

1/4 cup

olive oil
---
Instructions
Dice 4 apples, 1 jalapeno, garlic, and onions and place in pan with olive oil, salt, and pepper over medium heat for about 5 to 10 minutes, stirring occasionally.
Add sherry and bay leaves and simmer for 10 minutes.
Carefully pour into a food processor or blender and mix until smooth. (You can skip this if you want a slightly chunkier soup).
Add vegetable broth and bring back to a simmer.
Simmer for about 10 more minutes.
Add half and half and cheese, stirring until melted in.
Lower heat and allow to thicken for about 5 to 10 more minutes.
Dice remaining apple, jalapeno, and parsley and mix together in small bowl.
Pour or ladle soup into bowls and garnish with the apple relish.