Did you ever make food and think to yourself, "Wow! It's a shame I'm not having a dinner party right now?" Well that's what I thought as I was eating my blood orange roast chicken.
I was overly excited about this recipe. We're talking little kid on Christmas morning. Over blood oranges. I don't know why. Maybe because blood oranges are gorgeous and I couldn't wait to photograph them. (Food blog nerd I know.)
My husband, on the other hand, was not all that excited. He didn't understand my taste vision even though he really liked our apple cider brined chicken. See, when I plan what recipes I will make, we sit down and talk about what I want to share on the blog. We brainstorm. Most of the time I suggest really girly food and he suggests all sorts of man food that ultimately ends up being over the top and delicious. (Hello jalapeno popper stuffed buffalo chicken burgers.) Normally, we come up with a plan we both agree on and we think will go over well.
This chicken though… well, he was not getting it.
Until we pulled it out of the oven. Not only was it the most gorgeous roast chicken we have ever made, but dang did it smell good. Seriously, I wish I could attach smell to this page. The smell of roast chicken and rosemary and blood orange. My stomach is growling just thinking of it.
He agreed. This chicken looked and smelled phenomenal. Then we tasted it, and OMG. We sat around talking about how it was darn shame we weren't entertaining, which is absolutely hysterical. We are two of the biggest introverts you can imagine. Seriously, we entertain like twice a year.
But this blood orange roast chicken. It's the dinner for impressing company. It could also be the perfect dinner choice for an old school Sunday dinner where the whole family gathers round the table and lingers over this gorgeous roast and a delicious side of parmesan garlic twice baked potato casserole. It would be food and family heaven.
Or, if you are like one of my English professors from a million years ago, you could serve it at an upscale dinner party where all the guests are discussing literary theory. Do dinner parties like that even exist? When I was a freshmen and sophomore in college, this professor had me believing that all grown up dinner parties centered on discussion of really intelligent novels by classic European authors.
I think he might be wrong. The last dinner party I was at, my kid climbed onto the counter and stuck her hand in a bakery cake's icing and ate it while none of the grown ups were looking. We were all too busy hanging out in jeans and sweatpants, talking about Harry Potter. The only part of the scenario that fits the college thought was the books we were talking about were indeed written by a European writer.
But if such upscale parties actually exist as my English professor said, this blood orange roast chicken would win those guests over too the same way it won over my husband.
Print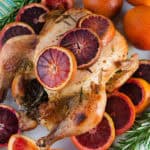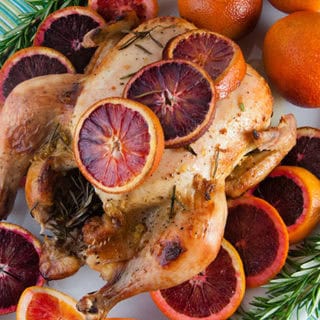 Blood Orange Roast Chicken
---
4

to

5

pound whole chicken

1/2 cup

olive oil
For Rub
juice from

one

blood orange

1/4 tablespoon

salt

1/4 tablespoon

pepper

4

cloves of garlic crushed

4

cloves of garlic peeled and whole
For Stuffing
1

lemon cut into wedges

1

sprig of rosemary

1

blood orange cut into flat slices
---
Instructions
Preheat oven to 350
Mix the rub ingredients together until well incorporated.
Spray medium pan with non-stick spray and place chicken in pan.
Pour mixture on top of chicken and rub it in.
Stuff lemon wedges, rosemary, and garlic in center of chicken.
Place orange slices on top of chicken. (wash hands after handling bird)
Cover with foil and bake covered for about 1 1/2-2 hours.
Remove foil and bake an additional 15 minutes uncovered to brown the outside.
Check internal temperature to make sure it is cooked through (180 F), chicken should be easy to tear apart when done.
Shop this recipe!
*These links are affiliate links. To read my affiliate policy click
here.